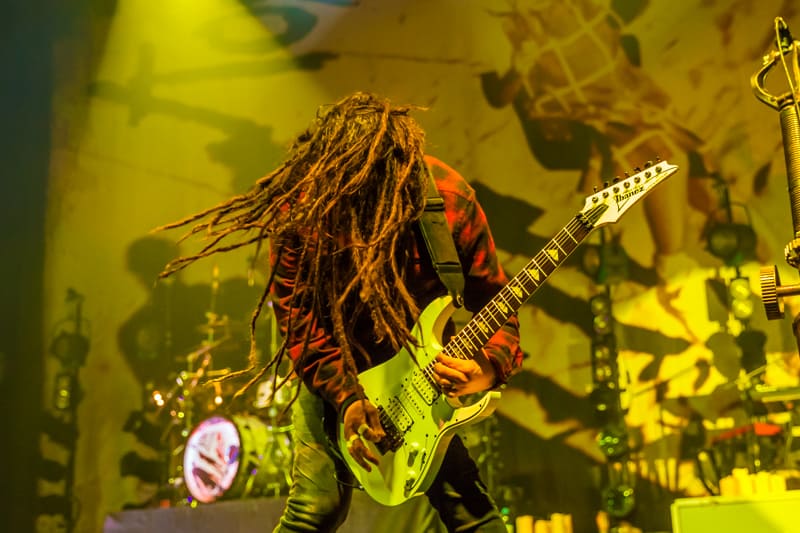 By Vicki DiAddezio, Orlando, Correspondent
Venue Hard Rock Live Orlando- October 15, 2015
To top off their 20th anniversary tour, Koran has been providing fans with an extra special treat as they've been traveling the country performing their 1994 début album, Korn, in it's entirety. They are out on a month long mini tour, performing in smaller venues, to bring their die hard fans a more intimate experience. As an added bonus during each show, Korn has been allowing their fans to request which songs should make up the encore. Joining Korn are the bands Islander and Suicide Silence.
Last Thursday night, they made a stop in Orlando to perform at the Hard Rock. To get the night started, Islander and Suicide Silence each took a turn at getting the crowd warmed up. Both bands played about 45 minutes sets and in that time the size of the crowd and intensity of the excitement increased so much you could feel the energy throughout the entire venue. As we waited for Korn, the crowd began to chant….Korn…Korn…Korn. When they took the stage at about 9:30, their fans erupted into cheers and screams that rivaled the drum introduction that kicked off their set. As lead singer Jonathan Davis walked on stage the crowd joined in singing along to every word. I was only able to cover the first three songs of their set and I have to say, it passed by in the blink of an eye. What was extremely evident in that short time however, is that Korn has a dedicated, loyal, loud, and energetic core fan base.
PHOTO GALLERY
VIDEO Snippets-Orlando
The setlist for the night consisted of:
Blind
Ball Tongue (with snippets of "It Takes… more )
Need To (with "Alive" chorus as second chorus)
Clown
Divine
Faget
Shoots and Ladders
Predictable
Fake
Lies
Helmet in the Bush
Daddy

Encore:
Falling Away From Me
Here to Stay
Spike in My Veins
Freak on a Leash
The images may not be reproduced, copied, transmitted or manipulated without the written permission to Rock At Night and the photographer. Use of any image is a violation of the United States and International Copyright laws.
Latest posts by Vicki DiAddezio
(see all)