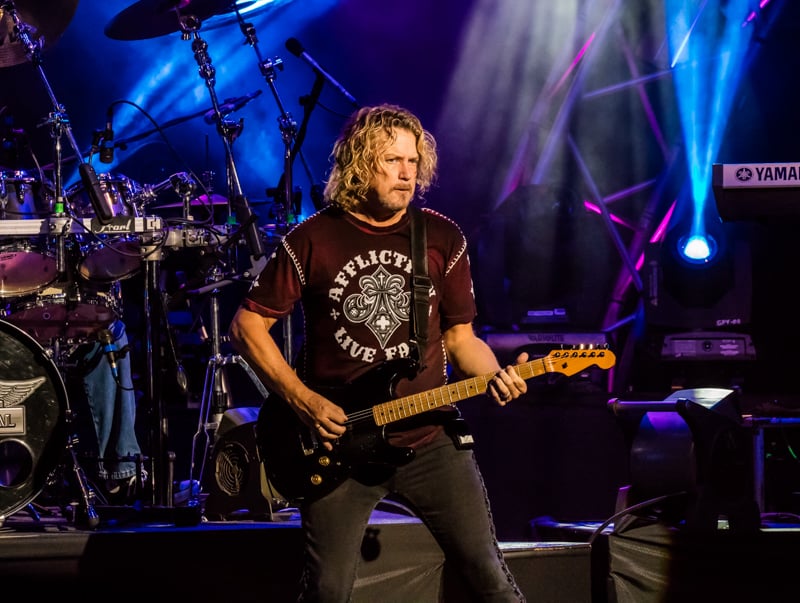 By Vicki DiAddezio, Orlando Correspondent
Venue: American Gardens Theater in Epcot- October 10th & 11th, 2015
This year's Epcot Food and Wine Festival is well underway and so is their Eat to the Beat  concert series. This past weekend, fans and park guests packed the theater for a rockin' good time with those 'Wild-Eyed Southern Boys", 38 Special. The band performed three 30 minute sets each night on both Saturday and Sunday at the America Gardens Theater. I was able to make it for all six sets, and from what I could tell it was standing room only for each.  Throughout the weekend I saw people dancing, singing along, and cheering at a level worthy of a much larger venue. It was evident that after all these years, 38 Special maintains a passionate and devoted fan-base. After each set, many put themselves right back in line to wait for the next to begin.
For more than three decades, 38 Special has toured relentlessly, bringing their signature sound to countless numbers of fans. Since the band was founded in 1974 by Don Barnes and Donnie Van Zant, they have recorded twelve studio, four live,  and four compilation albums. They've sold over 20 million albums and charted twenty Top 40 hits, including two #1's. Each time I have seen them perform they bring the same explosive energy and intensity to their show. As always, they commanded the stage and thrilled the audience with all of their favorite tunes. Throughout the weekend we were treated to hits such as; "Fantasy Girl", "Back Where You Belong", "Rockin' Into the Night", "Wild-Eyed Southern Boys", "Hold On Loosely", "Caught Up In You", " You Keep Runnin", "Second Chance", and more.
The weekend was fun, energetic, and it took me back to a time when I played their albums (yes, I mean vinyl), over and over and over again. If you were unable to get out to see them at Epcot, you should definitely try to catch them on one of their remaining tour dates through November 20th,  which includes three more Florida dates.
PHOTO GALLERY
38 SPECIAL at EPCOT 2015-"Hold On Loosely"

The images may not be reproduced, copied, transmitted or manipulated without the written permission to Rock At Night and the photographer. Use of any image is a violation of the United States and International Copyright laws.
Latest posts by Vicki DiAddezio
(see all)