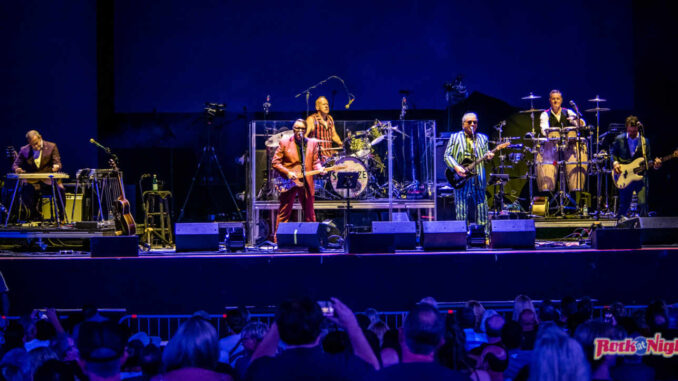 By Chyrisse Tabone, Rock At Night Tampa
Live Review: Hall & Oates and Squeeze–Mid-Florida Amphitheatre, September 20, 2021
SQUEEZE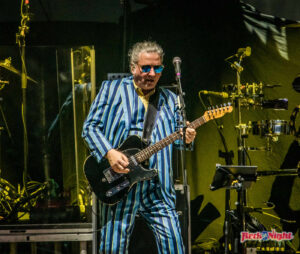 Squeeze began 2020 with their "The Squeeze Songbook" tour until COVID lockdown hit and the world remained on standstill. Rock At Night had been disappointed the tour was cancelled last year but low and behold, we finally had the opportunity to see them last night in Tampa, Florida.
Squeeze has been hailed as the Lennon & McCartney of their generation, according to Rolling Stone. The band has played Coachella, Glastonbury, and headlined numerous festivals. With over a dozen studio albums under their belt, numerous compilation albums, and 48 singles, the prolific songwriting team Glenn Tilbrook and Chris Difford have been making music together since the mid-70s. Growing up in the 80s, one could not escape their catchy melodies and smart lyrics that fell into the whole New Wave/Valley Girl period.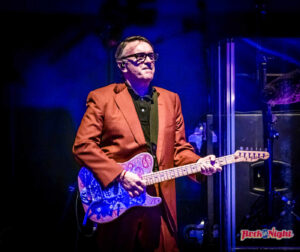 On September 20th, Squeeze treated the crowd at Tampa's Mid-Florida Credit Union Amphitheatre to a retro 80s array of hits that traveled across the pond during that period.  Tilbrook and Difford were flanked by a 7-piece band, which included drums, percussion, keyboards, and even a lap steel guitar. With flashing colored lights and videos as a backdrop, the band cruised through favorites like "Slap & Tickle", "If I didn't Love You," and "Annie Get Your Gun". "Pulling Mussels (from the Shell)", featured beach scenes and dripping waffle cones of ice cream.  "Tempted" was no doubt a crowd favorite as the audience sang along with its infamous chorus.
Between songs, not much banter was said, but Tillbrook announced the next song was recorded when "I had a 29-inch waist. Everyone can get up and dance to this one."  The band dived into the New-Wavey "Cool For Cats" which featured a video of Squeeze photos from 40 years ago by esteemed photographer Jill Furmanovsky.
Squeeze ended their set with the retro 50s sounding "Black Coffee In Bed" which segued into a jam session featuring each member performing a short solo. The band is no doubt talented and tight, as the songs were performed seamlessly throughout the evening.
HALL & OATES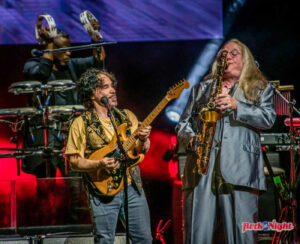 The evening continued with more 80s nostalgia but from a "Blue-Eyed Soul" viewpoint. Daryl Hall and John Oates had the crowd singing along and dancing to what seemed like an evening of Greatest Hits.  Many of the Gen X'ers time traveled to MTV Days with hits like "Maneater", "Out of Touch", and "Method of Modern Love."  They segued into their cover of Barry Man's "You've Lost That Loving Feeling", which they recorded in 1980 and reached No. 12 on the U.S. Hot 100.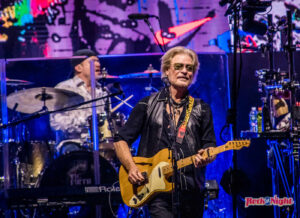 More favorites progressed through the evening with "She's Gone", "Sara Smile", and every kid's favorite of the 80s, "Rich Girl." Hall & Oates proved why they dominated the 80s and that today, they are still going strong today.
Photo Gallery

Latest posts by Chyrisse Tabone, Ph.D.
(see all)