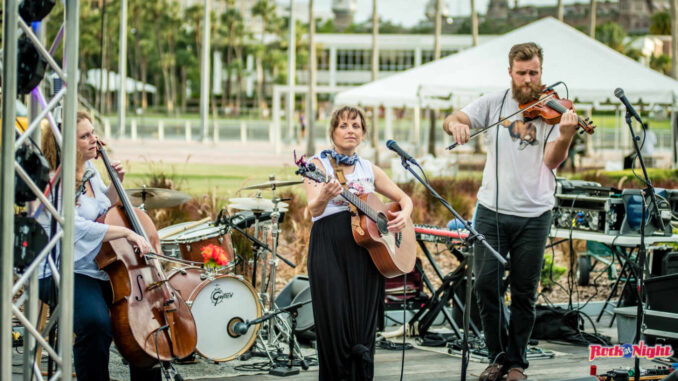 By Anita Stewart, Managing Editor and Photos by Chyrisse Tabone, Editor
Curtis Hixon Park in Downtown Tampa
May 6, 2021
Rock the Park Tampa, a favorite local event that has been happening for almost twelve years, begins anew in downtown Tampa. A perfect scene for locals that love music, this event happens for free every first Thursday of the month. People bring blankets to sit on, wine, picnic meals, their dogs; definitely a park-like vibe with a tiered courtyard of cement and grass to form a small amphitheater–so plenty of seating.
Closed down for a while due to the pandemic restrictions, this event has re-opened with the same ambiance, a very cool crowd of music lovers and amazing local artists to entertain them. The lineup for this particular night was Deb Ruby, BadCameo and the Fantastical Tigers.
INTERVIEWS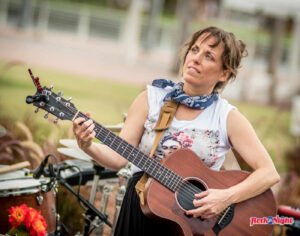 Deb Ruby entertained the audience with her originals; soft folk music with lush lyrics that told a story with each song. A crowd pleaser! She was accompanied by Nick Ewing on violin and Melissa Grady on cello.
RAN: You have been adding a lot of people during your performances in the past year or two. How does this inspire you? Is it a catalyst for writing more songs on your own or do you find yourself collaborating with others more?
Deb: Yeah, I've been adding people and the circle continues to expand! It's beautiful the way musicians with similar music passions come together, it feels good to be around like-minded people, it fuels my creativity because we're exchanging ideas and energies. It also fuels my desire to improve as an artist because I admire the people I play with. When other musicians add their essence to my songs it takes the music to many different places and this can feel so inspiring. Also performing with others is a very social thing for me. As far as a catalyst for writing, I'm influenced to write alone as well as to have more collaborations, it's just a different kind of influence. When writing alone I sometimes will hear a distinct music part in my head that someone might play based on their style. And with the collaboration process, creating something from nothing with someone creates a sweet connection between musicians. It's really fun to be creative with others and I'm always learning about myself in the process, it's an intimate thing and requires vulnerability.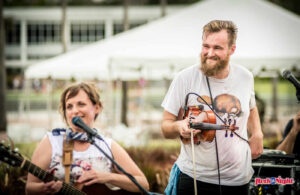 RAN: You have been a citizen of the world in the past and have gigged just about everywhere. What makes Tampa different and do you now call Tampa home?
Deb: Well, really not everywhere-there are many more places in the world I want to gig! But Tampa seems to call me back often probably because even though I'm originally from New York, I have roots and history here and it continues to grow with time. What makes Tampa different is the camaraderie of musicians in the scene. There is a lot of mutual support and that feels really good to be around. Also the city is the right size for offering accessible opportunities and experiences, which is really good for growing artists.
RAN: Tell us about your upcoming recording? Is it an EP or album? And after this, what are your upcoming plans?
Deb: I'm currently recording a single for my song "Desert Rose" to be released this summer, with the intention of making an EP to be released later this year. I'll be releasing a video for Desert Rose late summer too. And in the meantime, I'm taking notice to how live music is slowly making its return and I'll plan to find my place within it.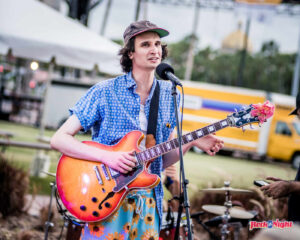 BadCameo is a band that Rock at Night has covered before they even moved to Tampa (Nov 2020). You can check out the previous stories HERE and HERE. Yes, this is a band that definitely brings the FUNK! Yes, you gotta move when you hear their music!
RAN: How have things gone for the band as a whole since you all moved here?
BadCameo: Things have been great since the move! We've been able to play lots of shows all around the Tampa Bay area and have gotten to meet so many talented artists. Our music has led us to explore the rich arts culture of this city and we've enjoyed every single aspect that it has offered us. From our very first shows back in December of 2020, we've just felt very welcomed from the arts community! Florida seems to enjoy the BadCameo Funk Train, so we'll keep providing those thumping rhythms and rhymes!
RAN: What is different about the music scene here in Tampa when you compare it with the music scene in NC?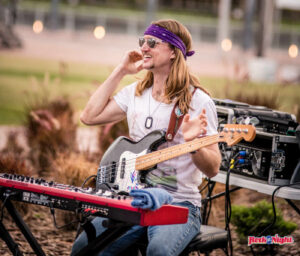 BadCameo: Since our move at the end of last year, we've had many more shows outdoors where there has been plenty of space for people to practice social distancing. During the winter it isn't as cold in Florida as compared to North Carolina, so we were able to keep performing outside and do what we love doing most while ensuring everyone's health and safety. We have particularly enjoyed the shows where we've shared bills with MCs from the Wave Theory collective. Mike Mass, who leads this phenomenal group of artists, has provided us with some of our first gigs here in Tampa. We've had the opportunity to back him up on stage while he takes command of the mic and drops a couple freestyles! These shared moments of captivating an audience in an impromptu blend of lyrical hip-hop and funky beats have been some of the most memorable performances since our arrival.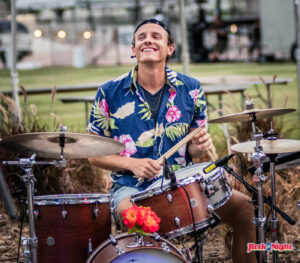 RAN: What are your upcoming plans? Any new recordings coming up?
BadCameo: This summer the bad boys of BadCameo will be touring across the country! We start with a hometown gig here in Tampa in late May and we will then make our way to California and back! We are calling this the "Baby Come Back To Me" Tour and we will be announcing more dates very soon- stay tuned on our social media pages for more info! The tour is named after a single we will be releasing on May 28th. We are very excited to share this new song that was inspired by Tampa's arts and music scene. Summer 2021 is going to be one crazy ride for the BadCameo Funk Train, but we can't wait for it to get started!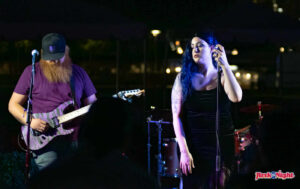 Fantastical Tigers is the husband and wife duo, Lindsey Rae Washburn and Jordan Chronister. Their blend of trippy, jazzy pop is mellow and definitely "groove central." Rock at Night loved their set.
RAN: My first question was about who inspired them:
Jordan: "Daughter is a big inspiration for Lindsey. As for me I draw inspiration from all types of artists but ultimately try to blend those influences into what I believe is a unique and interesting sound."
RAN: Do you plan on remaining a duo?
Jordan: "Well yes for the most part. We are always open to collaboration with other artists and producing our music in our home studio makes that easy to do. But ultimately i think we work very well together creatively (and in real life as we are married). So the two of us will always be the core of the project, though we may decide to play with some other musicians in the future in a collaborative capacity."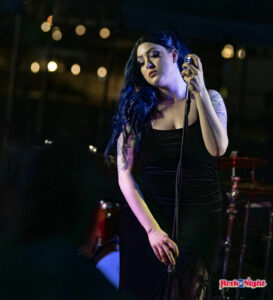 RAN: What makes the Tampa music scene unique?
Jordan: "I would say that it feels kind of like a close knit family. Everyone has been so supportive of our project and we are very grateful for that. I am also seeing some amazing growth in the scene and I'm excited for the future.
Lindsey: "It's awesome to play with such talented artists and the scene feels very alive right now. There is just so much talent here."
Rock the Park Tampa is a project and collaboration of Symphonic Distribution, Tampa Downtown Partnership, Brokenmold Entertainment, Creative Loafing Tampa, tbt* Newspaper. Can't wait for next event on June 3rd! Click HERE for more info!
PHOTO GALLERY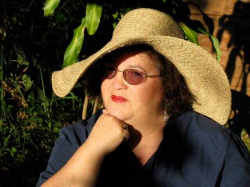 Latest posts by Anita Stewart
(see all)