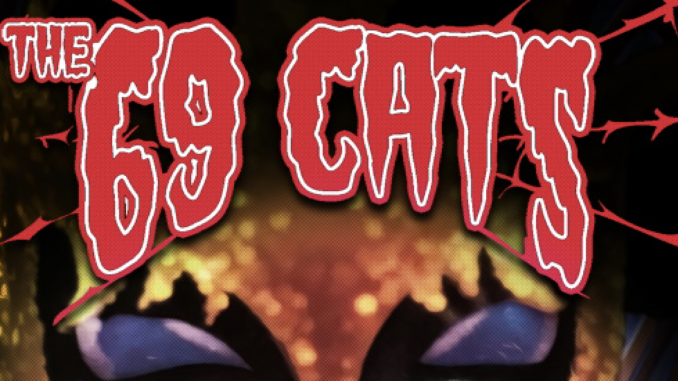 The 69 Cats album SEVEN YEAR ITCH ! – Release date APril 16, 2021 (Cleopatra Records)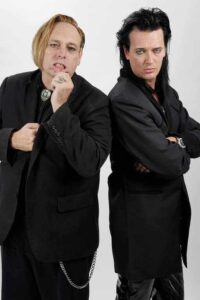 Hot on the spiky red heels of their blockbuster singles "Hollywood's Bleeding" and "She's Hot" comes the rip roaring third single from The 69 Cats' much anticipated new album, Seven Year Itch! Featuring the distinctive baritone voice of Jyrki 69, the mindblowing guitar work of Danny B. Harvey and a rhythm section made in Hell with Kim Nekroman on stand-up bass and The Damned's Rat Scabies on drums, this new album is set to launch its worldwide assault in just a few short weeks.
The Back Story
For the third teaser single, the band has chosen "(Let's Go) Psycho," a song that actually has its origin over 20 years ago. As Harvey explains, "'(Let's Go) Psycho' was a song I wrote with Australian Psychobilly / Rockabilly artist Brigitte Handley in 2000 when she came over to the States to play some shows and enlisted me as her guitarist & band leader. Although she had started out as a Rockabilly artist she had musically moved more toward Psychobilly and people started complaining that she was too loud, too fast. In response I said "f*ck them" and told her we should write a song about her transition from nice rockabilly filly to Crazy Psycho Siren. So she and I sat up late at Tim Polecat's apartment, where she was staying, and wrote the song. Before she left to return to Sidney we went into the studio and cut it along with 5 other tracks. On the 69 Cats version I managed to leave her background vocals from the original recording so that's her singing with Jyrki. I told her she makes a guest appearance on our song on the 69 Cats album and she was very happy and loved the final track when she heard it."
Rock At Night Says: The 69 Cats have been pretty busy the last six months. They released  Gothy-postpunk song "Hollywood's Bleeding" in October 2020 (just in time for Halloween) and last month, the wickedly fun ditty "She's Hot!", with its infectious guitar riffs and Jryki 69's punchy baritone-voiced delivery.  Now, the third release "(Let's Go) Psycho" offers a triple-treat of psychobilly heaven–think Sisters of Mercy meets Stray Cats. With its rapid fire rockabilly beat and infectious chorus, "Let's go psycho…let's go!", a scream punctuates the end the chorus. The 69 Cats are on the cusp of releasing a full album with this triple treat.  I cannot imagine how great it would be to see The 69 Cats live!
Want to see more? Check out their last single!
Seven Year Itch will be available April 16 on digital as well as digipak CD as well as deluxe gatefold jacket LP set housing a hot PINK vinyl!
1. She's Hot
2. Hollywood's Bleeding
3. (You're) The Kind Of Girl I Need
4. Good Time To Die
5. Graveyard Blues
6. Hey World feat. Sky Saxon
7. (Let's Go) Psycho
8. Vampire Shuffle
9. Teddy Boy Boogie
10. The Hell Of The Mountain King
11. I'm Evil
12. It Ain't Enough feat. Larry Wallis

Latest posts by Chyrisse Tabone, Ph.D.
(see all)