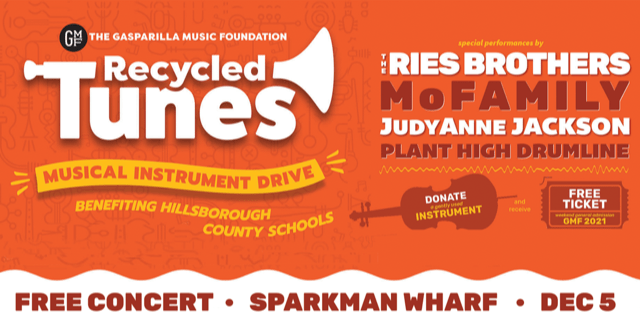 The Gasparilla Music Foundation (GMF) and its Recycled Tunes program will hold a Musical Instrument Drive benefitting Hillsborough County schools on Saturday, December 5th from 1pm until 5pm at Sparkman Wharf in downtown Tampa.  GMF will be accepting new and gently used instruments and donors will receive a complimentary ticket to the 2021 Gasparilla Music Festival (dates TBD).
Instruments received by Recycled Tunes are refurbished (if necessary) and donated to Title 1 schools in the Tampa Bay area. The program also supports teachers and their classrooms by providing repairs, technical gear, and other supplies such as strings, sticks and bows. Since 2019, Recycled Tunes has provided over 500 instruments to bay area classrooms. While there is a need for a broad range of instruments, Recycled Tunes' current priority needs for classrooms are for brass, woodwind and string instruments.
"Now more than ever our kids need music and the arts," according to David Cox, Executive Director of the Gasparilla Music Foundation. "Music classrooms are burdened with so many unique obstacles above and beyond what the schools are already faced with. And, unfortunately, the funds just aren't there to support the teachers so that they can deliver what our kids deserve."
Instruments can be dropped off safely and touch free using GMF's curbside service at the Sparkman Wharf roundabout located at Channelside Drive and Garrison Street.  Additional support for Recycled Tunes can made by donating directly to the Gasparilla Music Foundation (www.recycledtunesflorida.com/donation) or by becoming a Higher Ground member (www.gmfhigherground.com)
Taking place alongside the instrument drive will be a FREE concert on the lawn at Sparkman Wharf.
 1:00 – 1:45pm – Judy Anne Jackson – 2019 PBS Celebration of Music "Producers' Choice" Award winner 
1:45 – 2:15pm – Plant High School Drumline – Award winning Drumline

2:15 – 3:00pm – MoFamily = Mo Funk

3:00 – 3:30pm – Plant High School Drumline  

3:30 – 5:00pm – Ries Brothers – infectious blend of rock, blues, funk, & reggae into a soulful-sophisticated sound
          Donate a gently used instrument and receive a FREE ticket to the 2021 Gasparilla Music Fest

·         Curbside and touch free drop off service at the Garrison Street roundabout at Sparkman Wharf

·         Hours for instrument drop off and free concert this Saturday are from 1pm-5pm

·         Free concert features The Ries Brothers, MoFamily JudyAnne Jackson, and Plant HS Drumline 
About Recycled Tunes
Recycled Tunes is a program started in 2014 by the Gasparilla Music Foundation which provides instruments to local Title 1 schools and children's music programs. Instruments collected at the Recycled Tunes instrument Drives are refurbished and then donated to schools and programs that can best serve our area youths. To learn more about the Recycled Tunes program, please contact cameron@gasparillamusic.com

About GMF
Gasparilla Music Foundation is a 501(c)(3) non-profit organization founded in 2011 that produces the Gasparilla Music Festival. The foundation works year round to support music education through its Recycled Tunes program and to promote local musicians through its GMF Productions program. The foundation receives support from its membership program, Higher Ground. For information about becoming a member, visit www.higherground2020.com
info@gasparillamusic.com
www.facebook.com/gasparillamusicfestival
@gasparillamusic
#gmftampa  #gmf2021 #RecycledTunes #TampaRealness

Latest posts by Chyrisse Tabone, Ph.D.
(see all)