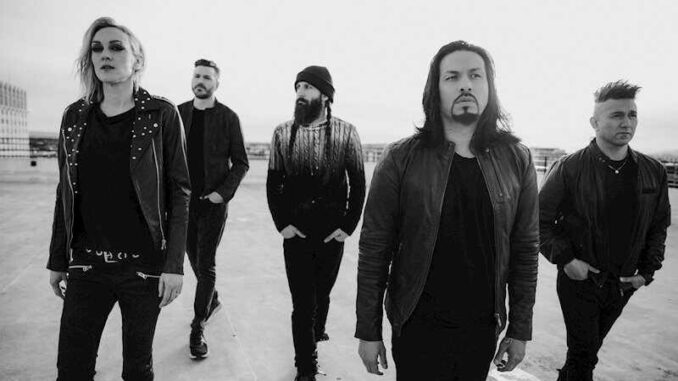 By Chyrisse Tabone, Rock At Night Tampa
Review: Pop Evil's singles "Let the Chaos Reign" and "Work' – Release date May 1, 2020
Michigan-based Pop Evil is releasing two outstanding singles on May 1st which will no doubt lift you out of those pandemic blues.  The first single "Let the Chaos Reign"  features a very aggressive guitar assault with a hip-hop cadence, and a very infectious chorus pleading, "let me out of my cage, let the chaos reign."  If you feel like venting and letting out all that pent up energy, turn this up to full volume! The song has a very Rage Against the Machine flavor.  Very cathartic!
We all can relate to the next single "Work", especially if you feel like you have been running on life's hamster wheel.  The song is sort of pop-metal and features crashing cymbals, reminiscent of a sledgehammer repeatedly beating the ground.  There is a hip-hop cadence as the song grooves, slows down, and asks, "Will I ever break free?"
Pop Evil consists of:
Leigh Kakaty – Lead Vocals
Dave Grahs – Guitar
Nick Fuelling – Guitar
Matt DiRito – Bass
Hayley Cramer – Drums
About Pop Evil
POP EVIL has been a staple at major festivals and in theaters and clubs for over a  decade, despite the group's relative youth. As they've ruled the roost with No. 1 Billboard Rock singles like "Trenches", "Deal with the Devil", "Torn to Pieces", "Footsteps", and "Waking Lions", they've taken their inspired message to the people, on tours with modern rock titans and veteran acts alike. The band bunkered down in Los Angeles in the winter of 2019 to put the finishing touches on the yet to be titled new album due out later this year via Entertainment One (eOne).

Latest posts by Chyrisse Tabone, Ph.D.
(see all)