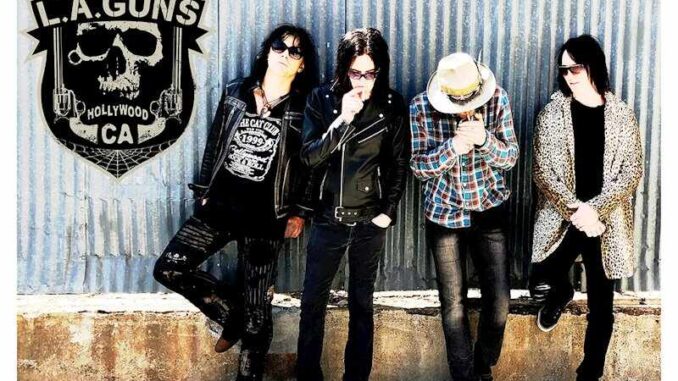 By Chyrisse Tabone, Rock At Night Tampa
Single Review: L.A. Gun's "Crawl"
When I think of L.A. Guns, I think of big hair bands from the 80s like Motley Crue and Poison.  The L.A. scene was ripe and ready for bad boy glam rockers sporting tight pants and eye liner and plenty of great MTV video moments. L.A. Guns is still around making great music in the style of the 80s–because they lived it. They recently signed up with Golden Robot Records, one of my new favorite labels, and released a single this week called "Crawl".
"Crawl" describes a femme fatale, as he sings, "snapping your fingers like a high command…just a cat in a rock 'n' roll band…icy cold with a death-like stare."  The chorus continues throughout, saying, "everything about you makes me crawl." The song is definitely captures the 80s vibe and is hard-driving nasty rock 'n' roll. One can time-travel back to the glamour of the 80s (minus the leg warmers) listening to this song.
Check out the song below:
L.A. Guns–Kurt Frohlich (lead vocals and guitar), Scotty Griffin (lead guitar), Steve Riley (drums), and Kelly Nickels (bass).
Here is the making of the song "Crawl":
On-Line:  

Latest posts by Chyrisse Tabone, Ph.D.
(see all)