By Chyrisse Tabone, Rock At Night Tampa
EP Review: The Shakin' Nightmares' 'Revenge & Regret'-Released November 1, 2019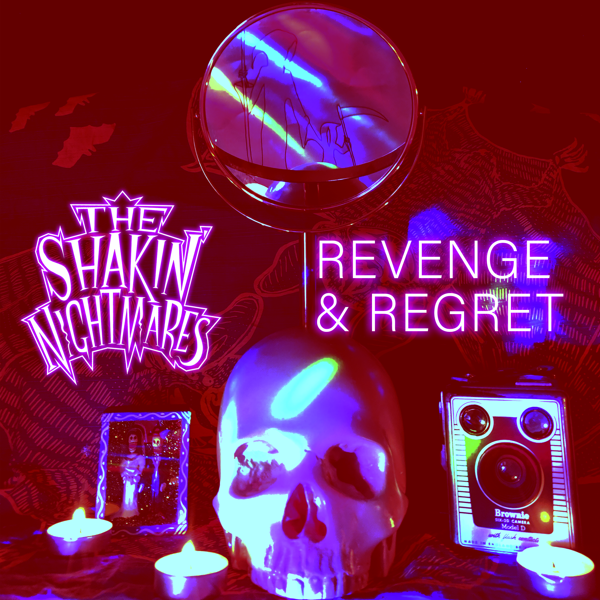 Rock At Night receives dozens of new music everyday but one EP I listened to really stood out amongst the rest—The Shakin' Nightmares' four song EP Revenge & Regret that was released on November 1st.  The music cannot be pigeon-holed into a specific genre but think 60s garage rock, 80s punk, with a twist of psycho-billy due to the dark spooky riffs that permeate the music.  Hailing from the North East of England in the industrial Tees Valley, the band works by day (like us here at the magazine) in the chemical plants and "hydrocarbon stores" and rocks at night. In the dark of the night pure rockin' escapism takes over as these lads rip it up!  I would love to see the band live and really look forward to hearing a full album.
Here's my quick description of the songs:
(I've Got) the Shakin' Nightmares-very cool 60s sounding beat with a guitar riff reminiscent of the The Munsters theme…dark and understated.
Revenge—60s jangly guitars, but hard drivin' rock—makes me feel like I'm at a Friday night party in a basement bar.
I Wish—really rockin' spooky guitar riff—the song borders on punk then slows down to almost a ska beat.  Very infectious!
A Little Death—very groovin', cool, 60s beatnik feel with jangly guitars.
All are danceable, party songs, upbeat, and fresh escapism from the dark political and mercurial times we live in!
SPOTIFY

Latest posts by Chyrisse Tabone, Ph.D.
(see all)