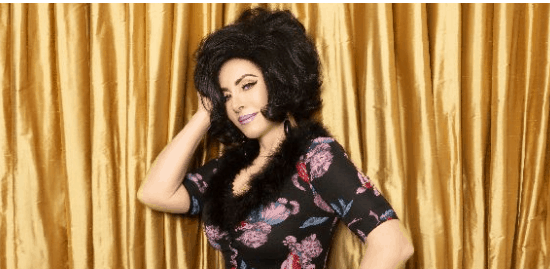 By Chyrisse Tabone, Rock At Night Tampa
INTERVIEW WITH Ms. JOSIE COTTON
FULL AUDIO INTERVIEW ABOVE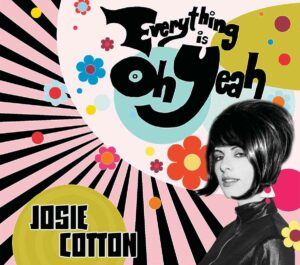 Some of you may remember 80s icon Josie Cotton ("Johnny Are You  Queer?", "Jimmy Loves Maryanne", and "He Could Be the One?).  What you may not know is she has been releasing albums since then—and one very special album Everything Is Oh Yeah will be released on October 4th via Kitten Robot/Cleopatra Records. The back-story is the album was created 30 years ago and was never released—and later lost! The tapes were miraculously discovered and the recordings were in near perfect condition. Imagine, this is like a time capsule discovered in 2019!  Back to the future!  With such an interest in the 80s in recent years (think Stranger Things, The Goldbergs, The Americans, and of course, Freaks and Geeks), the timing seemed perfect for the album's release.
Rock At Night has heard the album Everything Is Oh Yeah and absolutely loves it! The songs are timeless, capturing the essence of New Wave, 60s girls band, Motown, and rockabilly.  There is even a fantastic cover of The Beatles' "The Night Before", recorded with the one-and-only Brian Setzer! Really, cool stuff!
Prior to release of the Everything Is Oh Yeah, Cotton released a recently penned single "Ukrainian Cowboy", which is a mixture of nostalgia, rockabilly, and a bit of Russian influences.  Check out the video below:
Rock At Night caught up with Josie Cotton for an interview, which can be heard in its entirety via audio—or read excerpts [edited for clarity] of the interview below:
"Ukrainian Cowboy" and the new album release
Rock At Night asked, "Was the single "Ukrainian Cowboy" recently written or was that from the archives?"
Cotton replied, "No, no, I wrote that this year."
Rock At Night wondered, "When you wrote that this year, was it in mind with the new album being released?'
"Everything seems to be happening simultaneously right now. I couldn't control the series of events. We were en route and I didn't want to stop anything midstream. There was a single that came out in Spain. I was really excited about the single "Ukrainian Cowboy" and "Cold War Spy." It was important for me to get that out right now, something new, before dredging up stuff from the past. I was trying to beat the release of that record Everything is Oh Yeah."
In reference to her soon-to-be-released album, Rock At Night inquired, "Are you going to have any videos from Everything is Oh Yeah?"
"There is a lyric video for the title song."  Cotton continued, "We're going to make a real video later on. It's really funny with toy stick figures. It's kind of Japanese…everything Japanese is alright with me!
We're trying to figure how to do a video for this record because it was recorded 30 years ago and we can't really do a performance of it because there's no original players. We are trying to come up with a clever way for it to make sense."
Rock At Night asked, "You are having a release party on Oct 5th.    It says in the press release that you are going to be performing the songs. Do you even remember the songs?"
"Well, when Paul, my partner in the recording studio, found these two-inch 24 tracks (they were unmarked). We had no idea what they were. Then I realized it was from a record I really thought was lost. We had to re-mix everything and [I] became intimate with every nuance of my vocals and instruments. I relearned the songs as we were mixing them."
"The whole thing is so intriguing to me that 30 years later an album is being released—It's almost like a time capsule," laughed Rock At Night.
"It is! I almost called it Lost In Space. I really thought it was gone in one of the natural disasters in California or lost in one of the studios or garages.
"One thing that was amazing was the tapes were intact and in perfect condition. We baked the tapes for two days at a very low temperature. You have to bake the tapes for two days or they turn into mush. We had to go to a place that had a two-inch reel.  We couldn't even tell they were that old. It's quite amazing! There was no degradation of the sound..which was strange.
I described it in an interview, it's like having a favorite cat that comes back. It comes back and you don't know how. But you are so happy and amazed!"
"It's like reanimation!"
"I love those movies too."
"I guess zombies are big!"
"They've always been big with me! I never met a zombie I didn't like."
Inquiring, Rock At Night said, "You were in the movie Nomad."
"I was dead! That is what the director told me– we were dead eskimos".
"Speaking of that, are you friends with Adam Ant? Because he was in it."
Cotton responded, "It's like they saying "when the movie is over, all your relationships are finished." It's cliched."
I'm kind of loving singing those songs again
"Back to the album, I listened to the whole thing. I love it because some of the songs are 60s and some are rockabilly. Your rendition of "The Night Before" with Brian Setzer is so much fun! I wish you'd release that as a single."
"You know, when I heard that song, and when we were listening back to everything, I knew this was a record I could be proud of. I thought it sounded really great, myself.
"It's audacious to do a Beatles cover—and to do it rockabilly. And have Brian sing on it. He did an amazing job. In one take he did four part harmonies and the craziest chords you've ever heard—and he knew what they were.  My jaws dropped down to the ground."
Rock At Night commented, "A couple other songs are Motown-ish "Fine As You Are" and  "Here Comes My Baby"…very Ronnie Spector-ish."
"We had fun mixing up genres. There's also mariachi horns in there. There were a couple of different producers for the album. I put different styles of music together that probably had no business going together."
"There's a nice variety, like the song 'Money', I can see myself jitterbugging."
Retro styling and LA in the 80s
Rock At Night commented, "Looking at your style I think of Wanda Jackson and even the song "Loves Love", you sound like Dolly Parton.
Cotton responded, "I am from Texas but I rejected all things country western when I was in Dallas. I went all British Invasion. It wasn't until I came to LA my producers said you need to listen to Tammy Wynette and Wanda Jackson, so I could learn from them. I totally fell in love with that kind of singing. My accent came back fast!"
"You have no accent now!"
"I remember deciding very young that I didn't want to have an accent. My mom sounded like Dolly Parton and my grandmother sounded like Betty Davis—and I went, "I'm going with Betty Davis!"  <she mimics her mom>"
"When did you leave Dallas to go to LA?"
"I left about 1980-ish for LA  It was right before I met my producers, the Payne Brothers. I wanted to be a songwriter. I didn't want to be a singer at all."
"Your fashion style has always been retro. Is there anybody you are trying to emulate? A movie star or whatever?"
Cotton responded, "There's different iconic figures that I go to. I always thought Gina Lollobrigida…was a hot tamale. The Ronettes..I thought they were incredible and visual.  Nancy Sinatra.  She was a fashion icon of her day."
"It's funny when I saw your videos I thought Gina Lollobrigida and even Liz Taylor," laughed Rock At Night.
"My mom said that even—but then, she was my mom!"
"You look a lot like her! Even Suzanne Pleshette came to mind."
"Remember Bewitched? She had the evil twin?"
"Serena?"
"Yes! She would play guitar and had short hair. People have sent me videos and I look just like her!"
Josie Cotton's band in a clip from Valley Girl movie
Rock At Night wondered, "Are you  retro in 'real life'.  I mean, is your home decorated like that?"
Cotton responded, "Oh, yeah…oh, yeah!  I have been collecting mid-century furniture as long as I have been conscious of interior design. I love all of that 60s & 70s. I collect Asian stuff (not necessarily art) but kitschy Japanese things..Bruce Lee memorabilia and Mao Tse Tung .  I have his actual tea set. It's really crazy! I am obsessed with all things Asian. There's a little of my mom's influence which was very 'French bordello'.
There's something about modern design and modern furniture, to me, so much was stolen from the 60s. They were very futuristic back then. People don't know where all this fantastic Italian furniture comes from? Well, they stole it from the 60s."
Rock At Night asked, "If you were to go out to the grocery store, do you dress campy?"
"I have a little bit of fashion damage. My friends say I'm like Clark Kent. I wear a lot of jumpsuits, caps, and combat boots. Kind of masculine. There's other times I go out at night and it's 60s go-go girl or French chanteuse."
Future plans–Touring
Wondering, Rock At Night asked, "Any plans to tour?"
Cotton responded, "We have a bunch of shows coming out. I managed to start doing some of these 80s shows. I was going to do the Like Totally Festival but it got canceled.  Johnny Lydon was going to be there. I met  him recently at a punk documentary and he was cool and insanely smart and charming. Abusive in a very funny way. Very British. I'm doing some of these shows now. They only let you do a few songs of your hits.
For me it's frustrating because people don't get to hear the records I have made…like five records. They weren't really done properly because I did them myself.
I'm getting the rights back to my first two records because of the 30 year mark. If you call it in on time. You get the masters back. They are the only masters I don't own. I've always owned my own recording studio and I always got to explore sides of music I couldn't have in the system."
It's the first time in my career that I have had the wind at my back. That the world was cheering me on. I didn't have to fight through the jungle with a machete.
SPOTIFY
Rock At Night's theme song is "Get On Down If You Feel Up To It" by Billy "Bass" Alford

Latest posts by Chyrisse Tabone, Ph.D.
(see all)