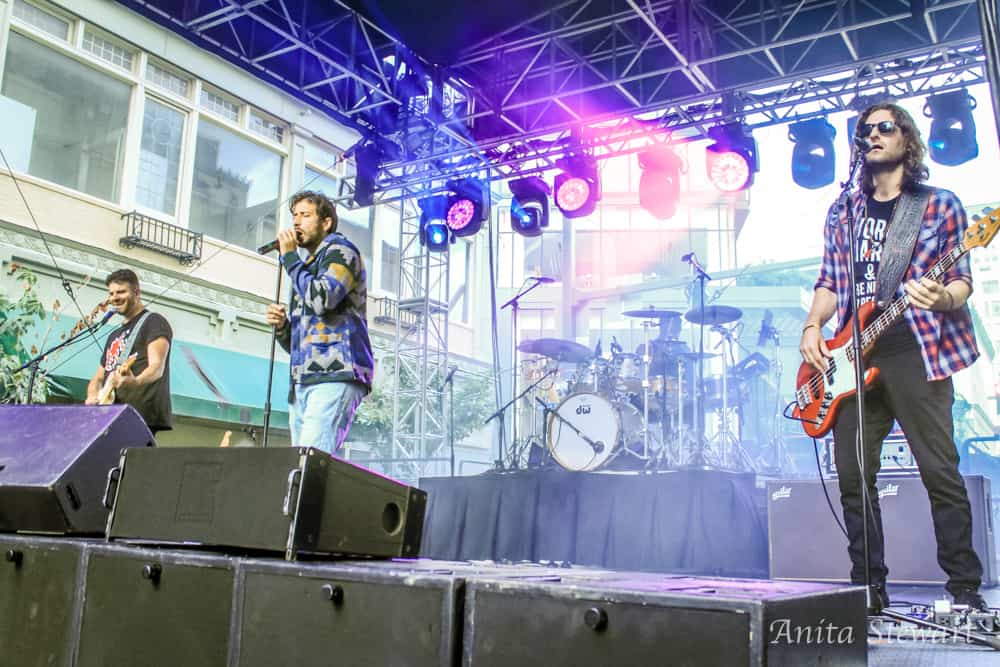 By Anita Stewart, Rock At Night Pittsburgh
Venue: Market Square, Pittsburgh-August 25, 2019
This year was the third Rock Reggae Relief Festival in a beautiful area of downtown Pittsburgh. Forbes Street was blocked off and the music was incredible–the pubs stayed open, the beer flowed, food vendors were busy throughout the event. The crowd was a mixed one: over 60, families with kids, students–music lovers of all ages! Rock at Night was there to check out the second day and evening. There were two days of great music in all, organized by the Piatt Family Foundation and a portion of the proceeds this year went to the Ovarian Cancer Research Alliance. The first day featured the following lineup: Ras Prophet, the Expendables, Roots of Creation, Ghost Hounds and Gavin DeGraw. My partner and I had a great meal and could still hear the tunes from Wolfie's Pub located very close to the stage and a block up from trendy Market Square. Great menu with beer, wine and a full bar. They also have a large chalkboard to list their upcoming events and those included live music of all genres. There was a large room for private parties or meetings in the back. Highly recommend this place, the service was great!
Sunday's lineup included: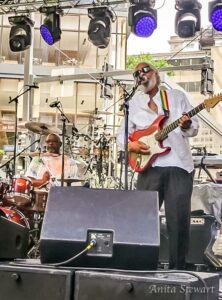 The Flow Band has been a mainstay reggae band in the Pittsburgh area since 1982 and included members from an earlier band, Rastafari. At this performance, they played the old reggae standards and hits and got the audience moving, singing and jamming. They have also put out three EP's of original music and have opened for Lady Smith Black Mambazo, Ziggy Marley and Jimmy Buffet just to name a few. "Our job, as musicians, is to bring light into the world," says guitarist and vocalist Uzell Finney, Jr. Keep up with them on their Facebook page to see where they are playing next. You can see more info about the band and upcoming dates HERE.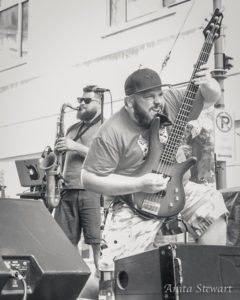 Roots of Creation came back to play for the second day and featured music that was a rhythmic cross section of rock tinged with reggae beats, socially conscious lyrics and ska. They come from New Hampshire and have played the festival circuit at Cali Roots, Gathering of the Vibes, Jungle Jam, Closer to the Sun and more. The band can do just about any genre, I heard elements of early Police, English Beat, UB40, mixed in with the rock and roll during their performance. Their latest project called "Grateful Dub" took the songs of the Grateful Dead and infused them with the reggae-dub beats for an interesting and lively album to sing along to or better yet, drive to! Errol Brown, Bob Marley's engineer was the sound engineer for this project to lend an authentic and cross-over feel. At festivals and events this album is being played in it's entirety. You can find the album on the usual socials such as Spotify…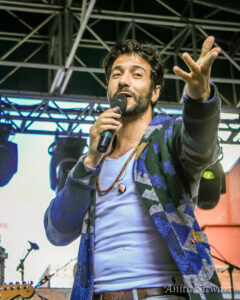 Magic! played a tight set; with Nasri the handsome lead singer crooning the band's older songs and some of the newest songs off of their latest release, "Expectations." A great album and quite different from their previous music–slower, softer and more jazzy. The genre of this band can be best described as a perfect blend of pop and reggae. Nasri played up that pop star image by pointing at the young girls and winking at the ladies as they swayed and sang along to the music with him. Nasri, originally from Toronto, Ontario and the son of Palestinian immigrants is now living in Los Angeles and is making a name in today's music on the back side of the industry as well. He has won Grammys and has produced and co-written songs with Adam Messenger as part of their team called the Messengers for such big name acts as Halsey, Justin Bieber, Pitbull, Shakira and many more.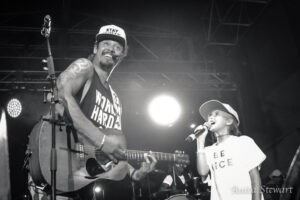 Michael Franti and Spearhead is a socially conscious, reggae, hip-hop and folk tinged rock band that plays music with lyrics about the issues of the day and brings along a positive vibe. If it is a topic about war, corporatism, equality, racial justice, being ill and recovering, this band has created the anthem for it. They have toured the world to spread their uplifting messages of hope, love, peace and sunshiny attitudes. The band is: Michael Franti on guitar and vocals, Carl Young on bass and keyboards, Manas on percussion and drums, Jay "Boogie" Bowman on lead guitar and Mike Blankenship on the keyboards. Very early in the set, Michael asked a young girl standing near me named Piper to come up and sing the song, "Sound of Sunshine" with him. She graced the stage like she belonged there, grabbed the mike and belted out the song in perfect timing as a duet with Michael! Her family was so proud! The band ran through the songs on their newest album "Stay Human 2″ and played some old ones too, to include "Yell Fire," "Ganja Girl" (kind of sanitized since there were so many kids in the audience), "Say Hey" and "Life is Better With You." A very poignant rendition of "Imagine" by John Lennon was performed as part of the encore and there were some weepy moments in the crowd. This band is one of Rock at Night's favorites and we have been covering their shows for some time now. Their Fall tour starts in a month, so be sure to get your tickets early. Tour info is HERE.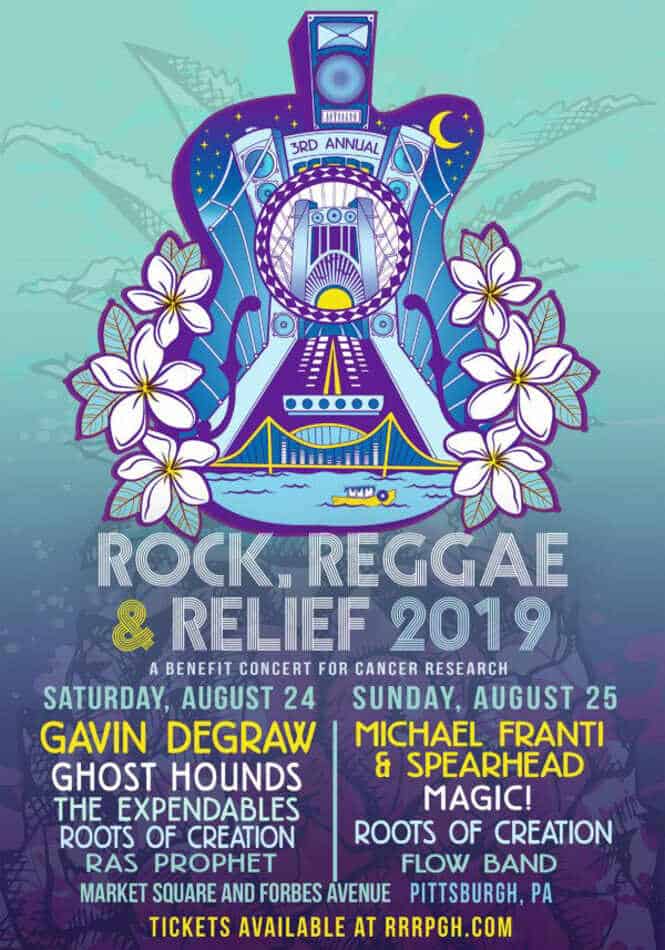 PHOTO GALLERY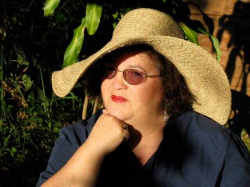 Latest posts by Anita Stewart
(see all)