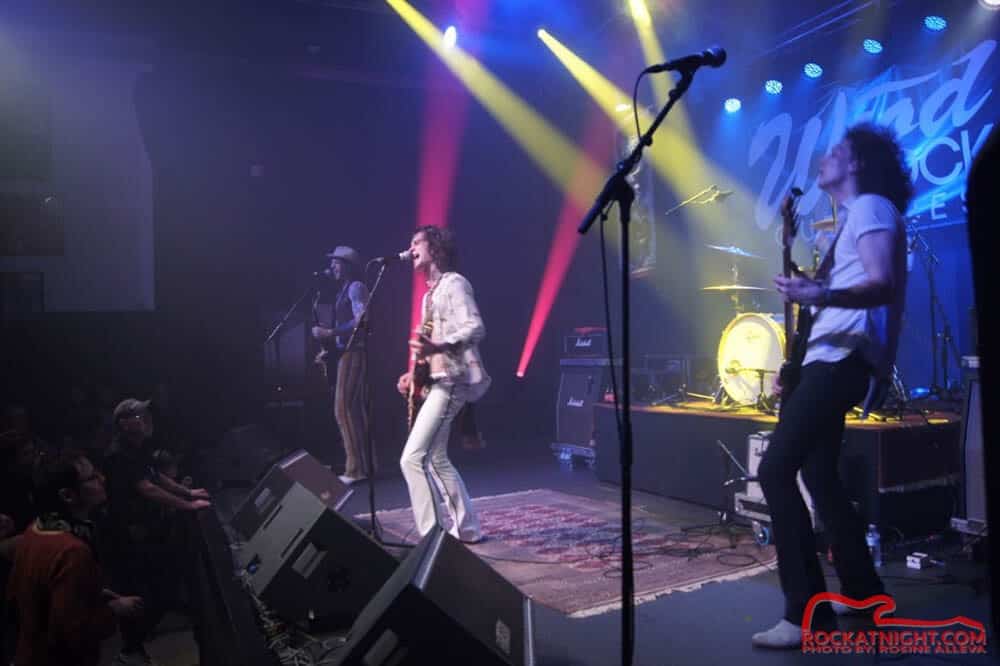 By Rosine Alleva, Journalist/ Photographer- Rock At Night France, Switzerland 
Back to Wood Stock Guitares…for one of the best rock concerts I've seen in quite a while!
The TIP, hot band from Nashville!! If you love hard rock from the 70's, 80's you definitely will become a big fan of this band! Sexy, oh my god….yeah….great look, playing with full energy, full of humor, THE TIP got it all !!! I couldn't miss the opportunity to shortly interview the band for Rock At Night on their "Jakecola tour"! No need to guess what their favorite booze is. Just saw a couple of videos before coming and I knew we would have a great time! The TIP is the perfect band to see live! The musicians are fantastic entertainers, wild as hell! Benny Carl excellent vocals remind Steven Tyler's, his guitar riffs joined to Myles Baker best solos, the rhythm section held tight by Robby Bote on bass and Dixie Carl on drums drove everyone nuts on the Wood Stock Guitares stage!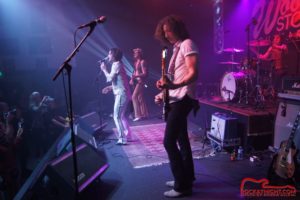 Formed in 2014, the band toured US playing many opening acts and released 2 albums "The TIP" in 2015 and their latest album "Sailor's Grave" in 2016. They appeared at the Kid Rock Cruise in 2018. Nashville's The Tip are right now touring Europe for the first time and will for sure leave a stronger print than their tattoos on all the stages they'll play!
The Band:
Benny Carl
Lead Vocals – Guitar – Harmonica
Myles Baker – Guitar
Robby Bote – Bass Guitar
Dixie Carl – Drums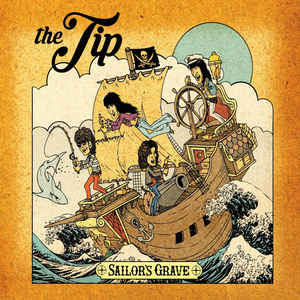 RAN– It's your first time in Europe, how do you like it here? How do you like the European public ?
Benny– Yeah, it's the first time, it has been very good, the crowds have been very perceptive. I see this here, when people come to the show, they're really there for the music. A lot of times in US a few people are there for the show but also to party and have a good time. Here it's more focus on our music, people buying our tee-shirts and cds, we love it!
Robby– Yeah, people come and listen.
RAN– It's not the first time I hear this from American bands ….You'll love it in Belgium, the Belgian public is famous to test a band…
Myles– Oh yeah? Awsome, when are we in Belgium, tomorrow?
Robby– Yes, 3 shows, Ghent, Verviers and Brugge.
RAN– I think Brugge is around end April, might try to make it….So, how did you all meet? Are you all from Tennessee?
Benny– Not originally, I'm from Minneapolis, Minnesota
Dixie– I was actually born in Tennessee, I'm the record! (laughs)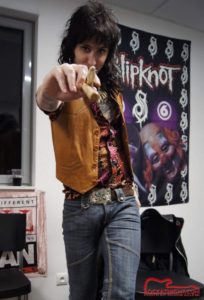 Myles– I'm from Effingham, Illinois
Robby– I was born in Munich but grew up in Prague…
RAN– To Robby- Do you speak German?
Robby– Yes, I speak German and Czech.
RAN– Waow! Great! You just did 2 shows in Germany, how was it?
Robby– The audiences in Germany are great but just the road life is a little tougher than the other countries, people are less friendly in restaurants, hotels…but we had a good time every show we played, yeah.
Benny– Well, I don't know where we would be without him He's our translator!
RAN– Benny & Dixie, you're brothers, is it really easy to be in a band together?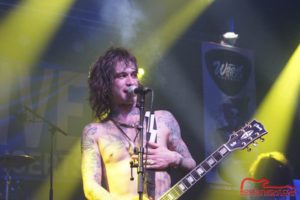 Benny– Yeah, best friends and brothers, it's not a problem, really!
RAN– On the first self-titled album, it was a different line-up. When did Robby and Myles join?
Robby– I joined the band in January 2016
Myles– My first tour was in May 2017, so 2 years ago.
RAN– What do you say when you're described as The real " Sex & drugs & RN'Roll" band?!!!
The TIP– Nailed it!!!
Benny– We do our best to give up to it…
Myles– I would say we probably did a couple of years ago…
Robby– Mostly Rock N'Roll
RAN– Do you agree when your music is compared to Aerosmith in terms of blues based hard rock band ? Benny, and your vocals compared to Stevie Tyler….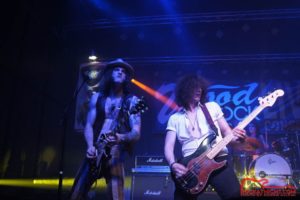 Benny– Oh yeah! I'll take it all day, every day. That's the major comment, he's one of my big times heroes for sure!!
Robby– We all love Aerosmith, for sure!
RAN– Back to US, will it be the right time to record a new album?
Benny– Yeah, I don't know right away for an album but we gonna try to get a couple of singles, an EP, 4 songs something like that. We definitely got new songs we've been working on and need to be recording.
Robby– We'll probably release an album early next year.
RAN– You opened for many bands already, which band would you dream to be the open act from ?
Benny– Aerosmith!…AC/DC…
Robby– Rolling Stones, Guns n'Roses…, I'd love to open for ZZ TOP. Have you listened to our albums?
RAN– I love your style and I'm looking forward to seeing you on stage, I really am!!! I saw your video "Welcome to the night" with the girls dancing all around and the black and white video from the Red Feather Studio, "Can you smell the money"
Robby– We have quite new videos. Last year we played in New York City at the Bowery Electric, we actually work with a production company in NY called Wendigo productions helping us to get on the road. We played a Birthday Party there last year in July and we´ve been releasing videos from that show. We're very fond of those and like people to see them.
RAN– It sounds great. But tonight I'm quite excited to see you live! Thanks a lot for this interview, see you after the concert!
The TIP will be at THE CAMDEN  ROCKS FESTIVAL in London on June 1st!
Thanks to Max -Teenage Head Music and the Wood Stock Guitares  Team!
WEBSITE | FACEBOOK | INSTAGRAM
PHOTO GALLERY
LIKE US, PLEASE!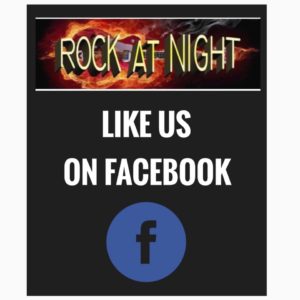 Latest posts by Rosine Alleva
(see all)