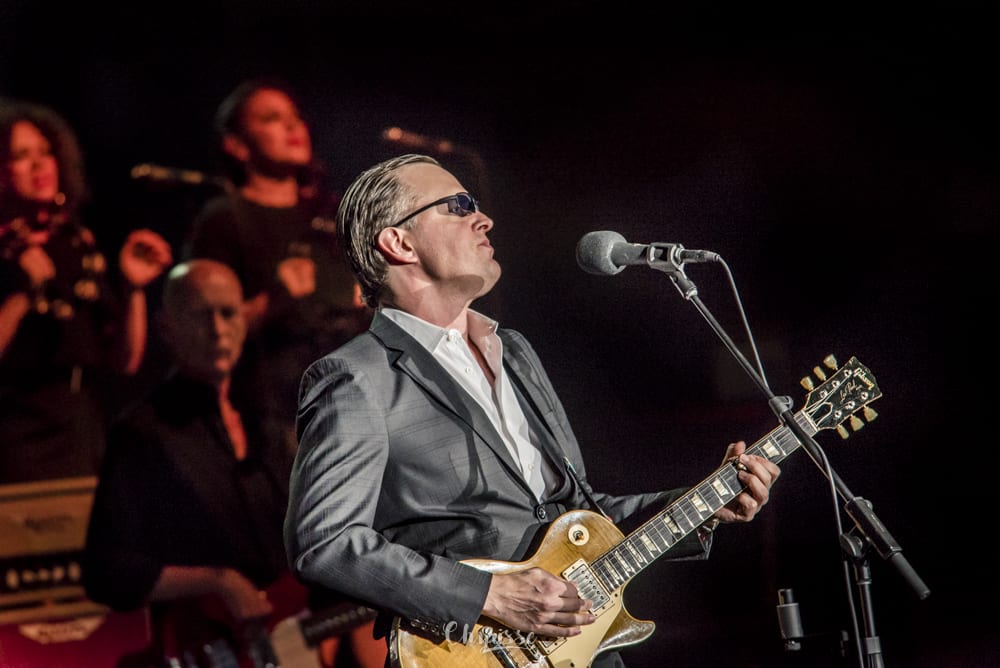 By Chyrisse Tabone, Rock At Night Tampa
Venue: Ruth Eckerd Hall, Clearwater, Florida-May 11, 2018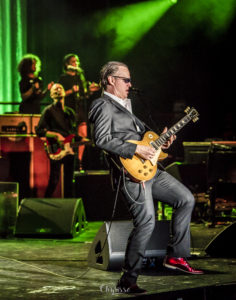 I have been following Joe Bonamassa's work for over a decade and I was beyond thrilled to see he was coming back to Ruth Eckerd Hall, Clearwater, Florida on May 11th and May 12th.  Yes, the blues-master is so popular in Tampa Bay that another night had to be arranged—and both were sold-out.  Even though Bonamassa has been playing blues for decades (he actually toured with B.B. King when he was 12 years old), he has gained acceptance and loyalty of both blues and rock fans alike.  I notice he has quite a huge presence in social media, producing frequent newsletters (to which I subscribe), which often feature news, downloads, CDs and DVDs for sale, and entertaining videos, like the recent Meet The Parents. The short video featured Bonamassa's parents and long-time manager Roy Weisman during the "Keeping the Blues Alive At Sea IV" cruise. A little tidbit for Tampa Bay folks, the next Blues Cruise will actually sail out of Tampa to Grand Cayman in February 2019.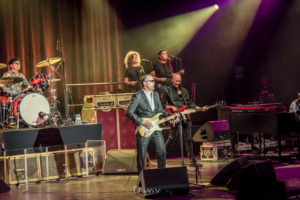 Joe Bonamassa has not only been a prolific blues artist and songwriter (his next studio album #13 will be released in September) but he frequently collaborates with friends like Beth Hart (their album Black Coffee was released in January) and Black Country Communion (I absolutely love BCCIV), to name a few side-projects.  This Friday on May 18th, Bonamassa will be releasing British Blues Explosion Live, where he tips the hat to his blues-rock influences like Jeff Beck, Eric Clapton, and Led Zeppelin. Look for Rock At Night's review later this week!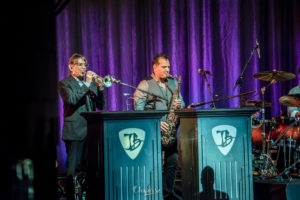 There was definitely excitement in the air the evening of Friday, the 11th.  The mostly Baby Boomer crowd of men and women alike, were hitting the merch booth to stock up on t-shirts and CDs, and hurry back to their seat. There was no warm-up band for the show—it was Pure Joe and his blues band all evening, seven of the best musicians in L.A. and Nashville!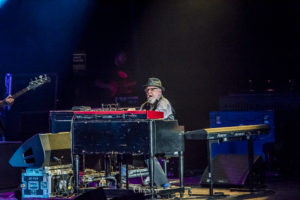 Joe came onstage wearing a dark grey fitted suit, white shirt, red shiny shoes, slicked back hair, and wrap-around dark shades—his very classy and trademark look.  Behind two podiums with the initials "J.B." stood Lee Thornburg, trumpet player (Tower of Power, Supertramp), and Paulie Cerra, sax player (Larry Carlton, Keb' Mo'); on the drum riser, Anton Fig (Kiss, B.B. King); behind the Hammond B-3 and keys, Rock & Roll Hall of Famer, Reese Wymans (Double Trouble);  the mighty bass, Michael Rhodes (Johnny Cash, Stevie Nicks); and from Australia and singing back-up, Jade MacRae and Juanita Tippins.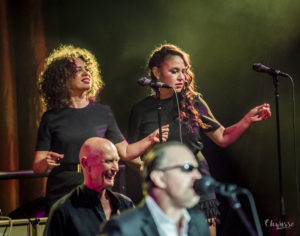 Bonamassa started the evening with a few songs from his upcoming album called "King Bee Shakedown," "Evil Mama", "Just Cause You Can", and "Self Inflicted Wounds".  The crowd clapped, cheered, and chair-danced in their seats with approval.  A real crowd favorite was Freddy King's "Some Other Day, Some Other Time" which earned a standing ovation.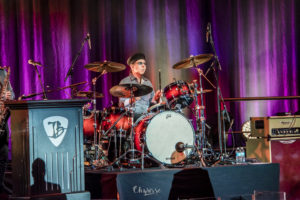 By this time in the concert, Bonamassa and the band were totally in "the zone", trading smiles, dancing and swaying with the music.  The curtain behind the band and the lighting, changed with the mood of the music, adding another nuance to the atmosphere.  I kicked back and soaked in the moment, while listening to "No Good Place for the Lonely" which has almost a Gary Moore-ish feel—a dark, slinky blues song and the rocking "How Deep This River Runs", both from Bonamassa's 2016 album Blues Desperation.  The folks in the front rows were standing and dancing, a few people were waving their arms, and everyone appeared to be in the moment of sheer blues ecstasy, as claps, cheers, and several standing ovations were launched.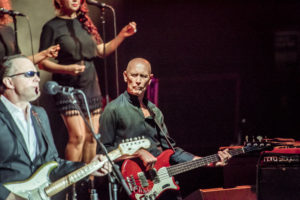 During Albert King's "Breaking Up Someone's Home", each band member was allowed to shine as the audience was treated to killer trumpet and sax solos as well as a mind-blowing guitar solo with Bonamassa accompanied by percussion only.  Bonamassa truly loves what he does, and appeared to become one with the guitar, as his finger nimbly moved down the neck.  At this moment, Wynans joined MacRae and Thornburg swaying to the beat, later jumping back behind the mighty B-3 with spinning Leslie speakers. As the song faded, Bonamassa chatted with the crowd saying, "There's always a rowdy cast of characters that show up here at Ruth Eckerd Hall. This must be our 9th or 10th appearance.  It's very nice to be back here!" Bonamassa introduced each band member, told a little background of each, and quipped about how Paulie Cerra "held the knife like a pencil" when each band member was asked to carve their name into a guitar.  I actually was admiring his Gibson Les Paul guitars all evening, thinking about how Gibson, the American institution, recently filed for bankruptcy protection.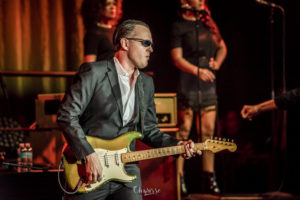 The evening continued with another one of my favorite songs of the evening "Slow Train", with its dirty, classic blues sound.  Bonamassa paid homage to Led Zeppelin by playing "Boogie with Stu" and "How Many More Times." We heard really powerful and soulful singing from MacRae and Tippens and a pleasant surprise was sax player Cerra's voice.
Although all good things come to an end, it was a mesmerizing and emotional roller coaster two-hour ride of blues.  The encore was "Sloe Gin", ending the evening on a sultry and soulful note.
Photo Gallery
\
Official Social Links

Latest posts by Chyrisse Tabone, Ph.D.
(see all)