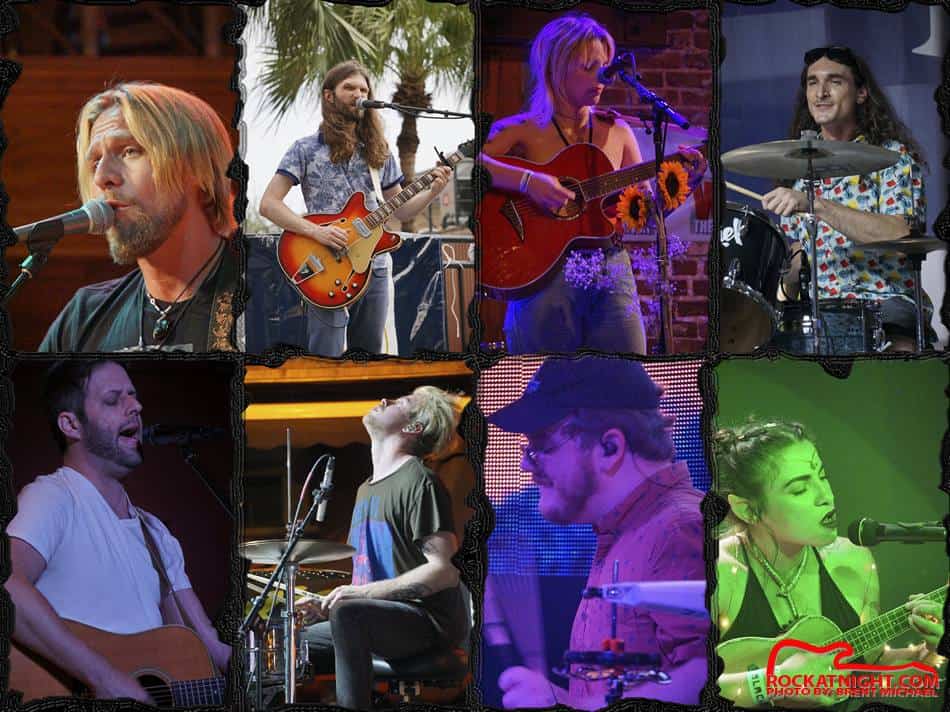 By Brent Michael, Rock At Night Tampa Correspondent
Venues: Downtown Orlando, Florida. Friday, May 11th, 2018, Including Ace Cafe, Blackstar, Cheyenne Saloon, Ferg's Depot, Odd Jobs, The Social, and Wall Street Plaza (2 Stages).
(2018 Florida Music Festival ran May 10-12)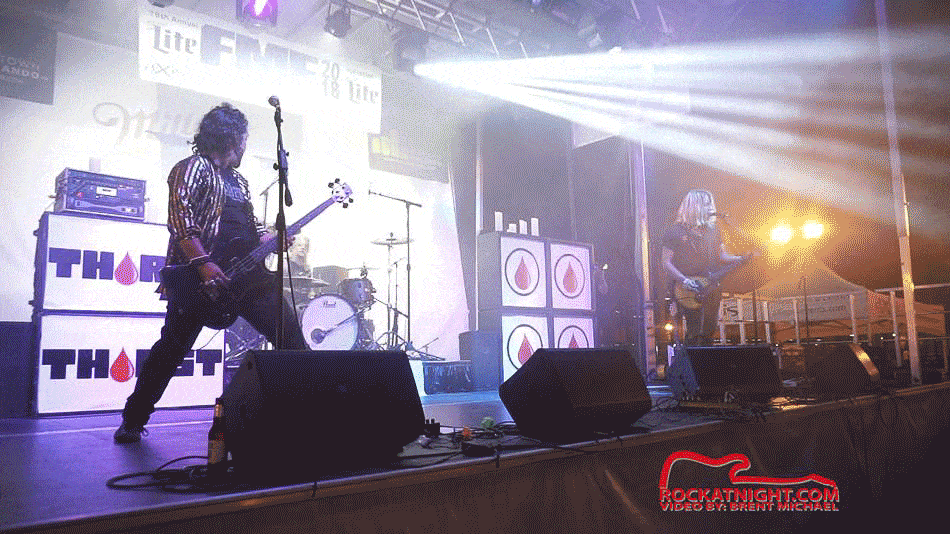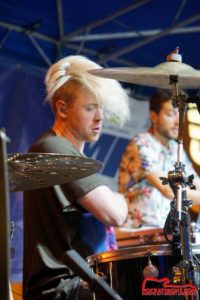 I suppose this applies to all music events/festivals, but especially when going to an out-of-town festival: Don't trust their map! This festival stretched out over approximately two and one-half miles of streets, made about a mile longer due to map errors (like renaming Church Street to Orange). Not being familiar with the layout, I missed several acts because I wandered out of my way until I found someone who gave me correct directions!
So, lesson learned! Also, I learned that it's impossible for one person to cover the entire festival, even though the stages weren't always busy and the performers staggered, eight stages spread out that far is just too much. So walk a mile – or several – in my shoes as I try to capture the essence of the Florida Music Festival in one day! I'd say the word of the day was variety. FMF showcases unsigned artists from around the country, and past musicians that were later signed include Taylor Swift (yes, that one), when she was only 14! Other past acts/performers included The Dirty Heads, Third Eye Blind, Flogging Molly, Minus The Bear, Lupe Fiasco and more… and Florida's finest homegrown acts through the years from Less Than Jake to The Supervillains, from Seven Mary Three, members of Matchbox Twenty, Creed to JJ Grey & Mofro… and yes even "Mr. Worldwide"… Pitbull asked to play once!
Note that nearly every song played at this festival was an original by an unsigned act, and most are from a Florida artist, many of whom can be seen in other Florida venues. What covers that were played were versions of songs by past Florida Music Festival attendees who had grown to be national acts. Links to ALL the artists are available via the FMF link above.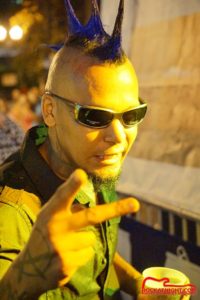 I figured I'd start at the south end. Cheyenne Saloon is worth visiting for ambiance alone! Four levels tall, ll with a view of the stage, the entire place made of honey-colored wood, the building is a great place to showcase acts. I was fortunate enough to catch Johan Danno and his brothers – a family act – as they performed their first few songs, which I'd call modern protest music. Next I hopped down the block to Ferg's Depot, where they had set up a stage outside that was featuring Hello Sister – or not, that's what the program said, but he introduced himself as Jordan Esker from St. Petersburg, and indeed he is. Self-described as indie/soul/rock, he was solo for this outing – not that he needed anyone else, although if correct – the program listed him appearing with his band, the Hundred Percent, Thursday at Cheyenne Saloon. Trundling back north on Orange Avenue brought me to The Social, a club designed like the old disco clubs with a dance pit in the middle, but with a stage added on one side, in this case featuring one Anjelica Becton, or just "Jel" as she introduced herself, an acoustic act who at first appeared to be topless – until you realized the big guitar and flowers on the mic stand hid a tube top! Several enthusiastic fans let everyone know she and her music were loved!
Next I hopped across the street to the Wall Street Plaza, a long narrow court where two stages at either end were set up to provide nearly continuous music, alternating between them. I first caught Run Racquel doing their pop-infused indie rock thing, working the crowd, definitely a high energy band! Scooting northward, I finally found the Blackstar/Odd Jobs complex – literally hidden from view, had it not been for directions from locals, I might never have found them! Blackstar lives up to its name, a standing-only venue with a stage and flat black paint. First act I caught was Cannibal Kids, they might be kids but they were rocking the place! Stepping six feet or so over to Odd Jobs, again I was struck by the appropriate name, in this case describing the artist. Not a bad thing, but Tiger Fawn is the most eclectic artist I saw, strung with lights reminiscent of Didges Christ SuperDrum's SkyeDancer, playing samples and ukelele-ish guitar, she was entertaining!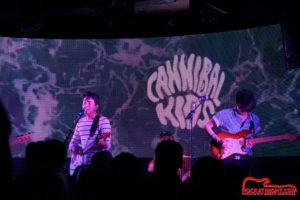 Trucked the relatively short distance back to Ace for some exquisite grub (best tater tots ever!) and a few of the songwriters they were showcasing. There was also a Tribute to The Edge, which had each songwriter performing one cover song and two originals. I caught  Jeni Valtinson  (Pearl Jam – Just Breathe) and Tessa Marie  (Counting Crows – Accidentally In Love) while eating, and Josh Hickey (Live – Lightning Crashes) and Zachariah Cabral (Foo Fighters – Everlong) right afterward, a nice stomach-settling set. Then it was back to Blackstar, where – to my confusion – it wasn't Phantom Phunk, but GVME Boys on stage, a one-musician EDM act, and no one was at Odd Jobs next door.
So I pushed my sore feet down to the Wall Street stages and was glad I did! I was just in time to catch all of Thirst's set, my favorite band of the festival – and apparently a crowd favorite too, as their high-energy power pop/metal music had the crowd moving! Last act I caught was LTM, an interesting duo made up of a Justin Bieber lookalike (no insult intended!) playing drums and a singer/guitarist/keyboardist (are you still a keyboard player if your instrument is a laptop?) putting out some catchy dance-able pop rock.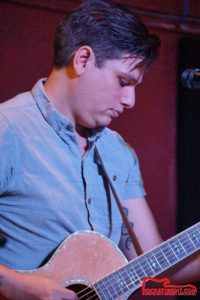 Finally my feet had enough, and I headed back to my car. Now I have to mention that in addition to all the musicians entertaining the general public (like me), there were scads of workshops, seminars, industry meet and greets, and industry-related stuff meant to help beginning or looking to break out artists ply their craft. This is a HUGE undertaking, and my small gripes are only intended to help improve things. Imagine if you will planning 125 weddings over three days, with most of the bridal parties coming in from out of town, and that'll give you some idea of the enormity of the logistics involved! But from what I experienced, everyone was amicable and dedicated to making this a success, and not once did this old guy feel unwelcome in this sea of 20-something faces.
So, for next year, my advice to myself and other attendees includes more planning as far as where to start and which route to take including looking up the venues and noting the distances involved. Then, get a bus pass – Lynx runs a route that would be ideal (and the festival organizers were kind enough to put a guide in my goodie bag, which I should've looked for) and saved me a few blisters! Ideally, I'd like a hotel room to stay in so I could attend the entire festival, but that wasn't in my budget ( or RAN's!)
Start your plans for next year by bookmarking Florida Music Festival and following them on Facebook, Twitter, (the link will doubtless change for 2019), and Instagram.
One last suggestion: Get all the venues a common wristband they all can use. I ended up with 5 on my arm, no way to avoid hair getting pulled, lol!
Photo Gallery

Latest posts by Brent Michael
(see all)