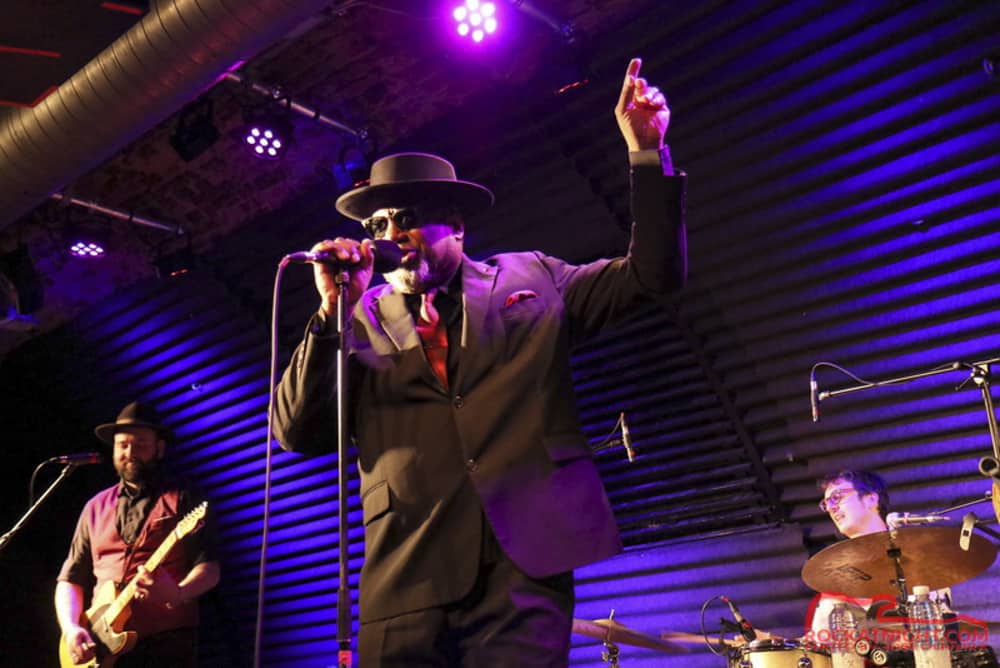 By José Oliveira, Rosine Alleva, Jouralist/Photographers – Rock At Night France, Switzerland, Germany
Venue : Jazzhaus – Freiburg
Many Blues songs always talk about women leaving their lovely "baby" and men crying their lost love.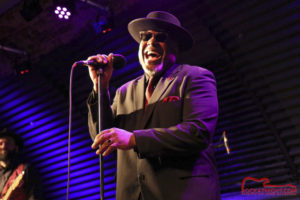 But BIG DADDY WILSON really has an atypical path. Born in EDENTON, a pretty little town in North Carolina, he discovered the Blues in Germany after joining the US Army for an assignment in Bremen. There, he fell in love with his future wife and lost his shyness!! It's also when this man, who worked in cotton and tobacco plantations in his younger life, discovered what he lacked beyond himself: THE BLUES !!! Big Daddy Wilson's fourth album "NECKBONE STEW" has won The German Record Critics' Award in 2017 in the category of "Blues for this quarter". The great Bluesman was on the road to promote his last opus when José Oliveira went to the mythical JAZZHAUS cellar, somewhere in the Black Forest, to let you discover this character with a warm and powerful voice.
The musicians:
Big Daddy WILSON – lead vocals – percussions
Paolo LEGRAMANDI – Bass –  vocals
Nick TACCORI – Drums
Cesare NOLLI – Guitar – vocals
Interview: 
RAN–  It's a great pleasure for us , to come tonight to FREIBURG to listen one of the most beautiful blues smooth voices. Could you describe your story?
BDW– Oh! Thank you so much. My story is a long story! You know, I considerer myself a Blues Lover! I started music late in my life. Although music was in my family. Cousins, uncles, aunties and our neighborhood, everybody was in a Church choir but I grew up very shy. I was always in the back. Didn't do much singing. But I love music. Always did. Drums was my first love. So, I started of beating on drums. My first cousin was a drummer and a bass player. That was my beginning also in a Church choir. From the south I grew up in a small town, the music that was playing in the radio was country, and we grow up listen to gospel and country! Was no Blues! Where I came from at that time. I didn't discover much about the Blues till later on I joined the US Army and later on I was based in Germany, as a US soldier! That's when I went to my first Blues concert and that's when the Blues quarreled with me.
RAN– Even though you worked a little in the cotton fields, it is quite strange to see that Germany brought you to the BLUES ! Bringing the BLUES from Germany to the United States is a strange travel. How it happened?
BDW– Yes, you're right. I worked in the cotton fields, in tobacco fields because you know North Carolina was famous for tobacco back in the day. We all worked on the farms. Because of coming from a restrictedly religion background and for southerner type of bring in, we didn't hear the Blues Music. As I said I was a soldier and my German wife took me to a small Blues Club in Germany and that was the first time I heard the Blues!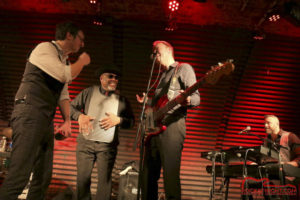 It really hit me and I knew then that this was the music for me. It felt like it was calling my name. So I started singing the Blues , I started to learn as much as I could about this music and so… I'm addicted!!!
RAN– Your unique voice touches different styles together. How do you manage it? Reggae and the Blues haven't the same roots!
BDW– Yeah! you know, I believe they all have the same roots, they are really strong with the vibe, the feeling moves me and I think music connects! Music connects people and music connects different arts. Different styles. And I like that, you know.
RAN– Are you seeing the BLUES as bright and wide open to innovation?
BDW– Yes! You know, I think everyone has their style , their way of delivering or performing and the Blues should be open for different interpretations, that's why I love living here in Europe I give a chance to play with so many different people from different parts of countries, parts of the world and to feel what they bring to this beautiful music called Blues. And it's unique.
RAN– Usually, on stage, you play congas, Cajon and percussions. But tonight it was different! Why?
BDW– Yes, tonight in this beautiful JAZZHAUS, a great and well known Jazz Club in Germany, I'm on tour with my big Band now and so I travel and have a big formation with me with this new CD "NECKBONE STEW" we just produced. We can do more songs for a new cd.
RAN– Your musical project is usually based in a Trio. Is it the best way for you to express your music?

BDW– Well, there are many ways. I like that and I like do the the acoustic way, you know. If you sing a song like I try to do , sometimes less is more and acoustic guitar open up a platform for the vocals to come across in a beautiful way and so most of the songs I write start of from just a small acoustic guitar, so this is the first style, it's the root.
RAN– Some American great musicians or singers had made their career here in Europe. Much more than in the United States. LUTHER ALLISON, for example. Jazzhaus was his record label here in Germany. What's your feeling about that? Are you now well known in your home town?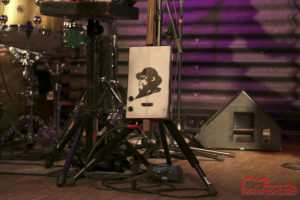 BDW– I think it's great! You know LUTHER ALLISON was a hero of mines. I met his son a couple of weeks ago, BERNARD ALLISON. They are great Blues people and spreading the Blues all over the world. Yes, now we work with the same record Company. With this new CD, I signed with RUF RECORDS. LOUISIANA RED, EDDIE BOYD or CHAMPION JACK DUPREE made Europe their home. A lot of great artists came over here and spread the Blues and even stayed over here!
RAN– You're hitting the road for the next two months here in Germany and some other European venues. How do you see that?
BDW– Oh! I love it! I really love to play in different countries and to feel the vibe from different folks. It's really beautiful.
RAN– I saw that you will have a concert next December in your own State in America! It's kind of a big excitement, isn't it ?
BDW– Wow! How you know that? Yes, I'm happy to be back to Carolina and my plan is to carry my Band with me this time and work with some American artists over there also. We're gonna have a big show, big time, big fun, we'll gonna have a big party!!.
RAN– I would like to thank you so much, and hope to see you again soon, maybe in Portugal!
PHOTO GALLERY

Latest posts by Jose Oliveira
(see all)