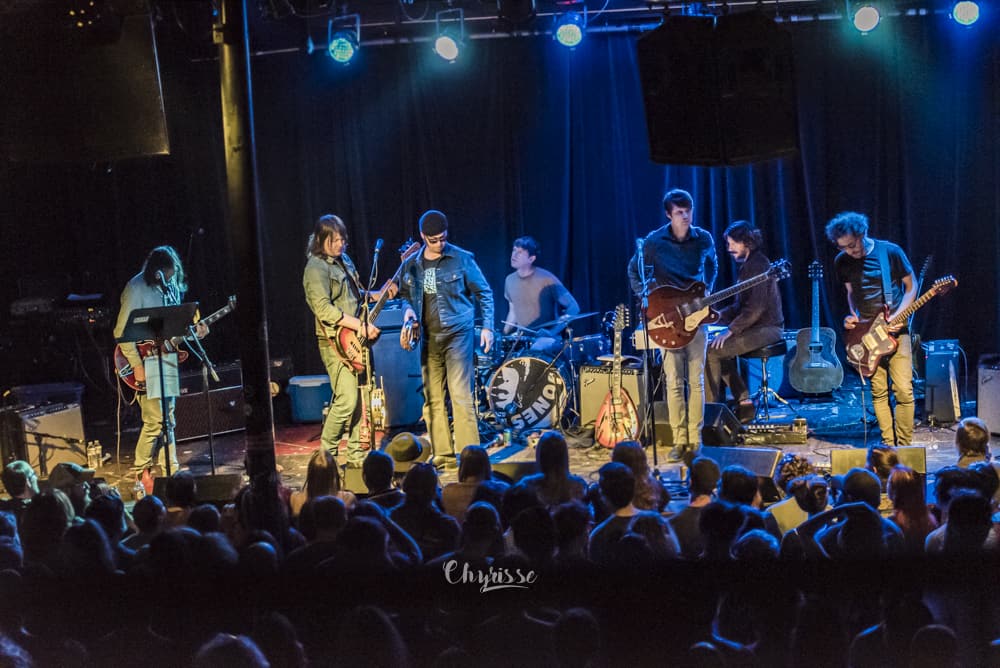 By Chyrisse Tabone, Rock At Night Tampa
Venue: The Orpheum, Ybor City, Tampa, Florida–May 2, 2018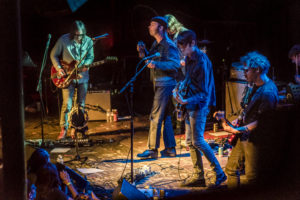 Rock At Night has been following Brian Jonestown Massacre in Europe for awhile, having covered the band at the Cosmosis 2016 Festival in Manchester, UK.  When I first heard that Anton Newcombe and the band were performing in Tampa, Florida, I was more than elated!  Psych rock has always been a favorite, perhaps, since my parents were into the Psych Music in the 60s (not to mention, our house looked like it could have been from the pages of a hippie mod interior decorating magazine—lots of Op Art wall paper, Danish modern furniture, mirrored walls with gold veins, a purple chaise lounge, and bright orange kitchen).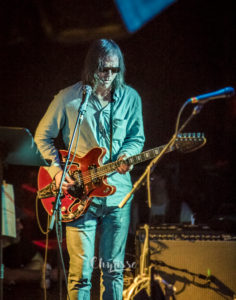 The evening of May 2nd at The Orpheum, Ybor City, Tampa, was a balmy one, and not a lot of activity going on in the street, except for cigar and hookah bars.  By the time I walked into The Orpheum, the venue was very dark, and standing room only.  The crowd appeared to be mostly men and a mixed group of ages between Gen X'ers and Millennials.  Considering the span of music created by Brian Jonestown Massacre (over 25 years), it was refreshing to see.   I saw on Facebook a lot of fans were saying this concert was a "bucket list", possibly because there seems to be a mystique and fascination that follows the band and Newcombe, especially since the documentary Dig! Was released in 2004.  Newcombe could possibly be one of the most prolific and talented songwriters out there right now. He almost seems to be the Bob Dylan of  the Psych Rock cult, possibly with attitude, and sheer quality of his writing. Poetic. Anti-establishment. Raw.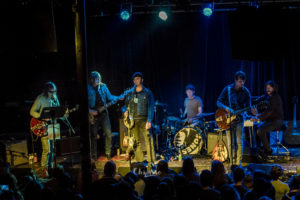 The band came out in almost sheer darkness except for the nicely well-lit "bottom half" of the stage.  The Orpheum is a photographer's nightmare since people's heads are in the dark but their bottom halves are clear as day. Thank you, lighting person!
During the evening, BJM played a mix of old favorites like "Who?" and "Geezer", with its kind of dreamy psych-rock feel.  The band did not really speak to the audience between songs but mulled around, re-tuning guitars, and then whipped into the next one on the setlist.  The audience would cheer and shriek "Anton! Anton!" between the songs and he appeared to be unfazed by the adulation.  He kept his head down, playing the guitar, and looking at the music stand in front of him. The drummer was completely working it the whole evening, and I was in awe of his energy. Joel Gion was working the tambourine, and maracas ("Who Dreams of Cats") or Latin Guiro scraper ("Nevertheless") during the gig. People may giggle but the tambourine totally blends with the layers of guitars with the exact nuance needed for this type of music. The tambourine totally rocked on "Geezer" and one of my favorites "Sailor", which captures the whole 60s sound.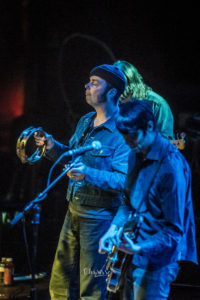 Listening to BJM is a total cerebral feast for the mind—seeing them live is just mind-blowing.  I could almost picture kaleidoscopes in my mind, as a cool and almost "druggy" feel, permeated my mind.  Closing my eyes I could hear almost a British accent in Newcombe's voice—very Small Faces ("Who?"), Morrissey ("Forgotten Graves"), Robert Smith ("Whatever Happened to Them?"), and Black Grape ("Pish").  A new song "Who Dreams of Cats" is very rocking and will be featured in a new full-length LP which will be released through Cargo Records on June 1st.
Overall, the BJM concert cannot be described except as pure joy and sensory overload.  I don't know why more people don't know about Brian Jonestown Massacre. They are the most underrated band out there. This could have been my favorite concert of the year.
SET LIST
We Never Had a Chance
Whatever Happened to Them
Hold That Thought
Who?
A Word
Government Beard
Geezer
Anemone
Jokers Attack
Sailor
Who Dreams of Cats
Nevertheless
PISH
That Girl Suicide
Forgotten Graves
Whatever Hippie Bitch
Drained
Wisdom
Servo
PHOTO GALLERY

Latest posts by Chyrisse Tabone, Ph.D.
(see all)