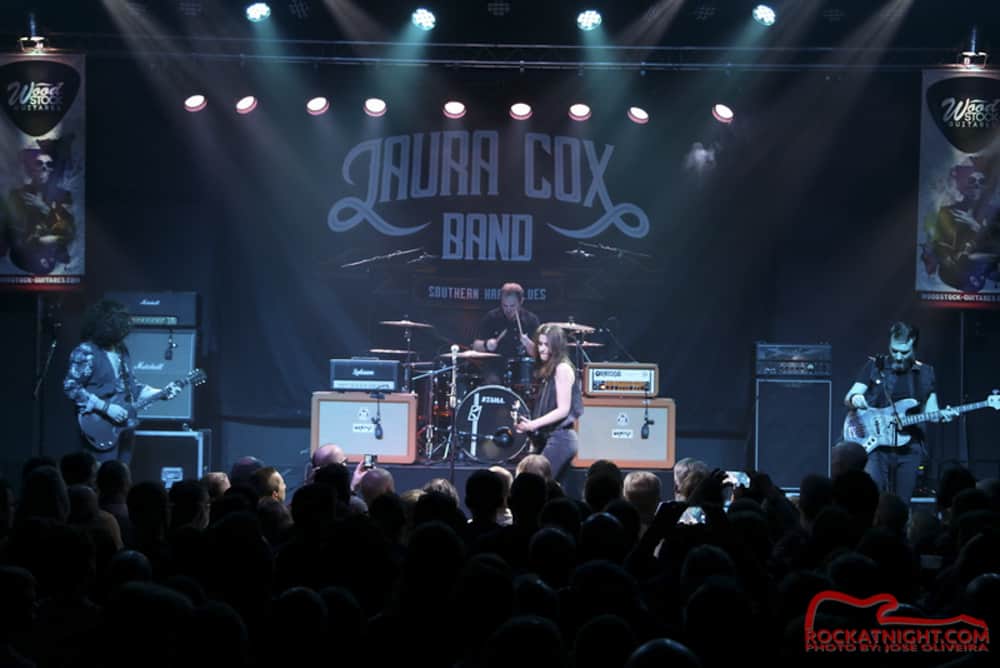 By Rosine Alleva, José Oliveira, Journalist/Photographers – Rock At Night France, Switzerland
April 7!!! What a date at Wood Stock Guitares!!!
LAURA COX is a french-english young talented guitarist and singer. She began to learn playing guitar when she was 14. After a few years studying the instrument, she began to play covers and had the good idea to put it on YouTube…From there began her success story. She was at Woodstock Guitares to dedicate her first album HARD BLUES SHOT released a year ago and to give us an awesome concert.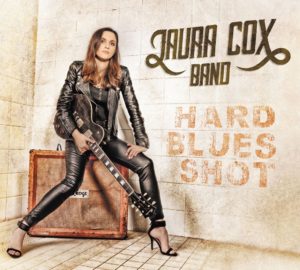 The evening was sold out !!! The supporting band SMOKING KILLS was more than an excellent kick off ! (Rock At Night SMOKING KILLS interview in Promoted Bands). We were hoping for a jam to close the event, maybe next time!!!   But we had the opportunity to chat with LAURA COX before the concert.
The musicians :
Laura Cox- Vocals, Guitar
Mathieu Albiac- Guitar
Antonin Guerin- Drums
François C. Delacoudre- Bass
Interview: 
RAN– Welcome to Woodstock Guitares! You dedicated your album this afternoon in the shop, how did you feel surrounded by your fans and the guitars collection in this Guitars Temple?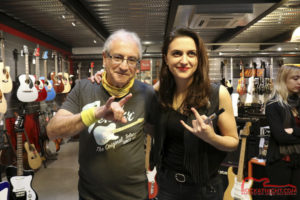 LAURA COX– It's a very nice music store, with very beautiful models, very beautiful guitars, very rare, and the people who were there were people who will be there tonight and just came to talk a little. For those who didn't tickets , well they came to meet me and have a little chat as well.
RAN– You just got a Fire Steel Bird, Fire V, from LOÏC LE PAPE Steel Guitars, with LOLLA PICKUPS, will you play with it tonight?
LC– LE PAPE is a French craftsman who makes steel guitars, it's his particularity, pickups LOLLA PICKUPS it's American! I've been attached to this brand of microphones for several years, it seemed natural to rework with the same ones. I will not play with the Fire V tonight because I have to make some changes to the pickups precisely.
RAN– You play with a Les Paul Bacchus Duke, is this the one you privileged until now?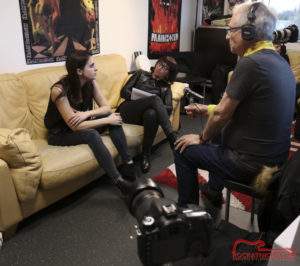 LC– This has been my main guitar for the past 4 years I love it, it brings together everything I love, esthetically I like it a lot, it's a fairly classic Les Paul shape but satin finish, I like it a lot. It's with this guitar that I'm going to play tonight
RAN– Which guitar did you begin to play with when you were learning?
LC– A classical guitar without labelI think and then I went through an acoustic for 6 months, 1 year and then I quickly realized that it was an electric that interested me.
RAN– It's already 10 years you began to put videos on YouTube playing covers, when did you begin to compose and decide to form a band?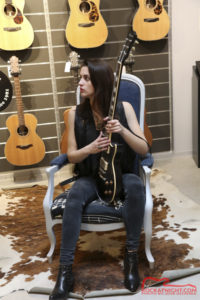 LC– It took a long time because I am someone rather reserved, quite introverted, So I felt good just to make videos on Youtube all alone in my room then I met Mathieu in 2010 and we became good friends. It was around 2011-2012 that we started to compose together and we set up the band. The final line-up has been in place since the end of 2015 and we are now touring quite well.
RAN– I read you're a big fan from SHERYL CROW….so, I will ask you which guitarist would you dream to play, jam with ??
LC– SHERYL CROW, I do not consider her too much like a guitarist but if we talk about singer guitarist, she would be in my top 3 for sure, even the first I think. Then there are artists that I like a lot, more modern like HALESTORM. The singer LZZY HALE, I would be ashame to sing with her but I'd love to play guitar with her!
RAN– Funny this title "GOOD OL' DAYS" (I love it), when we know you're still so young….what's the story of this song ?
LC– I speak as if I was an outsider, in fact, I project myself into the skin of an old man … it is certain that I did not live that … It speaks of an elderly man who has regrets, who remembers his life, the good times he lived with the people he loved. It's pretty sad but at the same time it gives a positive message.
RAN– Between the French Rock and the UK/ US Rock, where does your heart lean to? We could say do you feel more French or English?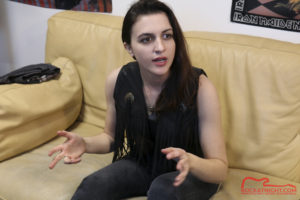 LC– I feel more French. My dad is english but never taught me to speak english unfortunately. I have always lived in France, but in terms of music, I do not listen to French music, it is precisely my father who made me bathe in good music. Anglo-Saxon music, American or English. Mostly American, which speaks to me more.
RAN– With an English father, which bands did influence your music style ?
LC– I've evolved a lot in relation to the music I listen to. My father listened a lot to traditional country, JOHNNY CASH or WILLY MASON. But he also initiated me to more classic rock like DIRE STRAITS, AC/DC. Even though my father isn't a musician, as he is Anglo Saxon, he has a different culture than the French and it allowed me to listen to different things. Who knows, with a french father I might never have played guitar (laughs).
RAN– How do you see your music for the second album?
LC– The music of our second album, in my opinion, will sound more like our group. The first album, without being negative, is rather a mixture of all the styles that I like to play. Country rock, classic rock, things a little more hard rock, a panel of everything I love and listen to. I think the second album will have a little more personal style We will begin to show more our own style. Overall, rock for sure!  I don't like to put a name on this…we'll stay more on something like hard blues.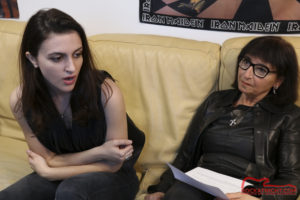 RAN– Last question, I read you prefer the Belgian public kind of? Why ? ….I'm Belgian and this is not the 1st time I hear this…That Belgium is the best country to test a band… Although…there must be a reason the concert is sold out tonight!…
LC– We have not often had the opportunity to play in Belgium, maybe 4, 5 times. We've always been very well welcomed…In France as well of course but in Belgium compared to the public, it is not that they appreciate more but the people show it a little bit more and as an artist on stage when you see people moving and smiling, it gives you even more desire to play. It is true that most of our fans are pretty static, I know they like our music, listen and are happy to be there but you can't see it on their face. It's a pleasure in Belgium to see that people are not afraid to show how they feel.
RAN– We work for US, Florida. Is America a dream for you?
LC– I have never been to US. It's one of my greatest dreams, because everything I listen to, everything I look at is from there. One day I think we'll go, to tour with the band, I know there are lots of fans  calling us down. I hope we'll definitely go next year.
RAN– You'll go, for sure! Thank you for this interview Laura!
Many thanks to Kriss from Muzivox and to Wood Stock Guitares for this interview.
PHOTO GALLERY

Latest posts by Rosine Alleva
(see all)