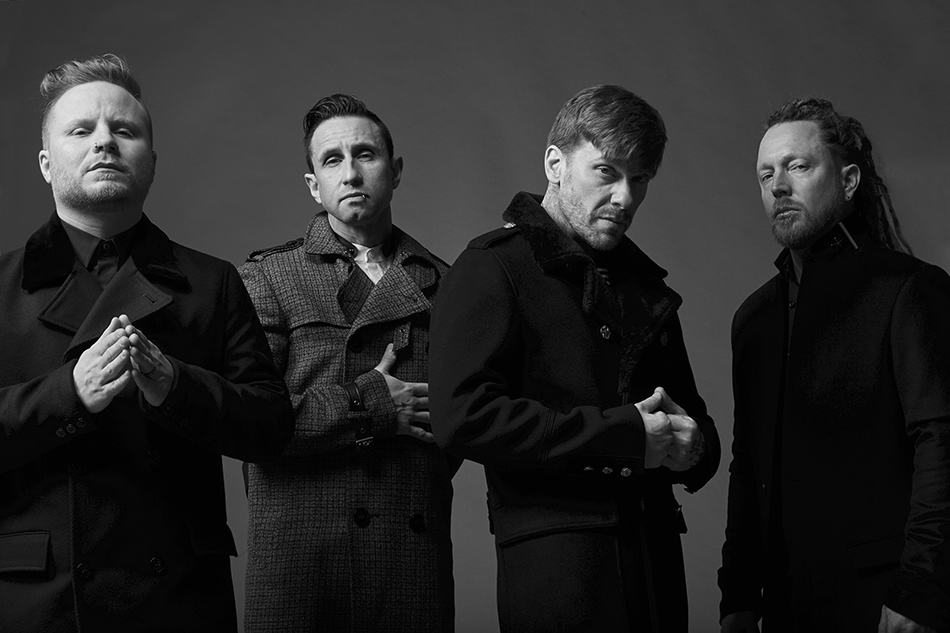 By Mike McKenney, Rock At Night New England
Album Review: Shinedown's ATTENTION ATTENTION–release date May 4, 2018
Powerful and raw to the core, Shinedown's soon to be released, ATTENTION ATTENTION is a concept album that follows a man from the shallowest depths of despair through a torturous battle with his monsters, demons, and madness to a "brilliant" future filled with confidence and hope.
Although Brent Smith [vocals], Zach Myers [guitar], Eric Bass [bass, production], and Barry Kerch (drums) have sold more than 10 million albums worldwide, have 11 platinum and gold singles and four platinum and gold albums, – a feat unmatched by any other rock band, Their work on this album is so tight and the arrangement so perfect it has the potential to surpass all previous endeavors. It flows seamlessly like watching a movie in your head.
Starting with a walk down a desolate hallway, a knock on the door leads into the pre released "DEVIL", hard hitting, with brash vocals and wicked guitar work, "DEVIL" makes sure we are ready to begin this journey and lets us know we won't be alone ( "the devil's in the next room").
The title cut "ATTENTION ATTENTION" deals with the madness and an unwillingness to release from the anxieties that fester as "the voices in my head are legendary"
Sliding further down into the abyss with "PYRO", MONSTERS", "DARKSIDE", and "CREATURES"…nothing is ever going to change" and "Cuz you're just as tragic we're creatures of habit" all profess there is no hope, a small sliver of light is beginning to shine through."
In "EVOLVE" we start to hear a transformation, a personal responsibility of evolution to "find my own solutions" that becomes a foundation for "GET UP", a inspirational call to "get a move on, and stop stalling" an awakening of sorts.
"special" is a thought provoking rebuff to the entitled generation, a prod to live before its too late "stop waiting for your 15 minutes of fame" with a background refrain from "GET UP".
While the futuristic "THE HUMAN RADIO" blends in nicely, it stands perfectly on it's own and after "DEVIL", will certainly become a breakout hit for Shinedown.
The long (14 song) journey finally comes full circle in "BRILLIANT" with all the confidence to proclaim "It's my turn to be brilliant!".
Shinedown remains as fearless as ever as they kick off what promises to be their biggest and boldest chapter yet. Ultimately, the band delivers an engaging, powerful and enduring statement on ATTENTION ATTENTION.
"I want this to feel like a journey," concludes Eric. "I hope it catches listeners' attention. Throughout the process of listening to it, the hair on their arms stands up and they become invested in this creation. That's what I would love for people to take away."
"I want everyone to know we will always go to the next level," Brent leaves off. "There's no ceiling. We'll continue to push ourselves not only as musicians, but as songwriters and as people. I feel like this is a record the world needs right now. It's about celebrating the will we all have inside of us. To me, this band means giving up is not an option.
Shinedown's "Attention Attention" is set for release May 4th 2018 on Atlantic Records
Pre-release of Devil and Human Radio available everywhere.
Shinedown – Brent Smith [vocals], Zach Myers [guitar], Eric Bass [bass, production], and Barry Kerch [drum]
ATTENTION ATTENTION TRACKLISTING
1. THE ENTRANCE
2. DEVIL
3. BLACK SOUL
4. ATTENTION ATTENTION
5. KILL YOUR CONSCIENCE
6. PYRO
7. MONSTERS
8. DARKSIDE
9. CREATURES
10. EVOLVE
11. GET UP
12. special
13. THE HUMAN RADIO
14. BRILLIANT
For more information on Shinedown, please visit: Facebook | Instagram| Twitter | Website

Latest posts by Mike McKenney
(see all)