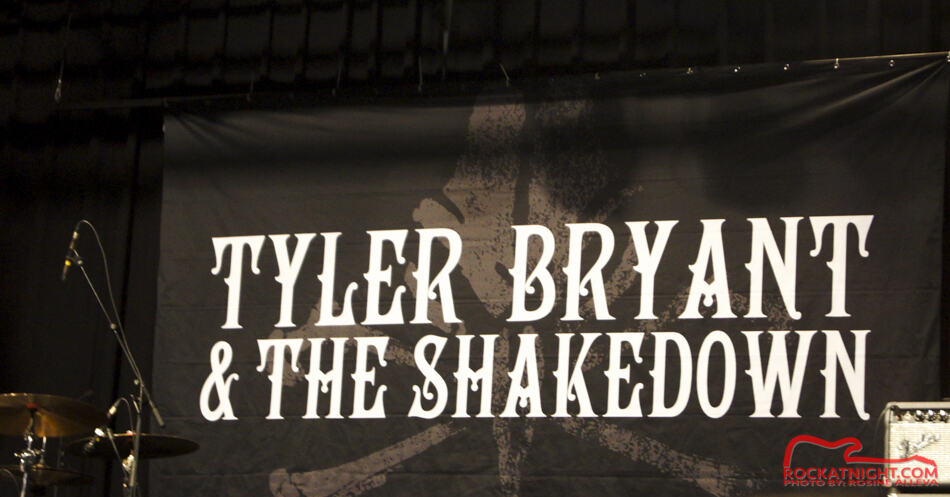 By Rosine Alleva, Journalist/Photographe – Rock At Night France, Switzerland 
Venue: De Zwerver, Leffinge, Belgium-December 1, 2017
I was at a TYLER BRYANT & THE SHAKEDOWN concert last December on their "RAMBLIN BONES TOUR" to interview their tour manager ETJEN Vd VLIET but also as a fan of the band. To see a Tyler Bryant & The Shakedown concert is always a great moment and I had the privilege (thank you Etjen!), to assist to part of the soundcheck and greet them briefly before the concert. I was seeing them for the 3rd time, and was quite excited to discover the full show with their brand new album.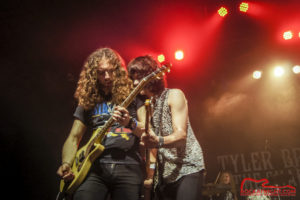 They hit the stage with the high energy song "Back Fire" to set the tone of the show. Tyler Bryant, Caleb Crosby, Noah Denney, and Graham Whitford performed in front of a wide-eyed crowd throughout the concert. The band is just full of fire, and so talented. Needless to add Tyler's outstanding voice, charismatic presence on stage to know why the band is becoming so famous.
Last November Tyler has been nominated the best blues guitarist for 2017, no doubt he knows exactly how to make his guitar speak.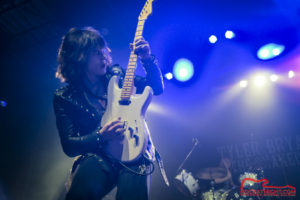 Although I enjoyed every second of the show, my favorite moments were when they played Don't mind the blood and Aftershock! It's awesome to see the band having so much fun and complicity on stage. The concert ended on Ramblin' Bones with a singing along crowd. TYLER BRYANT & THE SHAKEDOWN, soon on top of the albums charts!!!
What happened to TYLER BRYANT & THE SHAKEDOWN since last summer
I was chatting a few minutes before the concert with CALEB CROSBY, TBSD drummer.
RAN– Hi Caleb, I heard a lot about the band lately, what happened since I saw you in France last summer?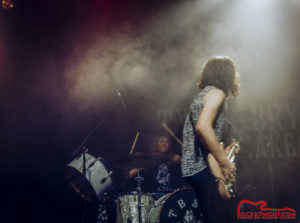 CALEB CROSBY– Since last summer, we signed our deal with SNAKEFARM. We had finished the record when we last saw you but obviously we were trying to figure out what we would do with it…SNAKEFARM loved the record that we made and said to the band "all we want is to sign this on". And that is special to us because it wasn't signing to a label who was going to tell you what songs you were going to record. We were stoked about that, and great already to have a good relationship with. And we thought they were going to be behind us and this felt comfortable. With that came a bit of budget, so we got the record remixed and a couple of things behind the scenes to finish it. Here we are now, the record is out, there is still a new video that we're gonna put out quite soon. Our first headliners run over in Europe, shows have been great, really overloaded.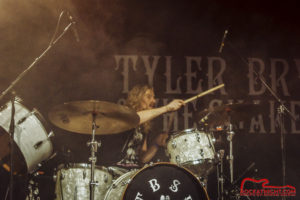 RAN– Yeah, I also read a few articles in Classic Rock magazine.
CALEB– I think the magazine just named us number 21 of the 50 best albums of 2017, which is pretty cool.
RAN –  More awesome news!
CALEB– Yeah, that's pretty neat, right! So, yeah, they reviewed the record well, crowds have been amazing, probably some of our best crowds yet. Yeah, it feels that way, but we're not gonna stop. You can't do this when you're a new band, you've gotta keep going, pushing, you've gotta keep growing! Even when we go home without planned shows, we're still writing, already thinking about the next record. That's exciting, we've got tons of new songs we're not playing yet but that we're already excited about, that are kind of living in our internal family…So we're getting ready for that. I would say we'll probably start recording that sooner than later. We're also talking about possibly putting out the 7 songs of the Way Side that did never come out. I don't know if we talked about that last time ?
RAN– Tyler mentioned it in our interview last summer, it was supposed to be a full album, right?
CALEB– Yeah right. Actually if you buy the vinyl, there is a bonus track, and it's one of those 7 songs.
RAN– Thank you very much Caleb, all the best for 2018! Looking forward to seeing the show tonight and to hearing some of your new songs soon.
Upcoming dates Ramblin' Bones Tour 2018 …More to come
Mar 8 | Ground Zero Showroom | Traverse City, MI
Mar 9 | Lerner Theatre | Elkhart, IN
Mar 10 |  Fillmore Detroit | Detroit, MI
Mar 11 | Beat Kitchen | Chicago, IL
Mar 22 | City Hall Live | Brandon, MS
Mar 23 | Georgia Theatre | Athens, GA
Mar 24 | Georgia Theatre | Athens, GA
Mar 29 | The International – Knoxville (Concourse) | Knoxville, TN
Mar 30 | Zanzabar | Louisville, KY
Mar 31 | Appalshop Theater | Whitesburg, KY
Apr 19 | The City Center | Champaign, IL
Apr 20 | Surf Ballroom | Clear Lake, IA
Apr 21 |  The Stiefel Theatre for the Performing Arts | Salina, KS
Apr 22 |  Granada Theater | Lawrence, KS
Apr 27 | The Masquerade (Purgatory) | Atlanta, GA
Apr 28 | Monster Energy Welcome to Rockville | Jacksonville, FL
Apr 29 | Monster Energy Fort Rock | Fort Lauderdale, FL
May 02 | Mercury Lounge | New York, NY
May 03 | Aura | Portland,ME
May 04 | The Strand | Providence, RI
May 05 | House of Blues| Boston, MA
May 06 | The Webster (Underground) | Hartford, CT
May 10 | The Ritz | Raleigh, NC
May 11 | The Stone Pony | Asbury Park, NJ
PHOTO GALLERY

Latest posts by Rosine Alleva
(see all)