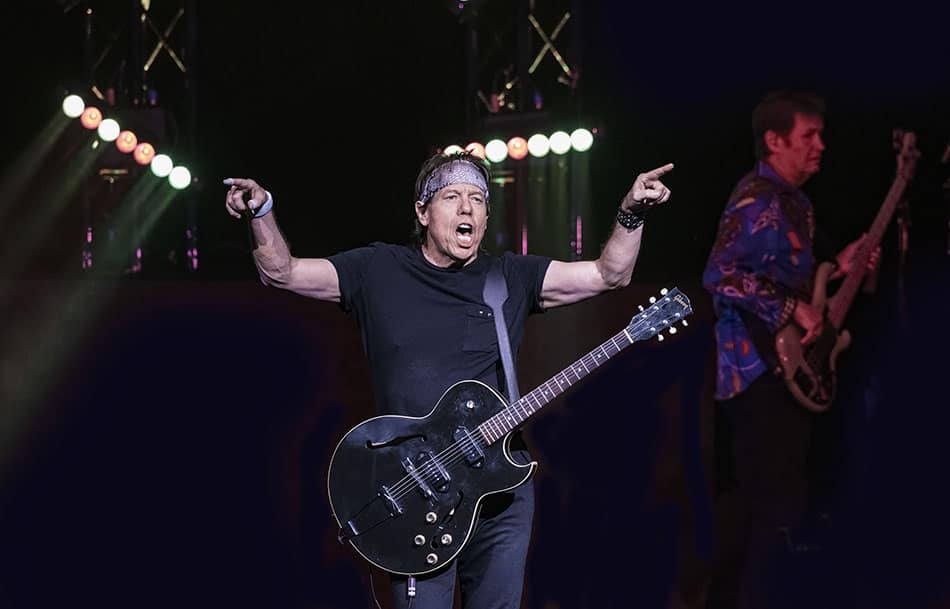 By Mike McKenney, Rock At Night New England Correspondent
Venue: Foxwoods Grand Theater-Mashantucket,  Connecticutt – June 3, 2017
George Thorogood and the Destroyers Crank it up, at Foxwoods for a lucky "Invitation Only" crowd! Saturday night at Foxwoods Grand Theater was indeed "Special" as GTD tore into town for this special event.  No tickets were sold, entry was by "Invitation Only" and (with the exception of a few VIP seats), seating was general admission. The old Barry McGuire protest song, "Eve of Destruction" served as the opening act as friendly ushers helped the crowd find seats in the quickly filled theater.
With lights flashing, George Thorogood and the Destroyers take the stage ready to rock in typical GTD style! Ripping into "Rock Party" and "Who Do You Love" , quickly got the appreciative crowds attention.
George's personality creates an immediate connection with the audience, flashing his electric smile as he jokes with the crowd between songs. His campy style is on full display as this veteran of over forty years struts around the stage.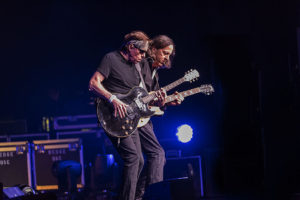 Changing a lyric in "Bad to the Bone", he sang "I make Connecticut girls" squeal, much to the delight of all the ladies in the house. Throughout the evening, GTD played flawlessly with high energy. There is no sign of George Thorogood and the Destroyers slowing down any time soon. The music was loud and the sound in this great venue was perfect for George's familiar blues and boogie style.
Popular covers 'Move it on over", "Get a Haircut, and "Night Time" along with crowd favorites "I Drink Alone" and "Tail Dragger" showed off the experience this band has playing together.  Jeff Simons (drums), Billy Blough (bass), have been playing together since the 70's while "New" members Jim Suhler (guitar), Buddy Leach (sax) joined in around the turn of the century.
Not surprisingly, George is a huge fan of Harleys. According to the owner of the local Harley-Davidson shop, wherever George plays, he sends a meet and greet ticket to the local Harley store in exchange for a few Harley T-shirts for the road crew. After all these years they must have a huge collection!
All in all, this was a great show in the perfect venue that exceeded all expectations. George Thorogood and the Destroyers "Rock the Party" tour continues this summer. Don't wait for a special "Invitation",  grab a ticket while still available.
Setlist:
Rock Party
Who Do You Love
The Fixer
Night Time
I Drink Alone
House Rent Blues/One Bourbon, One Scotch, One Beer
Get a Haircut
Gear Jammer
Move It On Over
Tail Dragger
Bad to the Bone
Photo Gallery
The images may not be reproduced, copied, transmitted or manipulated without written permission to Rock At Night and the photographer. Use of any image is a violation of the United States and international Copyright law

Latest posts by Mike McKenney
(see all)