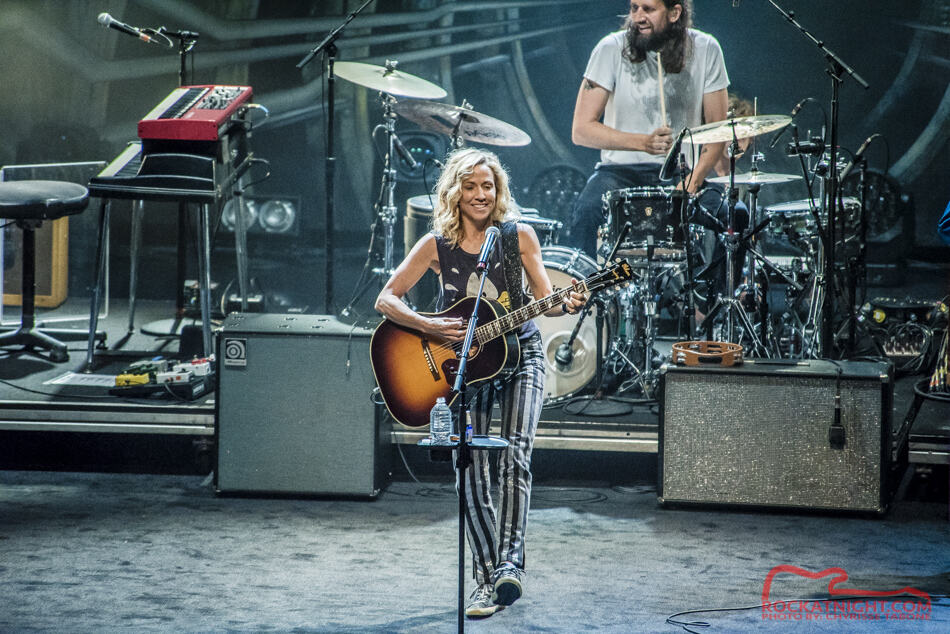 By Chyrisse Tabone, Ph.D., Rock At Night Tampa Correspondent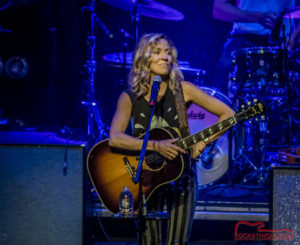 Sheryl Crow is on tour to promote her new 11-song album "Be Myself" which was co-written and co-produced by Sheryl and Jeff Trott – who previously collaborated with Sheryl on many of her most successful albums. I felt totally psyched hearing that she was making a stop in Clearwater, Florida!
Finally the special Sunday evening at Ruth Eckerd Hall arrived!  It was unusually hot (in the 90s) for April and a lot of the concert-goers were sporting shorts and casual summer wear.  There were a lot of couples mulling into the lobby and the venue filled up quickly as there was no warm-up band. The crowd was there to see two hours of pure-Sheryl.
While waiting to near the soundboard, which was the designated photo shooting location, I was eavesdropping on nearby people's conversations to get a feel for the audience and their expectations. The crowd was chattering about all the memories of Sheryl Crow's songs and one fellow mentioned, "She appears ageless…kind of like Dick Clark use to!"
When the darkened lights brightened on the stage, a full band of guitars, bass, slide guitar, drums, and piano were revealed and Sheryl Crow sauntered onto the stage sporting sequined pants and a cute Daffy Duck shirt.  She was looking bronze and likely spent the day on a local beach.  It was true that she appeared ageless as the concert patron described—and very petite.  I never realized it before from photos!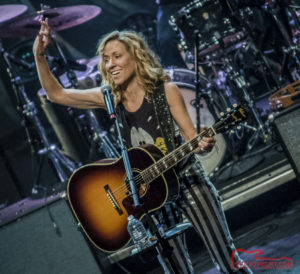 Sheryl Crow gave the crowd a treat from the get-go by diving into "Everyday is a Winding Road", "All I Wanna Do", and "My Favorite Mistake". Her voice was absolutely superb live and had a distinct country lilt I could not hear in some of the radio play in the 90s.  The band was totally topnotch and a joy to watch in their own right.
Sheryl Crow played songs from her new album "Be Myself" mixed in with the classics and I have to say, the new songs were  among my favorites! They were very rocking in the vein of classic or 60s rock, funk, and soul, each had a message or social commentary, and appeared to be very fresh and timely. When Crow introduced the song "Alone in the Dark" she prefaced it with a criticism about the Age of Social Media like Facebook and Twitter. She lamented about being "old" and being a girl from Missouri who remembered how things "used to be." The song was catchy, rocking, and featured Crow ripping it up on a harp. She prefaced the political tinged song "Heartbest Away" was written way before the "Russia hacking controversy".
Another crowd favorite was "Can't Cry Anymore" and I adored hearing her cover of Cat Steven's "First Cut is the Deepest". Simply gorgeous.  Other new songs from the album which had cool rocking riffs were "Heartbeat Away" and the nostalgic "Roller Skate".   I really enjoyed hearing the live versions of "There Goes the Neighborhood" and "Leaving Las Vegas" which brought the ladies next to me to their feet and mouthing the words.
During the concert Sheryl Crow sipped what appeared to be tea from a mug. She apologized saying she was losing her voice and "had a bit of a sore throat." She noted "I'm a spitter" and if the "front row gets a sore throat" it was likely from her.
One of the final highlights of the evening was "Picture" and the anthem "If It Makes You Happy" brought Baby Boomers to their feet, dancing in the seat rows.  Overall, it was a memorable concert which made me (and I assume others) want to run (and not walk) to buy Sheryl Crow's latest album Be Myself.
Photo Gallery
Video

Latest posts by Chyrisse Tabone, Ph.D.
(see all)