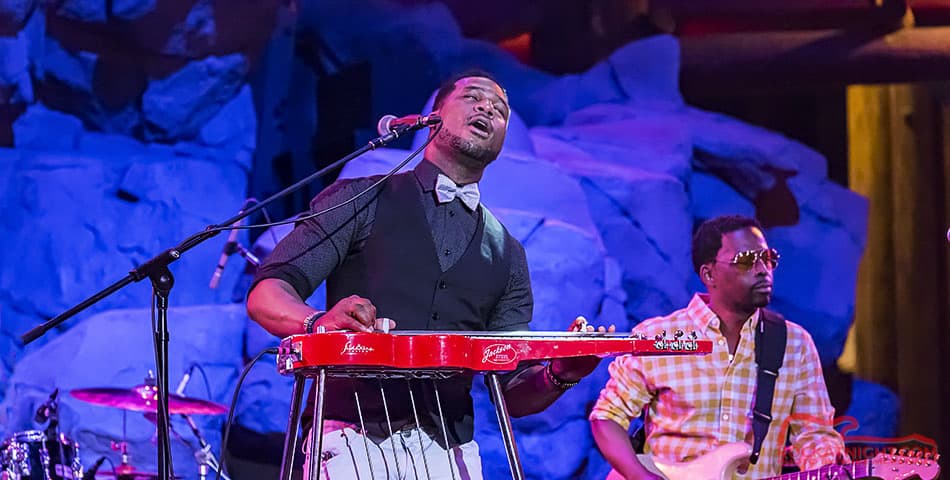 By Mike McKenney, Rock At Night New England Correspondent
Venue: Wolf Den at Mohegan Sun-Saturday May 6, 2017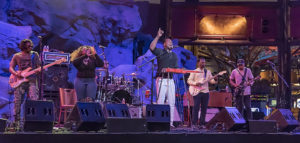 Robert literally grew up in church, being exposed solely to Gospel music in his early years, he played the Sacred Steel guitar.  Now, one of Rolling Stones "100 Best Guitarist of All Time", he has created his own sound, a fusion of rock, jazz, funk, and soul.
 Seamlessly switched between popular covers such as Sly and the Family Stone's ' Thank you (Falettinme Be Mice Elf Agin) and songs such as "Shake It" and "She Got Soul" from their latest album "Got Soul", Robert Randolph and the Family Band kept the party atmosphere going for the crowd throughout the show.
With a smile that lights up the room, Robert is well known for his lively playing style. He gets completely absorbed by his music, sometimes losing his hat or even falling to his knees all the while caressing one his many steel guitars.
At times during this show he was throwing his head back, jumping up off his seat, even throwing kicks into the air, and the crowd loved every minute of it.
Robert is also well known for playing with other artists including Eric Clapton, Carlos Santana, and Dave Matthews. Darius Rucker is featured on Roberts hit song "Love Do What It Do" .
Find a ticket and join the party as Robert Randolph and the Family Band will continue their tour to support their newest release "Got Soul"  throughout the U.S. this summer.
Photo Gallery
The images may not be reproduced, copied, transmitted or manipulated without written permission to Rock At Night and the photographer. Use of any image is a violation of the United States and international Copyright laws.

Latest posts by Mike McKenney
(see all)