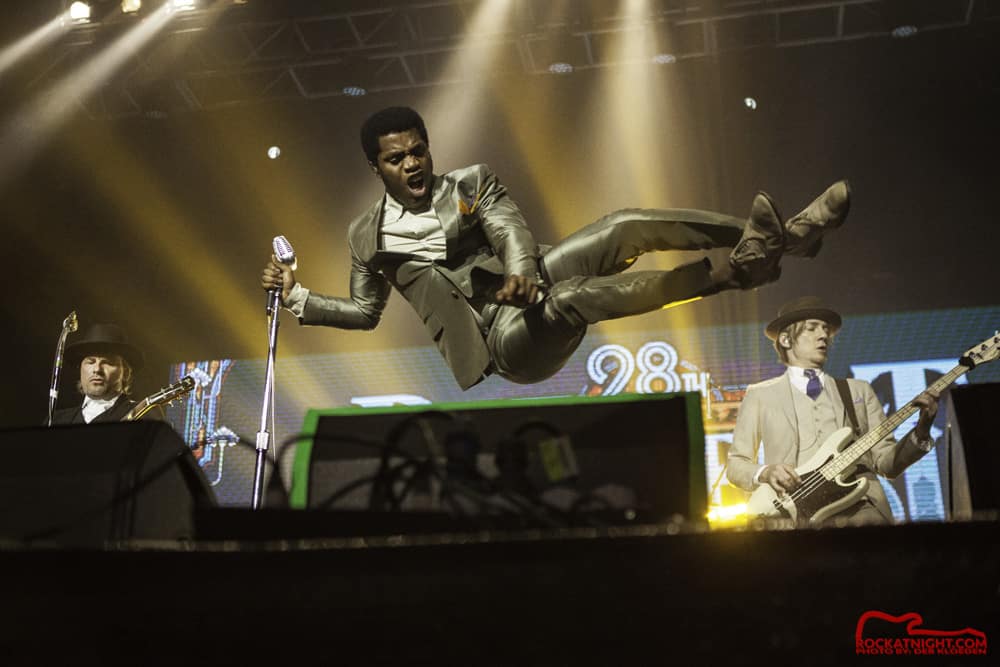 By Deb Kloeden, Rock At Night Adelaide correspondent in Byron Bay
REVIEW: Byron Bay Bluesfest 2017, 13th April – 17th April, Byron Bay.
The 2017 Byron Bay Bluesfest proved why it is ranked as one of the best music festivals in the world! Held annually at Tyagarah Tea Tree Farm, just north of Byron Bay, New South Wales, this year's festival can easily claim to be one of the best yet. There were 105,000 attendees, 85 bands with a total of 670 artists who gave 185 outstanding performances across the weekend. With a huge star-studded lineup, improved facilities and organization, this year's festival was blessed with 5 days of glorious weather not long after one of the wettest starts to Autumn on record. In the past, the Bluesfest site has been renowned for being muddy after or during rain, but despite the deluges that hit the region only a week or so before the festival, the site was totally mud-free. So the stages and site were set for 5 days of amazing music and all the other delights the festival has to offer.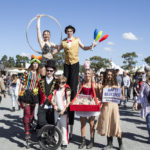 Day 1 of Bluesfest began on Easter Thursday with some huge international acts gracing the stages. VINTAGE TROUBLE returned for the second year in a row after wowing new and old fans at last year's festival. Renowned for their old-school rhythm and blues, they wasted no time in getting the party started. Charismatic front man, Ty Taylor, was drenched in sweat after only a few songs and thrilled the crowd with his signature, horizontal leaps and crowd surfing. MUD MORGANFIELD, eldest son of Muddy Waters, delivered a classic Chicago Blues set. His style resonates with his father's sound in so many ways. One of the highlights of the festival for me was witnessing the legendary PATTI SMITH and her band, performing the entire album 'Horses' in sequential order. At the end of 'side one', Patti described the old tradition of turning a record over and lowering the needle into the grooves to start side two. After performing 'Horses' she then proceeded to delight the massive crowd with other old-time favourite songs, including 'Because the Night', my personal favourite. Her delivery was passionate and powerful. She paid tribute to a huge list of current and past musicians she has worked with, or who have influenced her over the years. At 70 years of age, she is still a truly remarkable artist.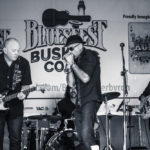 As I entered on Day 2 (Good Friday), I was drawn to the busking stage, where I discovered a Queensland Blues Band, DEVILS KIOSK, absolutely ripping it up. This stage was worth checking regularly for some great new unknowns. I couldn't resist lining up again for PATTI SMITH's acoustic set, which was satisfyingly different in many ways from the previous night's performance. JIMMY BUFFETT drew a huge crowd, keen for a dose of his talented song writing. Well-respected, New York based; SNARKY PUPPY took to the Mojo stage with their instrumental Jazz-fusion. This large band contains a wonderful meld of both black and white musicians. ERIC GALES demonstrated that he is definitely one of the best guitarists in the world. He stated several times that he would 'play his arse off tonight' and that he did. He is often likened to Hendrix for his electrifying, frenzied guitar solos, to which we were well and truly treated. I finished the night with New Orleans quintet, DUMPSTAPHUNK who delivered a funky Motown sound, dueling base lines and dirty rhythm section.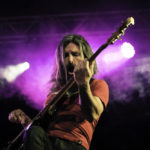 I began Day 3 with two-time Grammy winner, RICKIE LEE JONES, who made her debut appearance at The Bluesfest. This confessional songwriter played an inspiring mix of old-time classics and new material. London-based Indie band, TURIN BRAKES were recommended to me by a friend. With seven studio albums under their belt, they provided a melodic contrast to some of the other high-energy bands. UK soul singer-songwriter, LAURA MVULA delighted fans with her strong vocals and powerful stage presence. No Bluesfest is complete without a dose of 'King of the Blues', BUDDY GUY. This iconic blues artist is now 80 years of age, singing and playing just as strong as ever, classics like 'Mustang Sally' and 'Damn Right, I've Got The Blues'. One band I was really keen to see was NAHKO and MEDICINE FOR THE PEOPLE with their blend of rock, hip-hop and alt-folk. They presented songs from their new album 'Hoka', which is 'the soundtrack of the movement for a better planet', and of course, some old favourites. They definitely got the crowd dancing. An amazing blast from the past for me came with THE DOOBIE BROTHERS. Their music was part of my personal soundtrack for years, so to see them perform live, up close, was a real highlight. They performed a multitude of classic songs, delighting the packed crowd. In complete contrast, I finished the night with ST. PAUL & THE BROKEN BONES, an eight-piece Soul outfit from Alabama. Front man, Paul Janeway, had an amazingly powerful voice and is often compared to the likes of Otis Redding.
On Day 4, I lined up for a second dose of BUDDY GUY, before moving onto Australian Hip-hop artist, REMI, who is one of the fastest growing Hip-hop acts in the country. His raw and powerful lyrics speak of relationships, race, political observations and mental health. Californian-based SLIGHTLY STOOPID got the crowd dancing with their percussion rhythms and dub-rock sound. A massive crowd lined up for the legend of Afro-Latin-Blues-Rock, SANTANA, who treated fans to all the classic hits. With forty years of music making to his credit, one old favourite was followed by another, and then another, until you thought there could be no more. Speaking of legends, MAVIS STAPLES has performed at The Bluesfest many times, delivering her signature gospel-soul-blues classics. She has a 'God-like' stage presence that demands your attention. I finished the night with the highly energetic CALIFORNIA HONEYDROPS for some Street Corner Soul, Roots, and Delta Blues. They performed each day at the festival, which is a real commitment. UK Ska-bluebeat band, MADNESS presented their new album 'Can't Touch Us Now' along with age-old favourites. Their energy was infectious and exciting. I finished the day with the iconic BOOKER T. presenting the Stax Records Review. This regal man honoured many of the great soul classics including Otis Redding, Aretha Franklin and Albert King. It was an honour to be in his presence.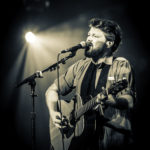 On the final day, Day 5, Easter Monday, Australia's BUSBY MAROU caught my attention as I was nearing the Crossroads stage, with his acoustic-folk-roots sound. One of the highlights of Bluesfest is discovering new bands as their sounds float out of the marquees while passing by. Bands also often bring a 'special guest' on stage, someone not on the advertised bill. In this case, Busby brought Australia's Pete Murray on stage, which was an added treat. Next I caught vocal powerhouse, BETH HART. What a gutsy, powerful performance! Her voice is full of passion, tenderness, grit and strength and her stage delivery is sensational. Although I'm not a huge country fan, I couldn't miss South Australia's gem, KASEY CHAMBERS. She now has a long, successful career history. She is a quality singer-songwriter who has a huge, well-deserved following. While enjoying strong women vocalists, I next lined up for MELODY ANGEL. Although one of the lesser known acts this year, I predict she will quickly rise to greater fame. With huge Afro hair and skin-tight, shiny leather-look pants, she was a visual and sound sensation. Apart from presenting her own material with stunning guitar work, she also performed brilliant covers of Prince, Lenny Kravitz, Jimi Hendrix and Chuck Berry. One of my all-time favourite musicians, NEIL FINN (of Crowded House fame) performed next, along with his 2 sons, Liam and Elroy, Nick Seymour from Crowded House and 2 others. They played a huge 2-hour set including so many favourites like 'Private Universe', 'Fall At Your Feet', 'Into Temptation', and 'Four Seasons in One Day'. They really had the crowd singing along. I waited all festival for this one-off performance and was definitely not disappointed. You'd think I'd be happy to finish on that note, but NAHKO and MEDICINE FOR THE PEOPLE played one last time, so I happily saw the festival out with their songs of passion ringing in my head. Of course, there were many more world-class acts that I didn't have time to see.
One other form of entertainment at the Bluesfest for my friends and me was 'celebrity spotting'. This festival attracts a huge range of stars that also come for the music. This year Game of Thrones star, Jason Momoa and pro-wrestler Mada Abdelhamid attracted a lot of attention and were often seen in the VIP lounge. I also had a chat and photo opportunity with one of the musicians I admire, Dustin Thomas.
This year was the 28th Byron Bay Bluesfest. Huge congratulations go out to all involved with the festival. Each year I see improvements in the site infrastructure and organization. This year the wristband contained a chip that you scanned for entry and loaded with money for drinks. It made life easy for both patrons and bar staff. I'll definitely be back for more Bluesfest fun in the future.
FACEBOOK
WEB SITE
INSTAGRAM
LISTEN
PHOTO GALLERY
The images may not be reproduced, copied, transmitted or manipulated without the written permission to Rock at Night and the photographer. Use of any image is a violation of the United States and International Copyright laws.
Save
Save

Latest posts by Deb Kloeden
(see all)