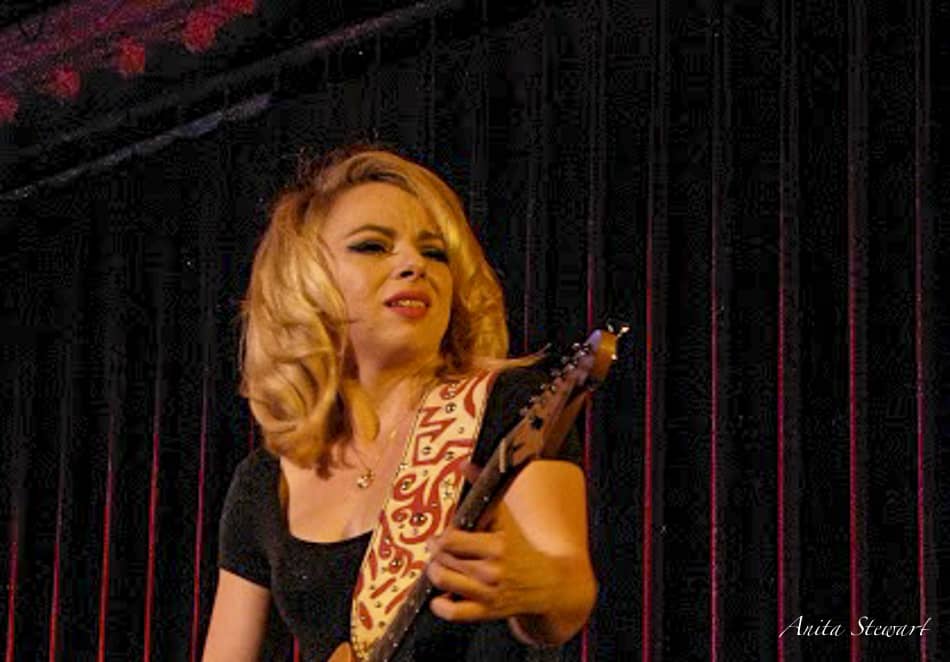 By Anita Stewart, Rock At Night Tampa Correspondent
Venue: The Palladium on April 6th, 2017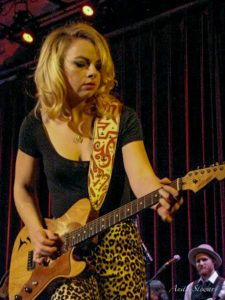 While promoting her new album, Samantha's band grew from three to six members and Rock at Night was there first to see them perform together!
Thursday April 6th was a good evening for a concert. Cool breezes blew in from Tampa Bay, several blocks from The Palladium, a historical building on the northeast side of the downtown area. This building was once a church and is now beautifully restored. People were arriving slowly; mostly an older crowd in anticipation of a full and packed weekend at the Tampa Bay Blues Festival that would happen several blocks away at The Vinoy. This festival is a well attended annual event that attracts Blues aficionados from everywhere in the world.   
This Samantha Fish show was hailed as "the Blues Fest Kick-off Party." The band with three new members added in had already spent a few weeks rehearsing and they were beyond tight! This audience was the first to see them perform together live in support of the Blues Festival and Samantha's fourth studio album, "Chills and Fever" that dropped on March 17th. This album takes her into a new realm of music described by Cole Waterman of Pop Matters as "…injecting a dose of Detroit-bred garage rock into her paradigm of Memphis Soul, Delta Blues and Motown R&B…"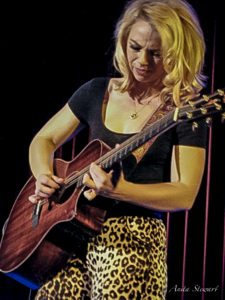 There was no opening band, just Samantha Fish and her new drummer, Ken Tudrick and longtime bass player Chris Alexander with three new additions: in the brass section were Mark Levron and Travis Blotsky and on keyboards Phil Breen. Yes, definitely a "wall of sound" and all exceptional musicians. Samantha's fast tuning, transitions and segues from song to song, while changing guitars and plugging in had this writer in awe. She wastes little time while on stage, engages the audience and her consummate professionalism shows. 
Samantha is known for her guitars, especially her signature custom guitar, the Delaney "Fish-O-Caster," a much used one with the fish logo. She also plays an orange and purple oil can guitar, her beautiful acoustic and her new white one (not sure of the model but can be seen in this picture). She is also known to use a red cigar box guitar occasionally. Well let's just say that this writer is coveting a few of the above!

To learn more about choosing a guitar for your needs:
The band quickly ran through every cut on the "Chills and Fever" album and then started in on some vintage stuff from the previous three studio albums and sounding closer to a "wall of sound" with the additional musicians. "Vintage" is tongue in cheek here as Samantha has already accrued a fantastic body of work at the tender age of 28. Spring and summer has this band extremely busy as they are touring the festival circuit and doing shows across the country. Check out the new album and their live shows. You will instantly become a fan!
Photo Gallery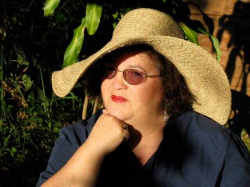 Latest posts by Anita Stewart
(see all)