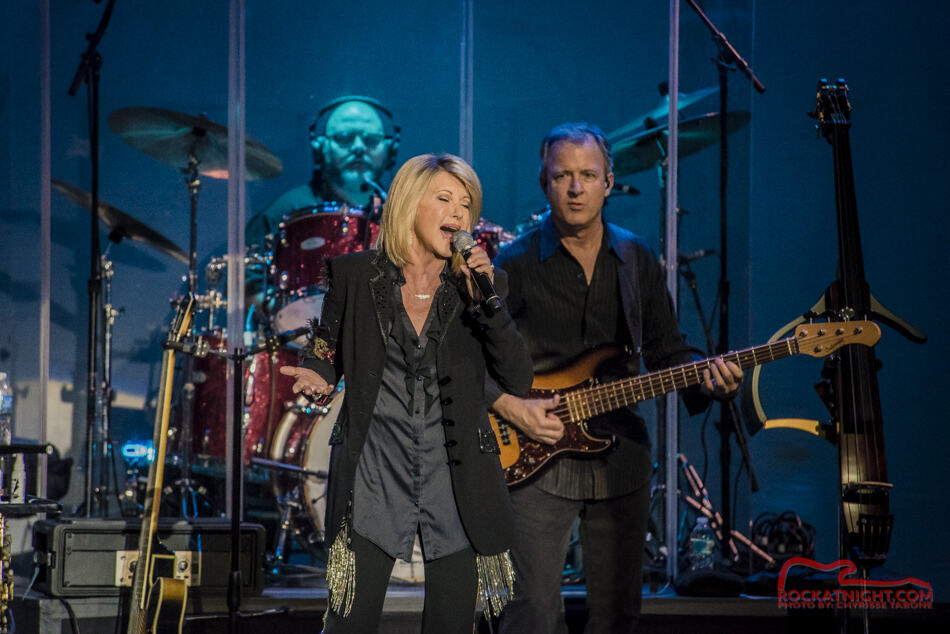 By Chyrisse Tabone, Rock At Night Tampa Correspondent
Venue: The Capitol Theatre, Clearwater, Florida–April 20, 2017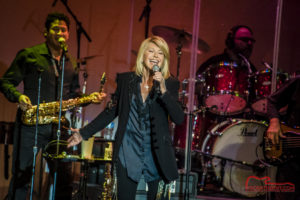 When one thinks of Olivia Newton-John, immediately the image of blond pony-tailed "Sandy" from the film "Grease" comes to mind. I can picture in my head her singing "You're the One That I Want" with John Travolta, doing the hand jive, and other iconic scenes from this beloved film. In a sense, she was "America's Sweetheart"–but was not even American!  Secondly, I can visualize Olivia Newton-John singing  "Let's Get Physical" in the MTV video wearing leg warmers, a headband, and working out. The song was considered to be kind of racy at the time, which is hysterically funny by today's standards.
Since the hey day's of the 70s with her mega country hits and later breaking through into the pop and rock music barrier, Olivia Newton-John became famous as a philanthropist, whose work in the area of medical research and environmental protection is phenomenal. Newton-John is a breast cancer survivor and founded a breast cancer research center in her native Australia.
On Thursday at Clearwater's Capitol Theatre, Olivia Newton John wowed the sold out crowd with lots of her solo hits early on in the show, including "Magic", "Xanadu", "Deeper Than the Night", and the lovely duet with backup singer Steve Real. Ms. Newton-John is in her late-60s but looked totally fit and beautiful, as she wooed the crowd with love song after love song. Crowd pleasers included "Hopelessly Devoted to You" and "I Honestly Love You." Listening to the songs made me realize just how many solo hits she had in the 70s and 80s, and becoming one of the world's best loved artists of the era.
Photo Gallery
The images may not be reproduced, copied, transmitted or manipulated without written permission to Rock At Night and the photographer. Use of any image is a violation of the United States and international Copyright laws.

Latest posts by Chyrisse Tabone, Ph.D.
(see all)