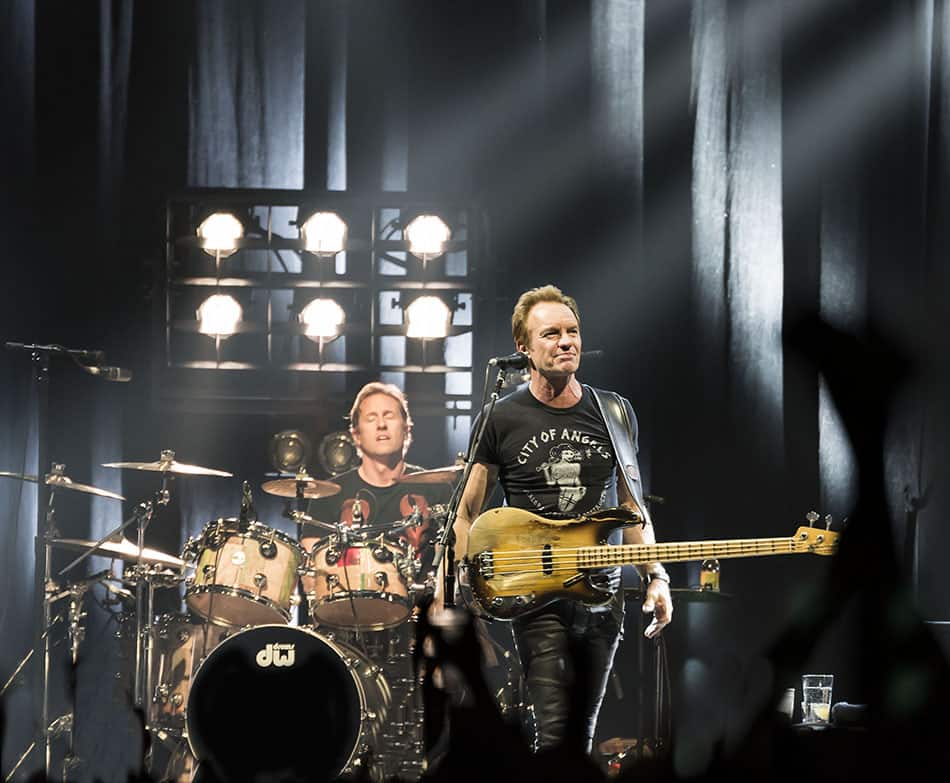 By Mike McKenney, Rock At Night New England Correspondent
 Thursday March 9, 2017 @ The Mohegan Sun Arena, Uncaseville CT.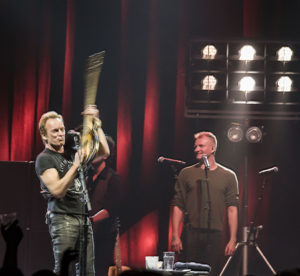 Stings 57th and 9th tour rolled into Connecticut Thursday night along with the Last Bandoleros, and Sting's son, Joe Sumner. Following last year's mega Rock, Paper, Scissors tour with Peter Gabriel, the 57th and 9th tour has a more simple and intimate feel to it.  The seemingly ageless Sting (he is 65) opened his own show with a solo acoustic "Heading South on the Great North Road", as most of the audience scurried to find their seats.
For the next song, Sting introduced his son, Joe Sumner and they sang together with almost identical voices. Joe continued on his own, including a song "JellyBean" he told the audience he wrote for his children.
Next up, the Last Bandoleros, performed a their set featuring "Maria", an upbeat tune that got the crowd going. A Spanish guitar style influenced "I don't want to know", gave way to the fan favorite party song "Where did you go" that had everyone on their feet.
Of course this was all the build up to the Hall of Famer.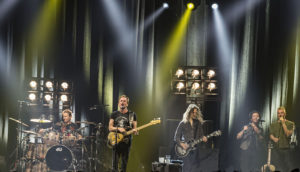 With the Last Bandoleros and his son Joe backing him, Sting mixed popular Police songs with cuts from his new 57th and 9th album.  While the audience loved all the familiar Police songs, some of the new 57th songs received a mixed but polite reception .
"One Fine Day", and "I can't stop thinking about you" were immediate hits with the fans. While others such as "Down,Down,Down and 50,000, received polite applause.  Crowd sang along with Sting's iconic hits, "Englishman in New York" "Message in Bottle", "So Lonely", Every Breathe you Take", "Roxanne", and Fields Of Gold.
Stings voice is as consistent as ever while the band stayed on script, loose but never veering too far off course.  The accordionist from Last Bandoleros was a fun addition and the "Keeping it in the Family" theme continued with longtime Sting guitarist Dominic Miller, and his son, guitarist Rufus Miller playing together.
Sting intimated to the audience that he wrote "Message in a Bottle" some 40 yrs ago in a London apartment, and the only one that was interested was his cat. Now he can go to Connecticut and everyone know the words, He said that means something to him, and he does not take that for granted.
He also joked about his wealth, mentioning his "little house', well, it's a castle really"
The night ended as it began, with Sting alone on stage, closing with "The Empty Chair," a song reflecting on murdered journalist James Foley .  Proving that after all these years, Sting still knows how to make a political statement with his music.
Photo Gallery

Latest posts by Mike McKenney
(see all)