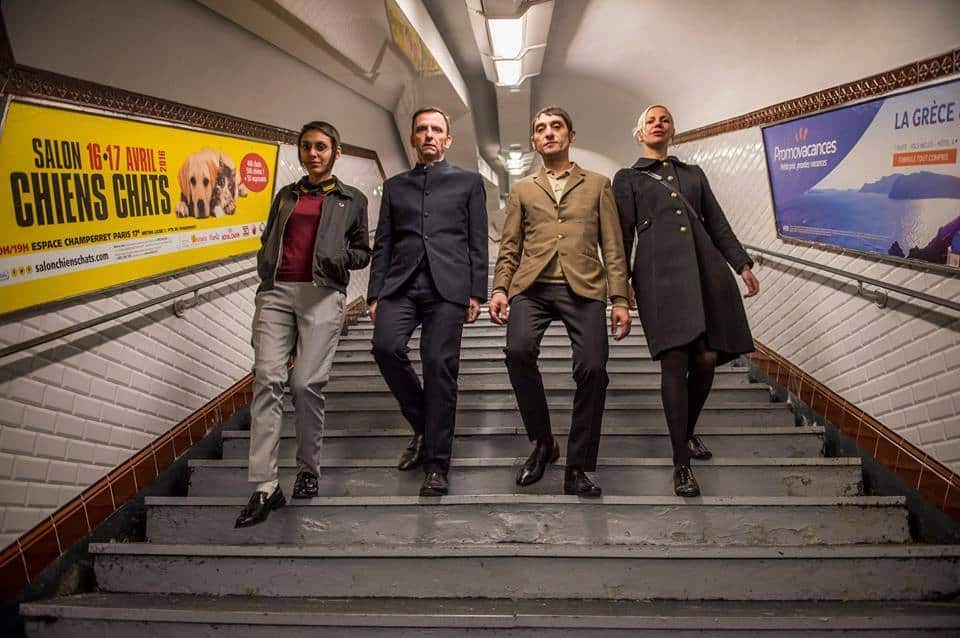 By John Armstrong, Rock At Night Manchester Correspondent and Columnist
Review: Front Pop (LP) – French Boutik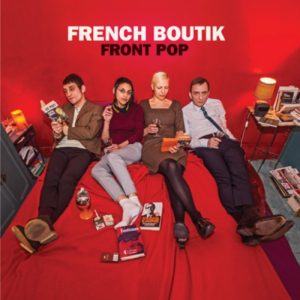 Paris France based four-piece French Boutik are fronted by Californian émigré Gabriela Giacoman, the music is sharp dressed and smoothly delivered perfect pop, with a relaxed spaciousness to it. Front Pop is their first full length album, having previously issued three double 45 singles (now available as a compilation CD on Detour records). This is eleven fresh offerings; as the album overview states they are songs of love, politics and cats. There is a joy de vie to their playing that makes any possible language barrier irrelevant, the sound and feel is so infectious and – as with their earlier singles – some of the songs are delivered in English. The LP sleeve is printed with the lyrics and the package is completed with some beautiful photographs by Derek d'Souza including the double sided fold out poster of the band, underground in a metro station and walking Paris' cobbled streets.
Album opener "Le Mac" has a choppy guitar rhythm, a driving bass and a sideways shift into an astral chorus, loaded with those Ye-Ye flavoured backing vocals and a spiraling outro.
"Sur Mon Ecran (On My Screen)" is a tale of on-line dating, a slow restrained twang with an early Beatle-ness and arresting guitar lines; simultaneously reminiscent of "You're Going To Lose That Girl", "The Word" and "If I Fell", which of course means it doesn't actually sound like any of them.
On "L'Expert" Serge takes the lead vocal with Gabriela and Zelda lending textured backing hooks to this upbeat piece with some nifty bass runs adding to the whole.
"Hitch A Ride" is sung in English with a sparse and open feel gathering momentum and an unexpected but fitting flute interlude adds a different flavour.
"Je Regarde Les Tigres" begins with crunchy chords and a pause followed by some particularly smart drumming by Zelda and a Staxy guitar riff with a touch of "Drive My Car" about it that leads into the chorus, a song about becoming exasperated arguing politics on the internet and looking at videos of cats instead. It closes with a deftly delivered Moon-esque shift into the coda from Zelda. Incidentally her drum kit is the same configuration as the one Keith Moon is sitting behind in early rehearsal room studio publicity shots when The Who were still called The High Numbers.
"Impitoyable (Ruthless)" has a bright uplifting pop melody and interplay between Gabriela and Serge's vocals with a Kinksy chorus, subtle but greatly effective keyboards from guest Oliver Popincourt and a lovely rolling bass part from Jean Marc
"Le Casse" is pushed along by the rhythm section of Zelda and Jean Marc and angular guitar with a burst of very surfy Pet Sounds-ish backing vocals.
"Costard Italien concernt" -the contents of some stylish Italian suits, is built around a descending run slowly building infectiously into a sweeping chorus underscored by Zelda's backing vocal, a signature sound across the whole album.
"Je Ne Suis La Pour Personne" the driving and Clash-ish intrduction launches into a Blondie-esque rendition of the Francois Hardy number, energetic and helplessly sweet a wonderful cover.
"Le Chemise Dechiree"- A news inspired song – you may remember the scenes as angry Air France employees chased an executive over a fence ripping his shirt in a show of displeasure at the redundancies he'd just suggested. If this happened more often the world would be a better place.
And finally "The Rent", an acoustic guitar opens with Serge singing in English lamenting among other things his name being incorrectly spelled and his TV being only able to receive Channel 4.
And there you have it. The album was crowd funded and is available worldwide from Hamburg based CopaseDisques on LP (plus download) and CD. Eleven smooth and dance worthy tracks of timeless pop-modernist music. Quite possibly they are the coolest band in the world.
Videos
Je Regarde Les Tigres
Hitch A Ride

Latest posts by John Armstrong
(see all)