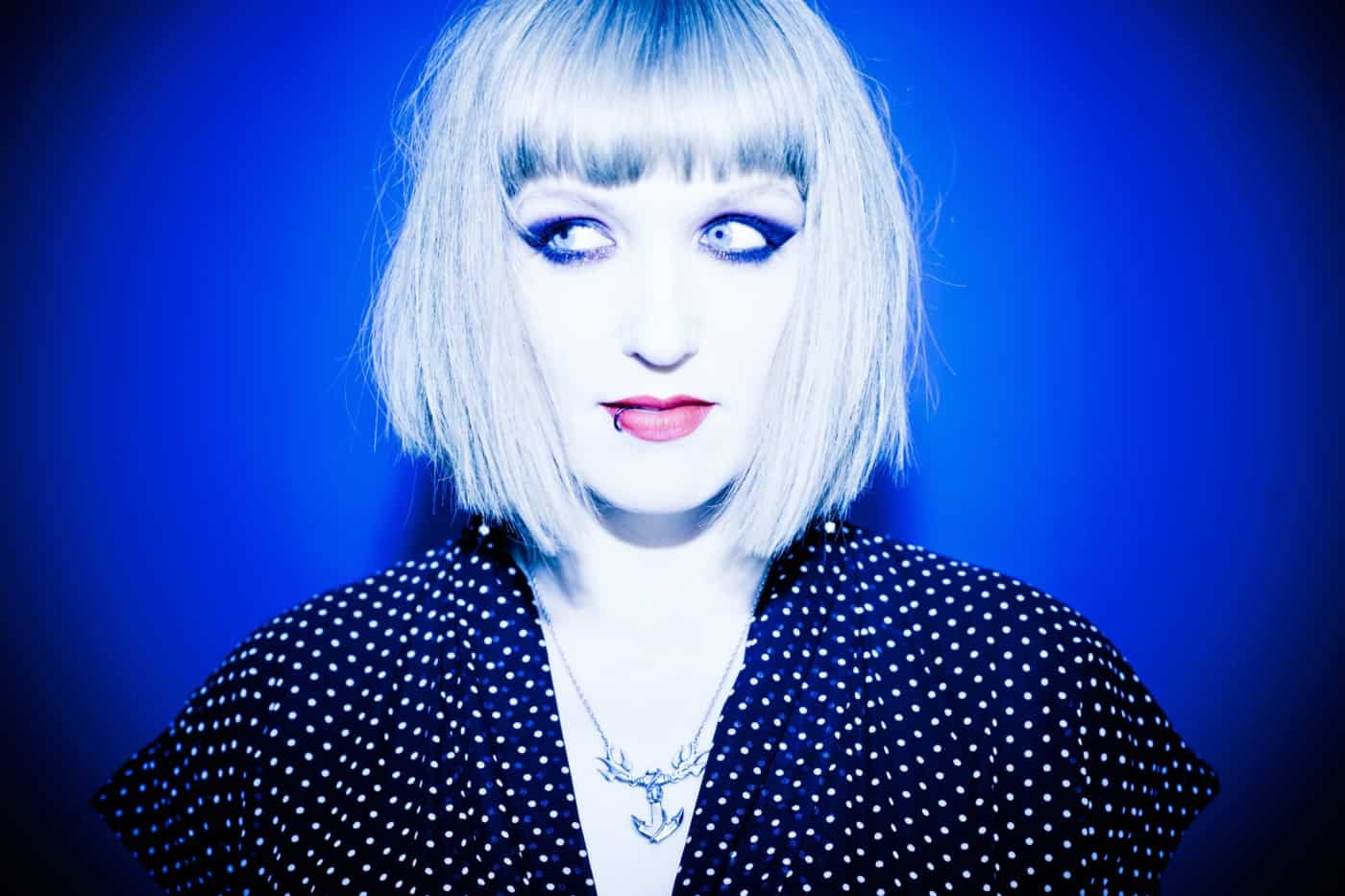 By John Armstrong, Rock At Night Manchester Correspondent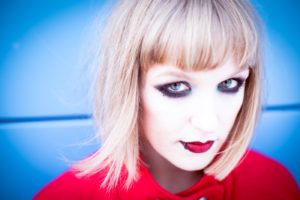 As part of her UK tour promoting the new album Direction Of Travel and coincidentally on the 71st anniversary of the first atom bomb; UK Bristol based She Makes War performed a stellar set at FAC251. A live venue inhabiting what was the old Factory Records offices in Manchester and where the blue painted boxed-in door leading onto the stage gives the impression anyone stepping through it has just come out of Dr Who's Tardis.
I wouldn't normally comment on what a musician is wearing, but it is significant that She Makes War stepped through the door onto the stage with her leg in a large Velcro strapped surgical boot. A fall when the stage lights were suddenly turned off just after sound check several weeks previously resulted in a broken foot. This puts her in good company, Holly Beth Vincent of Holly and The Italians had her leg in plaster during their appearance on BBC TV's The Old Grey Whistle Test, Siouxsie Sioux had to resort to singing from a bar stool and using a walking cane and more recently Dave Grohl continued a gig after breaking his leg. Being an independent musician is all about overcoming obstacles, some are more physical than others. At ease with the audience she simply apologised for not moving much, waving with her en-booted leg by way of explanation.
Introducing herself as the phrase "I'm She Makes War" or Laura, if you find that intimidating, come and say "hi" later, this was a solo set, voice, guitar (or sometimes ukulele), drum machine and loops via a second microphone allowing the vocal layers to be built up into complex harmonies. She was accompanied on stage only by a small folding table supporting the drum machine, a bottle of water, a megaphone and "the most important piece of equipment of all" a small travel alarm clock for gauging remaining set time length "Do not piss off the person you are supporting, do not play for too long. This is very important." Very true.
"Drown Me Out" opened the set, as it does the new album, and it is a good choice of opener moving in quickly and setting out the stall of achingly smooth vocal stretching over a scuttling rhythm and lyrical depth. Then "In Cold Blood" menacingly starts with its dissonant riff and seemingly effortlessly slip into the chorus. Please Don't followed and was cheerfully introduced as a 'happier song', to aging parents urging them not to die.
Putting down the guitar we were treated to "Delete" in its acapella glory with looped vocal rhythmic layers involving the megaphone and a nicely appropriate reoccurring "I don't want to repeat myself" line.
The album version of "Paper Thin" has backing vocals provided by Tanya Donnelly (Belly/Breeders/Throwing Muses), and was the first of the night's three ukulele songs, it floats in a befittingly delicate way.
"Stargazing" is the product of an ending relationship, hearing the word 'amazing' in a song always triggers a memory of Kate Bush's Wow – which is not a bad thing, this though has a resolved yet bitter taste to it. "You widened my sky; just let it die." Followed by "Cold Shoulder" another termination based piece and begins with a Pixies-esque rubble then bursts into the chorus and the unforgettable internal-question line "What's coming for me? ex-girlfriend or STD?"
"Scared To Capsize" closed the set as one of only two songs not on Direction Of Travel. (If you were wondering which direction travel should be, the CD has 'Onwards' printed on it.) An intense, assured and confident performance, despite the broken foot.
And then it was Carina Round's turn to play but that will have to be a separate piece.
Video
Paper Thin (with Tanya Donnelly)
 Drown Me Out
Delete

Latest posts by John Armstrong
(see all)