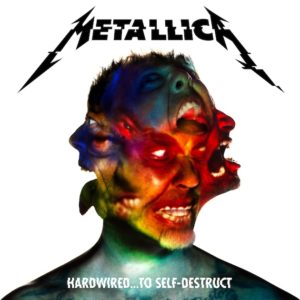 Metallica–Hardwired To Self-Destruct–Release Date–November 18, 2016
It's happening this year! Metallica have just announced that they'll be releasing their new album, Hardwired… To Self-Destruct, on Nov. 18. With that news also comes a music video for the feisty, three minute neck-wrecker, "Hardwired," which can be viewed below. The eight year drought following Death Magnetic is finally over and Metallica have finally put the rumors of a new album coming out this year to rest. The band had been reluctant to confirm a 2016 release, though drummer Lars Ulrich hinted it would be out this year unless there was some "cosmic reason" to hold on to the record until next year.
"It really does exist!" – reads the band's official statement – "We know it's been a long time coming, but today we proudly introduce you to Hardwired…To Self-Destruct, the long awaited next Metallica studio album that is the follow-up to Death Magnetic! Two discs, nearly 80 minutes of music is coming your way on November 18, 2016… yes, THIS YEAR! Has it really been eight years? Doesn't feel like it! Nudge, nudge, wink, wink. We're obviously beyond psyched to share new tunes with all our friends out there. We've been rockin' along in the studio with Greg on and off for the last 18 months firing up the creative engines again. Putting new music out there, getting in your faces once again and all that comes with it is what we love to do more than anything else, so strap yourselves in … INCOMING!"
Produced by Greg Fidelman, along with James and Lars, this will be Metallica's 11th studio album and will available for pre-order in a variety of configurations including 12 songs on a double CD, vinyl, digital download, as well as a deluxe version with the riffs that were the origins of the album. "Hardwired" is a punchy, concise track that opens with a barrage of snare rolls and chugging. Tearing into a breakneck pace, James's energetic, choppy delivery harkens back to the band's dominant '80s sound and an undisputed riffing frenzy. Injecting fleet-fingered guitar fills, Metallica cram a lot of action into just three minutes, raising the intensity with furious double kicks that helped Lars make his name in metal drumming more than three decades ago.
As for the artwork for Hardwired… To Self-Destruct (seen below), it showcases a warped amalgamation of each band member's face, joined into one sincerely terrifying head. In fact, it looks like some kind of monster! The band's traditional angular logo has also been altered, reflecting a glitchy font as a middle section has been skewed. The single artwork features just Hetfield with two pairs of eyes, a distorted, agape mouth, all drenched in a red hue. Meanwhile, the track listing for the disc can be found below.
Metallica, Hardwired … To Self-Destruct Track Listing
Regular Album (On CD, Vinyl & Digital Formats)
Disc One
1. Hardwired
2. Atlas, Rise!
3. Now That We're Dead
4. Moth Into Flame
5. Am I Savage?
6. Halo On Fire
Disc Two
1. Confusion
2. Dream No More
3. ManUNkind
4. Here Comes Revenge
5. Murder One
6. Spit Out The Bone
Deluxe Version (On CD & Vinyl only):
Disc One
1. Hardwired
2. Atlas, Rise!
3. Now That We're Dead
4. Moth Into Flame
5. Am I Savage?
6. Halo On Fire
Disc Two
1. Confusion
2. Dream No More
3. ManUNkind
4. Here Comes Revenge
5. Murder One
6. Spit Out The Bone
Disc Three
1. Lords Of Summer
2. Riff Charge (Riff Origins)
3. N.W.O.B.H.M. A.T.M. (Riff Origins)
4. Tin Shot (Riff Origins)
5. Plow (Riff Origins)
6. Sawblade (Riff Origins)
7. RIP (Riff Origins)
8. Lima (Riff Origins)
9. 91 (Riff Origins)
10. MTO (Riff Origins)
11. RL72 (Riff Origins)
12. Frankenstein (Riff Origins)
13. CHI (Riff Origins)
14. X Dust (Riff Origins)
Latest posts by Joel Barrios
(see all)