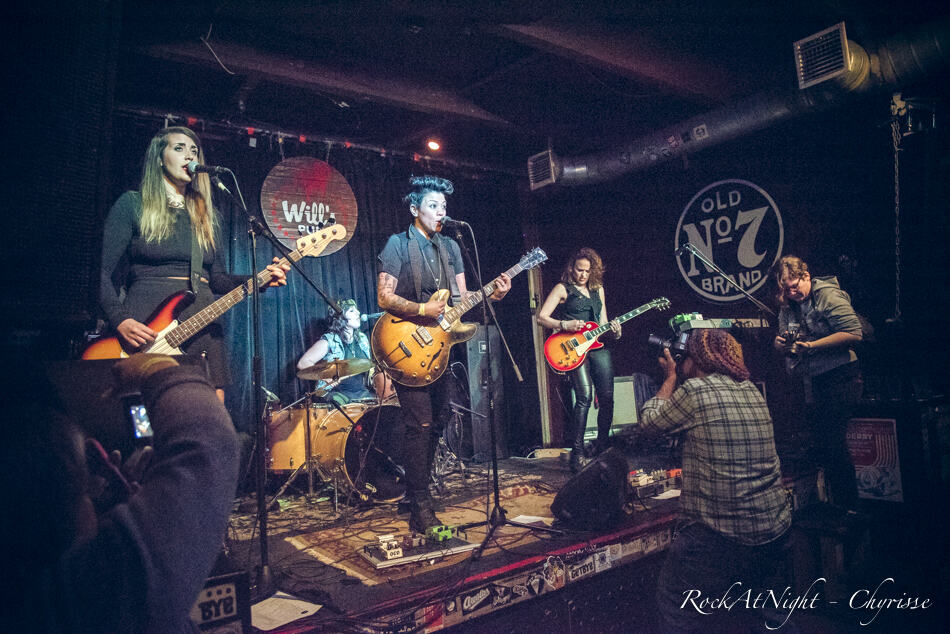 By Anita Stewart, Journalist and Chyrisse Tabone, Photographer-Rock At Night Tampa Correspondents
Venue: Will's Pub, Orlando, Florida-February 21, 2016

Hunter Valentine Rocked Orlando with Beauty, Raw Power and Talent–On their "Farewell Tour" these ladies leave us wanting more!
Rock at Night was at Hunter Valentine's show in Orlando on February 21, 2016 at Will's Pub, a small, "shabby chic" and very accommodating venue. Great acoustics, stage, and lighting were perfect for photographers. The bright fire engine red Ladies Room looked pretty graffiti-ed up and groovy. And the crowd of dedicated fans were ready to hear this all-female band, perhaps for the last time.
The band Hunter Valentine consists of two founding members who formed the original line-up in 2004: Kiyomi McCloskey, the charismatic lead singer and guitarist and Laura Petracca on drums and back up vocals. After some switching out of members in 2013, the current line-up consists of Leanne Bowes on bass and vocals and Lisa Bianco doing keyboards, guitar and vocals.
They are a coordinated team of women in solidarity; shortly before their show began, their van pulled up and within minutes they had offloaded their gear and were set up on stage. Their sense of camaraderie shows! With four successful recordings, videos and airplay, appearances all over the world and after eleven years of touring and performing, these experienced girls play with the dirty grit and unbridled power of rock and pop based punk and yet come off as polished performers. They are definitely pros and the cohesive way they work together has helped to build and maintain their solid fan base over the years.
Hunter Valentine has also worked and toured with notables such as Cyndi Lauper, Greg Nori (Sum 41, Iggy Pop) and Linda Perry (Pink, Christina Aguilera). The members have become even more recognized through their other creative projects; they broke out on television in 2012 through appearances on Showtime's reality series "The Real L Word," and in 2014 they were on VH1's "Make or Break: The Linda Perry Project."
Their final recording, an EP titled The Pledge was just released on February 14th, 2016 with the premiered single "Black Out Nights." According to Kiyomi, the song is about "…pushing yourself to your darkest limits. It's a song of struggle within oneself. We all make promises to ourselves at times to be better, but sometimes we fall victim to our own devices."
The list of remaining tour dates looks grueling and circles the United States, winding up with their last performance in Palm Springs, California on April 1st. This "Farewell Tour" is scheduled to be their last as they plan to take a hiatus (no one knows for how long) so the members can pursue other projects and creative outlets. To catch them on any of their upcoming dates, check out their website HERE for tour and ticket information and more.
PHOTO GALLERY
VIDEO
SOUNDCLOUD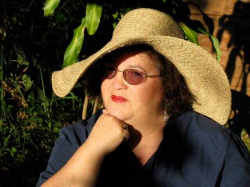 Latest posts by Anita Stewart
(see all)