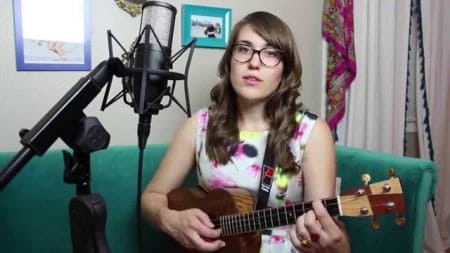 By Gail Reynolds, Rock At Night Columnist-Tampa, Florida
Interview: Danielle Anderson AKA Danielle Ate The Sandwich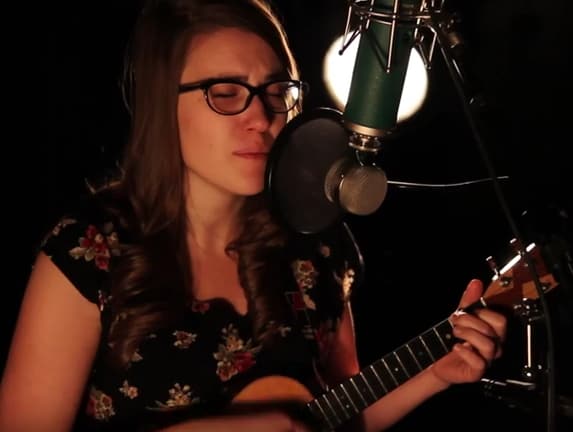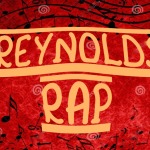 A recurring objective of this column is to showcase extraordinary artists who deserve wider recognition.
One such artist is Danielle  Anderson, AKA Danielle Ate The Sandwich, who  recently was featured  at the annual Tampa Bay Ukulele Getaway.  Being among the convention's participants, I was thrilled that she made time for us to chat.
In both her music workshops and performances, Ms Anderson's (Ms. Sandwich's?) humor was so evident  that standup comedy could be added to her professional profile.  However, her quirky stage name, banter, and  light demeanor cannot obscure the depth of her talent.
Danielle's musical foundation included piano, clarinet and violin study. Eventually she played in combos with college friends, began writing songs and taught herself guitar. It was her serendipitous encounter with a friend's ukulele  in 2006 that changed her focus.
"I like that it was small and different.  It also seems to complement my voice, which is pretty straight forward, but  I shoot for an ethereal, pure sound. So the bright tone worked well.  I also like that it sounds jazzy.  The 7th chords sound especially good. Of course jazz is played on guitar, but the ukulele's appeal is its accessibility. I want to express myself through songs, so  it's easy enough that I can get something out of it immediately.
"The ukulele, a lot like me, comes off as fun and wacky, but the instrument is capable of so much more. There is a layer of seriousness and thoughtfulness, layers to be discovered."  This analogy reflects the nature of Danielle Anderson's talent precisely.
Anderson is a  prolific songwriter. Her five CDs contain over fifty original songs, she describes as "solid," apart from the hundreds that "never made it out of the catacombs."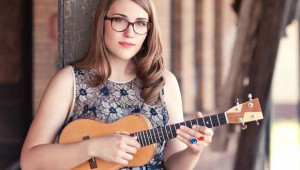 Her YouTube renditions lend themselves to binge watching one right after another. Some are very casually recorded in her bedroom or kitchen with her cat happening upon the scene.  Others are works of art unto themselves, short dramas.
Danielle joined forces with Ryan Anthony Martin and Nick Celentano  of Synthetic Picturehaus to create  a  gangster film noir takeoff  to showcase her "Faith In A Man."
"Pet Store" is another video gem featuring a rabbit puppet as her costar and love interest with a thought-provoking surprise ending.
I considered that it might be a commentary on pets, especially Easter bunnies, casually obtained and discarded, but she confirmed my suspicion that I was on the wrong track.  "It's about how humans are very similar to animals, how we pretend to be sophisticated because we have intellect, but  at the same time we have the same instincts and driving forces as animals.  Power, sexual drive."
A fellow Ukulele Getaway participant, Jeff, observed spot-on, "some of her lyrics are reflective of an old soul; yet, she continues to keep a childlike playful approach."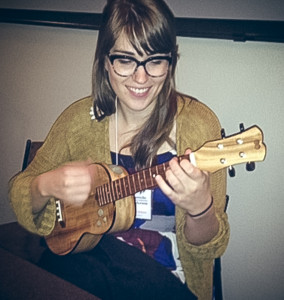 Despite her extensive body of  song creations, she does terrific covers ranging from old jazz standards to current pop.   Her favorite is "Dream a Little Dream of Me" for which she has two different music videos.
"Covers teach me a lot about singing and song writing  because to learn a song you have to investigate it in a different way than just singing along with the recording.  I appreciate song suggestions, but only choose covers I like."  Her thoughtful analysis of each tune pays off.  She's more than a good singer, she's a song stylist whose interpretations are fresh and nuanced.
Danielle feels fortunate that she has reached a point in her career  in which she does not have to hold  a "day job."  She understands that a big part of the ukulele festival scene is conducting workshops to which she is a relative newcomer. She has discovered the satisfying challenge of teaching.  "I want to inspire people to get out of their shell and convince them to have fun and see once they respond to gentle nudging and jump off, they will have a soft landing."
Her sense of fun is the source of  her stage name.  She noted incidentally during a performance that it is a product of  mere whimsy, " no college roommate anecdote."
And fun is what the audiences of Danielle Ate The Sandwich are guaranteed in both cerebral entertainment as well as light amusement.  Danielle Anderson is one of those special talents who deserves much more attention .
"Pet Store"
"Someone Like You" (Adele Cover)
Latest posts by Gail Reynolds
(see all)