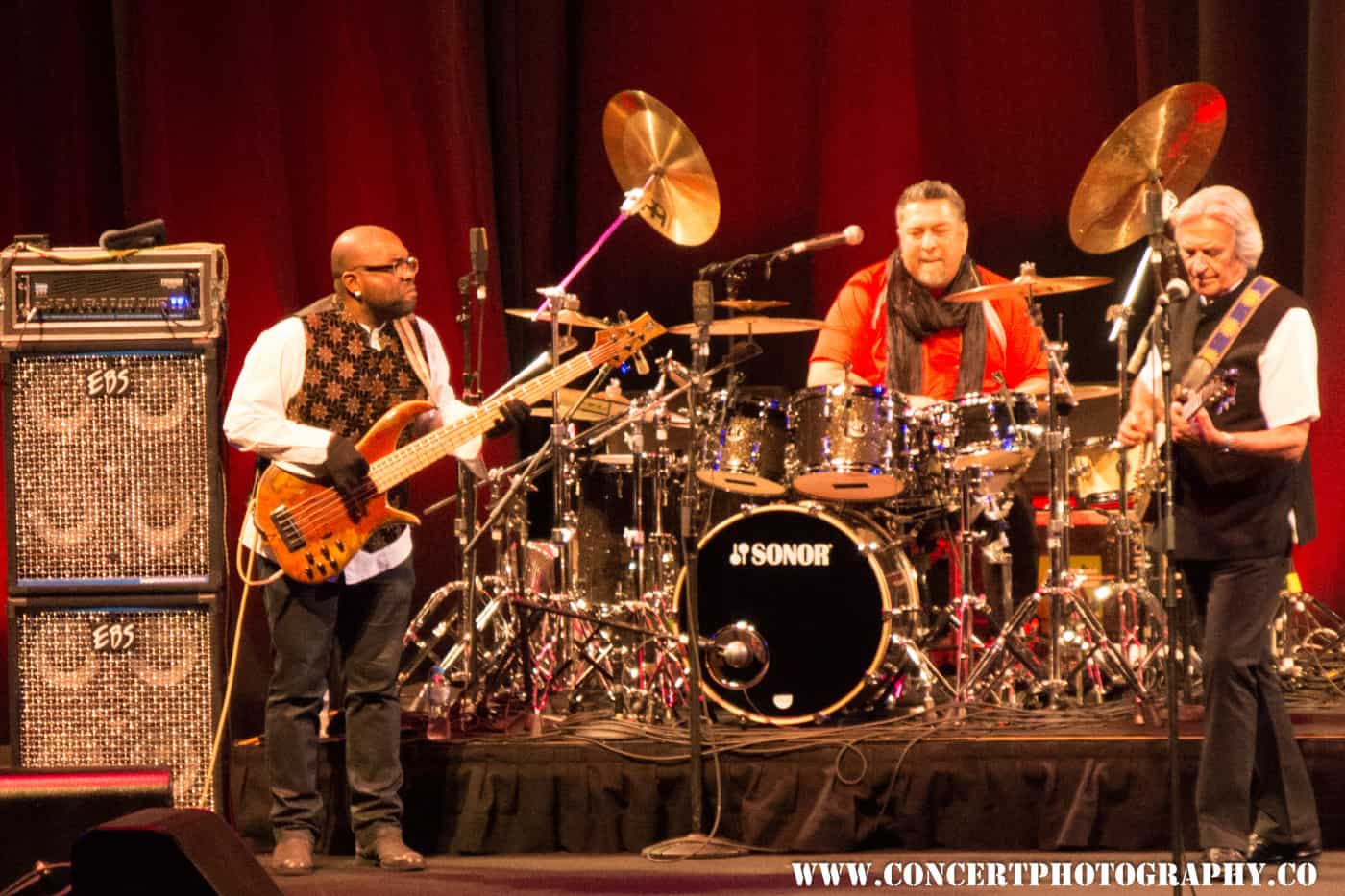 By Courtney Dabb, Rock At Night Sydney Correspondent
Venue: City Recital Hall Centre, Sydney-October 8, 2015
Jazz-fusion virtuoso John Mclaughlin and the 4th Dimension kicked off their Australian/Asian tour to promote the new album Black Light which was released on September 18th. The 4th Dimension consists of what McLaughlin describes as his "three favorite musicians"—Gary Husband (keyboards, drums), Etienne Mbappe (bass), and Ranjit Barot (drums), who are highly sought-after studio musicians and virtuosos in their own right. McLaughlin, which many describe as a "musician's musician", continues to create fresh music and collaborate with the jazz industry's finest.
Upon entering the City Recital Hall, I noticed a full house of concert goers raking into their seats and stalls, many of whom have likely followed McLaughlin since his Mahavishnu Orchestra days. The mature and respectful audience showed their enthusiasm and appreciation with rapturous applause after each song—a further sign the long-term fans have journeyed through life with McLaughlin's music.
The music was phenomenal as McLaughlin and the 4th Dimension floated through recent songs from Black Light but threw in a few classic renditions like "Light at the Edge of the World" and "You Know, You Know" for good measure. Barot and Husband's konokol "drum conversation" maintained the funk-jazz fusion throughout the evening. Mbappe worked in tandem to maintain the groove, working his magic on bass and playing with his signature black gloves. Husband floated between keyboards and drums throughout the night, looking equally as comfortable on either instrument and clearly enjoying the mix up and musical challenge. McLaughlin quipped with introductions to his tracks with "umms" and "arrs" searching the memory bank and album back catalogue, all the time knowing (but empathising the extent) that these tracks dated back to his many, many releases.
Overall, it was a lyrical evening and a successful tour launch for a group of musicians that never cease to amaze.
PHOTO GALLERY
Video of the Soundcheck in Sydney
Australia/Asia Tour Dates
6-Oct Perth, Perth Astor Theatre
8-Oct Sydney, City Recital Hall
10-Oct Brisbane, The Tivoli
13-Oct Melbourne, The Forum
14-Oct Melbourne, Recital Centre
18-Oct Bali,Arma Ubud
23-Oct Tokyo, Blue Note
24-Oct Tokyo, Blue Note
25-Oct Tokyo, Blue Note
27-Oct Taipei,The Wall Livehouse
29-Oct Singapore,NUS Cultural Centre for the Arts Hall
30-Oct Hong Kong,Kowloon Bay International Trade and Exhibition Center
1-Nov Bangkok,Aksra Theatre
3-Nov Kolkata, Dalhousie Institute
5-Nov Dhaka,Army Museum
6-Nov Mumbai,NCPA
7-Nov Bangalore,Counterculture
The images may not be reproduced, copied, transmitted or manipulated without the written permission to Rock At Night and the photographer. Use of any image is a violation of the United States and International Copyright laws.
Latest posts by Courtney Dabb
(see all)