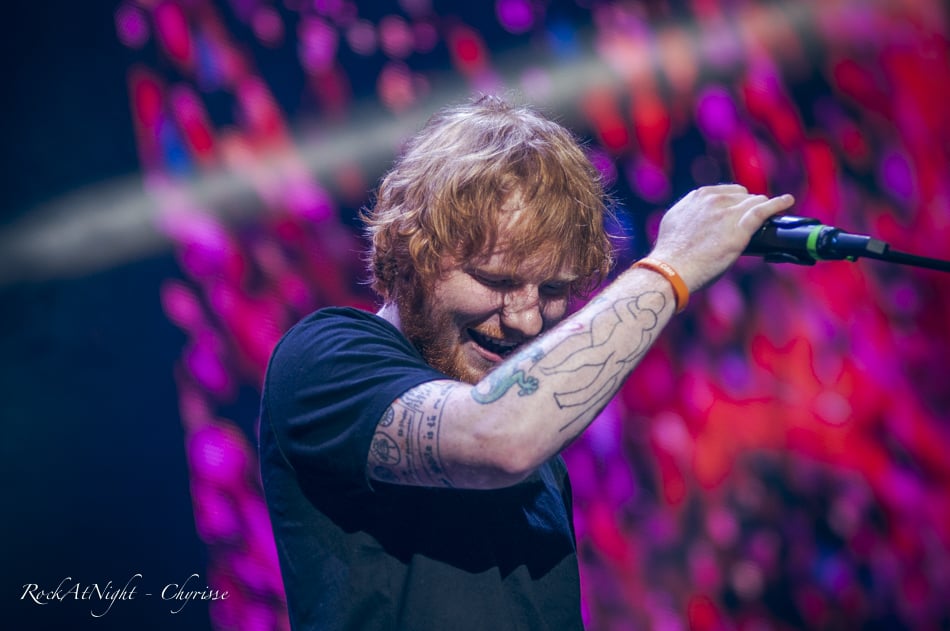 By Chyrisse Tabone, Tampa Correspondent
Venue: Amalie Arena, September 10, 2015– Ed Sheeran, Jamie Lawson, and Christina Perri–"X" Tour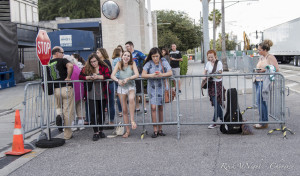 Finally, I had the opportunity to see Ed Sheeran in concert at the Amelie Arena in Tampa, Florida. As I was walking to the arena, I noticed a mob of girls was forming near a barricade adjacent to the parked tour buses. One girl was playing a small Martin guitar (like the one Sheeran uses) and singing as if she were busking. I asked the security guard, "What's going on? Is he coming out?" He shrugged his shoulders and smiled.
The arena was a packed house of twenty- and thirty-something women, although a lot were likely accompanied by their partners or spouses.  The boisterous crowd of women were waiting to see their beloved hero–Ed Sheeran.
The first supporting act was Britain Jamie Lawson. I had a bit of familiarity with his music since Sirius XM's "The Spectrum" channel has been playing his tunes. He appeared on stage with his acoustic guitar promptly at 7:30 p.m. and belted out his first song "Cold in Ohio". At the time people were still milling around and trying to find their seats but then all eyes were focused on him. Between songs, Lawson explained to the crowd that he was the first person Ed Sheeran signed onto his label, Gingerbread Man Records. I can see why. Lawson's songs are poetic and deep with an alt-folk feel. I really enjoyed his singing very much and think he was a great choice for a support act.
Next in line to warm up the crowd was Philadelphia-native Christina Perri who is known for her hit single "Jar of Hearts". The raven-haired beauty with model looks, a collection of arm and neck tattoos, and plenty of energy, revved up the crowd with "Shot Me in the Heart". Perri played the acoustic guitar, danced around, and later hopped on a piano bench , showing the crowd she had a musical foundation and not just a pretty voice. She smiled during the whole performance and appeared as if she were having a ball—and the crowd picked up on the vibes in return. I am definitely going to keep my eye on her. She has toured with Demi Lovato in the past –now Ed Sheeran—so she is definitely going places.
Then the man of the hour arrived on the stage after a chronology of Polaroid photographs showed his musical evolution between 1999 and the present. The stage set appeared as a crackled-mirror-fronted platform with pedestals, making it slightly difficult for people to see him below the waist. When he stepped away from the pedestal you could clearly see he was dressed a'la Florida style with khaki cargo pants and a black t-shirt.
The women went wild and there was plenty of screaming and "I love you's." It was almost like the British Invasion of the 60s with all the women swooning. Sheeran, who reeked of charisma started off with "I'm a Mess" then chatted with the crowd before continuing with "Lego House." He explained a couple in Toronto "wanted their money back" because they thought he was lip-synching. He explained he plays with backing tracks and loops and all the singing is him. The crowd was having rip-roaring fun by the time he started to sing "Drunk" and I could see what a wonderful, beautiful man he is. Sheeran is absolutely electric when you see him perform live. I admittedly do not own any of his CDs but I am going to definitely download them now!
**Review based on the observation of the first three songs of each artist, which is standard M.O. for photographers.
PHOTO GALLERY
Ed Sheeran
Jamie Lawson
Christina Perri
Video-Ed Sheeran and Jamie Lawson on how they met
The images may not be reproduced, copied, transmitted or manipulated without the written permission to Rock At Night and the photographer. Use of any image is a violation of the United States and International Copyright laws.

Latest posts by Chyrisse Tabone, Ph.D.
(see all)