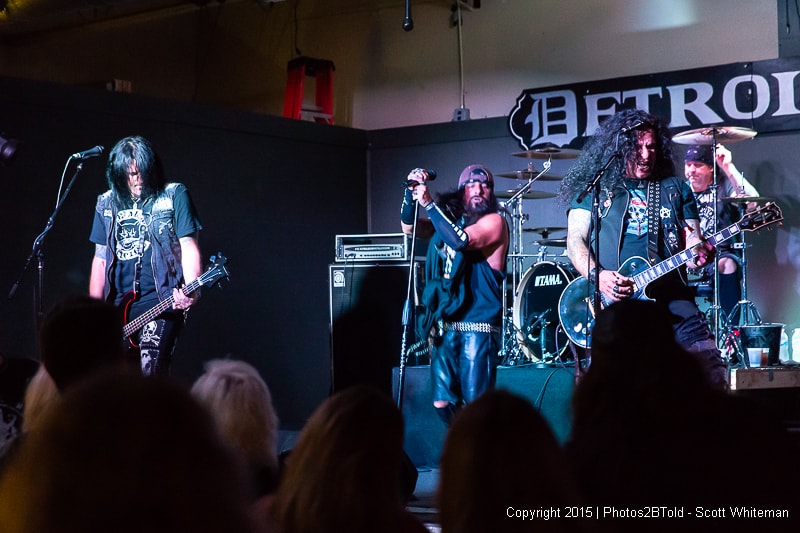 By Chyrisse Tabone, Tampa Correspondent and Scott Whiteman, Detroit Correspondent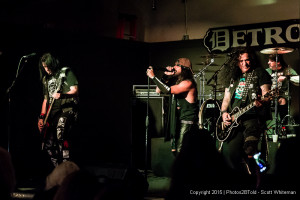 Rock At Night has been following the hard rock band Kickin' Valentina for a few months now after happily discovering the band on Facebook. One of our UK readers is an avid fan and he had Kickin' Valentina videos plastered on his Facebook wall. There was a photo of him wearing a Kickin' Valentina t-shirt. I was floored to realize the band hailed from Atlanta, Georgia !
Rock At Night was thrilled to be able to speak to guitarist and founding member Heber Pampillon before his gig at Club Detroit in Detroit, Michigan. I relayed the story to him about the rabid fan in the UK. Pampillon said he is constantly shipping merchandise to South America, the UK, Japan, and Australia, since their music has caught fire in the overseas hard rock/metal market. Recently a rock magazine in Uruguay was "showing some love" for the band!
One personal observation I have noted is heavy metal never waned in the 1990s like it did over here. In the States we had the influx of rap, electronic music, etc. In fact, metal is extremely popular in the Scandinavian countries.
Since many websites on the internet described Kickin Valentina's music as "sleaze rock" Rock At Night had to ask Pampillon for his description of the band's style. He explained, "I would just call it rock 'n' roll. I mean, some of the lyrics might be termed as sleazy but we see it as 'fun.' We try to make it fun. We're just a rock 'n' roll band. We're four guys who are lucky enough to play what we want—and we don't apologize for it.—and people seem to like it.."
Rock At Night asked, 'You must have an affinity for the 80s rock sound. It seems Kickin' Valentina has that kind of flair. "
Pampillon replied, "Yeah, we have influence from that [era] but we are really all over the board. We like music from the 50s until now…but we definitely have an 80s flavor. " Pampillon noted his personal influence was Kiss but other members like everything from early rock to Motown to bands like Slayer.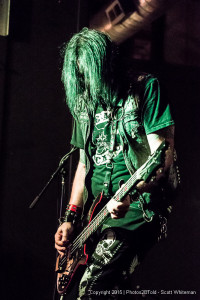 Rock At Night noted the band had a banner year in 2014. Kickin' Valentina won the Georgia Music Award for Best Rock Band. Pampillon added, "Just this year in 2015 we were nominated again for Best Hard Rock Band and Video of the Year for the song 'Wrong Way' and we won Video of the Year."
Rock At Night exclaimed, "Wow! That's quite a string of accomplishments for a band, especially since you just formed in 2013. Were you in bands previously?
Pampillon responded, "Yes, we all were in bands previously but we had a big hiatus before we formed the band [Kickin' Valentina]. We said 'Let's get together to write what we feel—what we like.'" He explained the band did not write what was considered to be mainstream or popular music—but music they truly felt. Pampillon and his fellow bandmates Joe Edwards (vocalist), Chris Taylor (bass), and Jimmy Berdine (drums) get together, jam, and the music organically evolves.
Pampilllon noted the band members are all transplants to the Atlanta area. He came to Atlanta approximately 11 years ago from the New York/New Jersey area. Berdine formerly resided in the Chicago area , Edwards lived in Virginia and Florida, and Taylor moved to Atlanta from North Carolina.
Currently, the band is on tour and is heading to cities such as Detroit and Farm Rock in Chicago. Rock At Night asked if the band was planning any trips to Florida and Pampillon explained, "We don't know exactly when but we do plan on it. We have played in Tampa, Orlando, Miami—and recently Daytona."
Rock At Night asked, "I notice you have played with a lot of bands like Faster Pussycat, Pop Evil, and Buck Cherry. Is there a particular band you really enjoyed playing with?"
Pampillon paused and responded, "There's some bands we have become very close friends with. There's been so many bands. We loved playing with LA Guns and Faster Pussycat. Every bands we've shared the stage with has been great! There is not one favorite that we have.—we just enjoy playing with everyone—everywhere!"
"Is there a particular guitar rig that you like to use?"
"Me,personally, I use a Marshall Jubilee [amp] and Gibson Les Pauls. For effects, I use a Phase 90, Morley Wah pedal—those are my two main effects. I really don't use a lot of effects (maybe some Boss pedals). "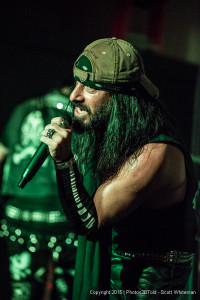 Rock At Night wondered about travel during the tours. Pampillon explained the band travels using a SUV pulling a trailer or flies—depending on the location of the gig. Since the band has such an overseas following, Rock At Night asked, "Any chance of going to Europe for a tour?"
Pampillon responded, "Yeah, that's been kind of the goal with this band from Day One (to actually get to Europe).   We recently just signed a record deal with a label over there in Europe [Denmark] called Mighty Music/Target Group. In November we are going to be releasing a full-length album (with 10 songs) , which is a combination of our first and second EP. The first EP has been re-mastered and re-mixed. The album will have a booklet with lyrics, a different cover, and all that stuff. It will be released in Europe. So, we're hoping to go on a tour over there to support the new album."
So, this is exciting news, folks! The new album will be named "Super Atomic" like the recently released EP
Rock At Night asked, "So, what do you do when you are not playing music?"
Pampillon responded, "Well, we all have families. We work also because unfortunately, rock 'n' roll isn't paying all the bills. "
Rock At Night agreed, "Yes, most bands I speak to have 'day jobs.'"
"Yeah, we do our thing like every normal person does."
Lastly, Rock At Night asked, "Is there anything you would want fans to know about Kickin' Valentina?"
"To our fans, we are always so thankful! I keep saying it over and over again that we probably have the best fans in the world because they share everything we do and they are constantly pushing our stuff. They send us pictures of them wearing our shirts and holding our stuff—from all over the world! Just like you said, you found us from somebody in the UK."
"Yeah, I did! He had a shirt on!"
"Yeah, our fans are just incredible! We love them!   We cannot thank them enough for everything they do for us! They send us postcards and messages saying 'Have a good day! We can't wait [to see you].' It's amazing and we like to hang out and talk with every single one of them when we see them. They want us to go see them in every city that they want us –unfortunately it's not possible at this time. They travel from different states and different countries to see us play. We just….can't thank them enough! They are amazing!"
PHOTO GALLERY
SOUNDCLOUD
"Wrong Way"
History
Debuted in July 2013
EP—Kickin' Valentina—October 2013
2014—Toured the East Coast, Mid-West and participated in festivals
EP—April 2015—Super Atomic
New Full album—Super Atomic will be released November 6, 2015
Kickin' Valentina has supported with bands such as Buckcherry, Queensryche, Pop Evil, Fozzy, Skid Row, Eve to Adam, Faster Pussycat, Kix, LA Guns, and Cilver
Mighty Music/Target Group will be handling all of our European Press and Nik Moore of Moore Publicity (Motorhead, Monster Magnet, The Wildhearts, Venom) will be handling the UK portion.
The images may not be reproduced, copied, transmitted or manipulated without the written permission to Rock At Night and the photographer. Use of any image is a violation of the United States and International Copyright laws.

Latest posts by Chyrisse Tabone, Ph.D.
(see all)