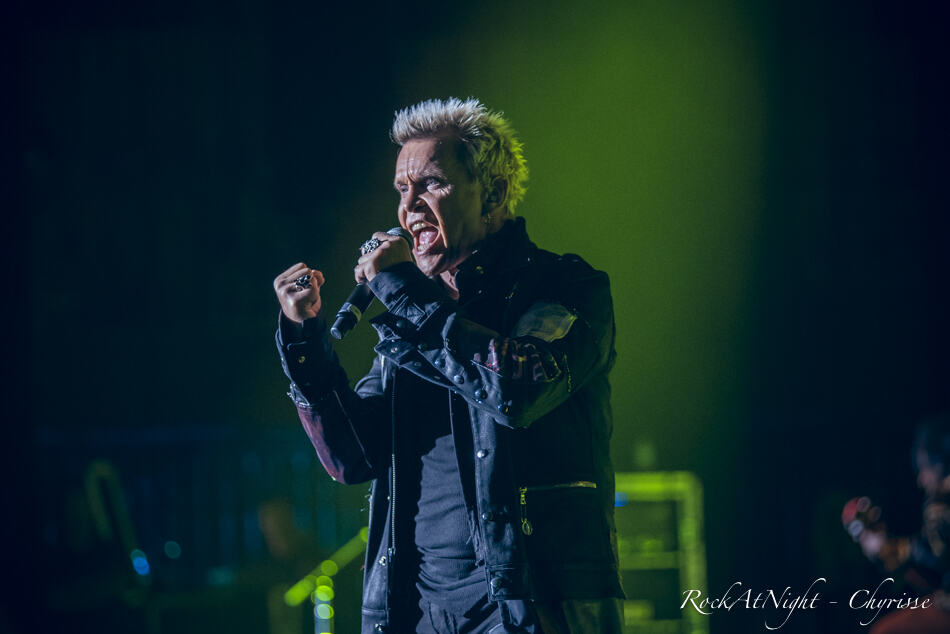 By Chyrisse Tabone, Tampa Correspondent
Venue: Ruth Eckerd Hall, Clearwater, Florida–September 24, 2015
What can I say? Billy Idol is a legend and exemplifies the 80s era known for Valley Girls, pogo dancing, and spiky or teased hair. The first time I heard Billy Idol was in a disco in Caracas in 1980 (there was no real drinking age down there and it was a private club). I heard "Dancing With Myself" and asked out loud, "Who is that?" It was the perfect, fun, frolicking dance song with a nod to the 50s…oh…oh..ohoh. At the time Billy Idol was with Generation X and I never heard the song again in the U.S. until years later.
He later became the rage in the mid-80s with "White Wedding" (I actually thought it meant 'wedding' at the time….innocent me), "Rebel Yell", "Eyes Without a Face", and later the remake of Tommy James and the Shondells "Mony Mony". Anything and everything Billy Idol touched was gold. There he was with his leather pants, fingerless gloves, bleached spiky hair—looking very punk—yet he was pretty much a pop star and taking over Top 40 radio. Back then we put him in the New Wave category which is now ironically called "First Wave" on Sirius XM satellite radio.
Then, the 1990s arrived with a darker era of grunge and post-punk—and Billy Idol faded from memory. He became another episode on VH1 Storytellers. He released two albums in the Millennium called Devil's Playground (2005) and Kings and Queens of the Underground (2014). Now, it seems Billy Idol is making a comeback with a series of hilarious commercials for Bank of America, giving the organization a much needed edgy, cool factor.
https://www.youtube.com/watch?v=DFqg5MFfWw8
I wondered what kind of crowd would be attending Ruth Eckerd Hall for this evening of retro extravaganza. Waiting in the hallway before the show I saw mostly 40- or 50-somethings wearing mini-skirts and high heels (no Candies), lots of grey-haired men with Billy Idol t-shirts, and heaven forbid, a few patrons using scooters and walkers. I am just hoping the latter folks were season ticket holders because I felt a wave of "oldness" shoot over me. I did see a woman wearing a small white netted bridal veil in the crowd and I presume this was in honor of Billy Idol and she was not with a bachelorette-party entourage.
The support band was a New York City duo called London Soul, which consisted of a drummer and guitar player sporting casual attire fit for the 70s. The lead singer and guitar player could be easily mistaken as Gary Clark, Jr. The drummer, who also sings, had a very large, impressive afro and made me think of Ginger Baker with his appearance and drumming. The band harmonized and sounded Beatlesque at times and other times had kind of a 70s funk flavor. I really, really liked what I heard! These cats are really talented!
Now, Billy Idol came out dressed in leather with his signature spiky blond hair and plenty of Elvis sneers. Billy Idol has always had that "bad boy" demeanor and was looking as fit as ever, even at age 59. He may not have danced as aggressively as before but he still has that savoire faire and attitude. Idol was accompanied by long-time collaborator and multi-talented guitarist Steve Stevens. He was looking every bit 1980s with the black teased hair and plenty of eyeliner. I do not know why but I am a sorry sap for men with eye make-up. Two additional guitarists, including Billy Morrison, a keyboard player, and a drummer rounded out the band.
The audience was super enthused about Billy Idol, who pranced about the stage in darkness except for a yellow spotlight. When "Dancing By Myself" came on, the whole crowd rose to their feet (well, maybe not the scooter people) and was dancing, jumping, flashing cell phone photos. The security was dancing and singing. It was a sight to be seen!
Sweat….Sweat…SWEAT!!
I am sure everybody left the concert with a warm, happy feeling (as I did).
Billy Idol is still the Blond King.
Members: Billy Idol, Steve Stevens, Stephen McGrath, Billy Morrison, Erik Eldenius, Paul Trudeau
PHOTO GALLERY
Billy Idol
London Souls
The images may not be reproduced, copied, transmitted or manipulated without the written permission to Rock At Night and the photographer. Use of any image is a violation of the United States and International Copyright laws.

Latest posts by Chyrisse Tabone, Ph.D.
(see all)