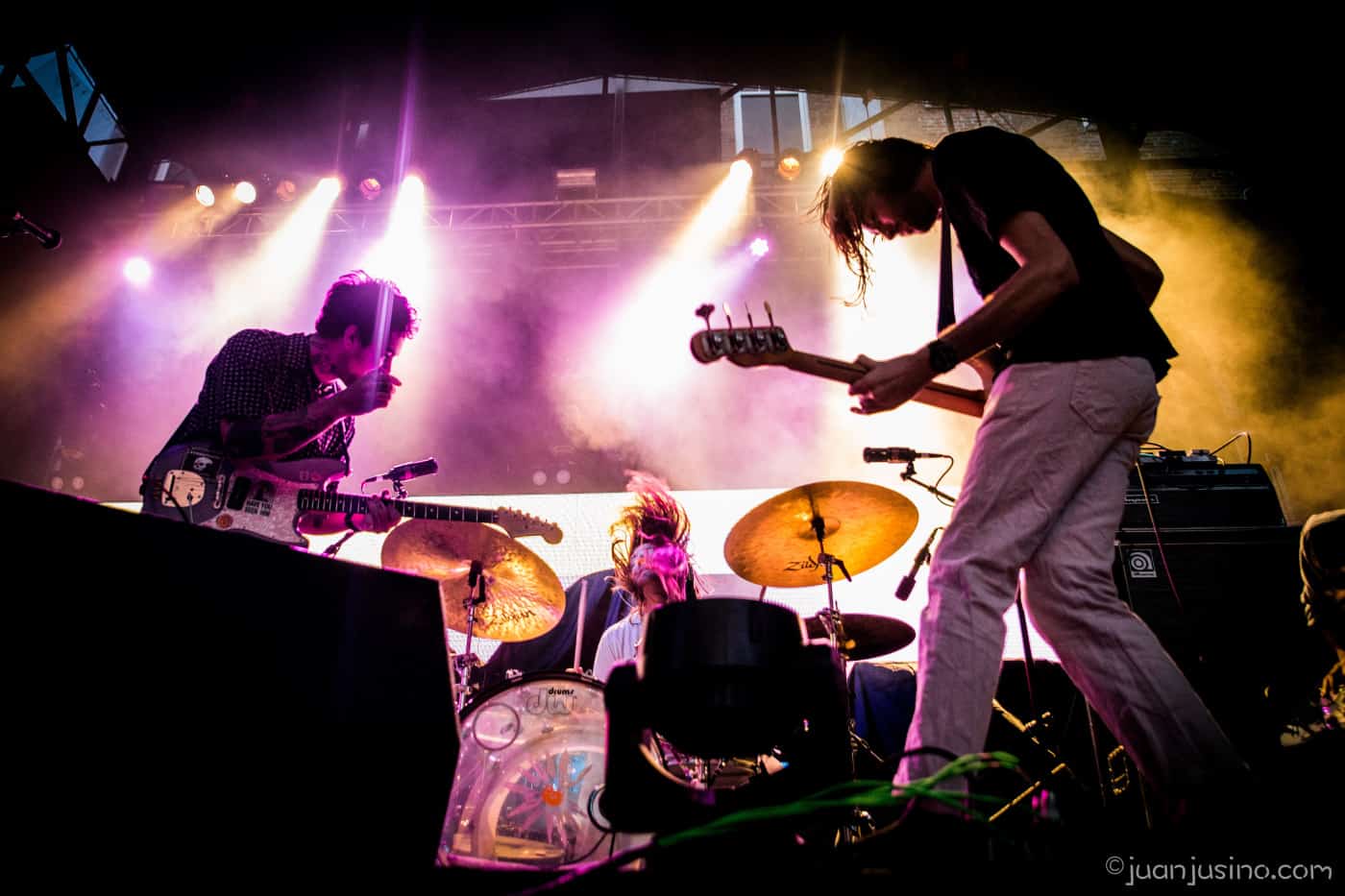 By Juan Jusino, Tampa Correspondent
Venue: Jannus Live, St. Petersburg, Florida–September 21, 2015
A Californian Trinity Keeping Rock Music Alive for a Younger Generation: Hunny, Bad Suns and The Neighbourhood at Jannus Live.
Rock At Night went to Jannus Live on Monday, September 21st to check out The Neighborhood's "The Flood Tour 2015".  I remember last year when they had the big hit "Sweater Weather" and figured this might be an interesting concert.   As I walked into the press pit ready to cover the event, which also featured support from Hunny and Bad Suns, I could not help noticing the vast amount of "X's" written on the back of the hands of many attendees.  I then quickly realized this would be a mostly underage crowd.  Seeing this made me wonder "How many would be witnessing their first concert that night?"  The "first concert" experience is always like most "firsts"—memorable. Fortunately, for those who did experience their first show that night, they undoubtedly walked away with a captivating experience.
Hunny, a sextuplet from Southern California, took the stage at a little after 7:30pm.  Their "classic-rock" look–long hair and rugged jeans–was just the right fit for their sound.  The music with its strong bass line and rhythmic guitar strokes (almost disco-like at times) sounded like a mix between The Cure and The Killers. Hunny brought the young crowd to their feet dancing and was a good choice for a warm-up band.
Bad Suns, an alternative band from Los Angeles, California, quickly followed as the second act of the night.  Like a double entendre, their darkly-lit stage show fit the name–Bad Suns. Mildly lit, but with sporadic colorful lights which kept the members barely visible, the band sounded like a modern alternative band with heavy influences of 80s pop rock and disco.
The Neighbourhood ("THE NBHD"), hailing from Newbury Park, California, took the stage around 9:15pm. The NBHD provided a satisfying performance of more than 15 songs, including material from their full length album I Love You and their upcoming album Wiped Out!  Their performance was adorned with a colorful giant screen propped behind the stage, which constantly displayed various backgrounds. Images of sunny beaches and multiple silhouettes, such as dancing girls and moving cars, enhanced the vibe of each song, creating interesting visual effects.
Seeing these three bands in action helped restore some of my lost hope for the newest generation of rock musicians.  These bands showed respectable musicianship and great stage presence–a much-needed boost for a genre that many critics have already labeled as a dying one.  The show was refreshing and rekindled my faith in the type of music being produced today by young and up and coming bands.
PHOTO GALLERY
The Neighborhood
Hunny
Bad Suns
VIDEOS
https://www.youtube.com/watch?v=Qp7mIWz9Kjg
The images may not be reproduced, copied, transmitted or manipulated without the written permission to Rock At Night and the photographer. Use of any image is a violation of the United States and International Copyright laws.
Latest posts by Juan Jusino
(see all)