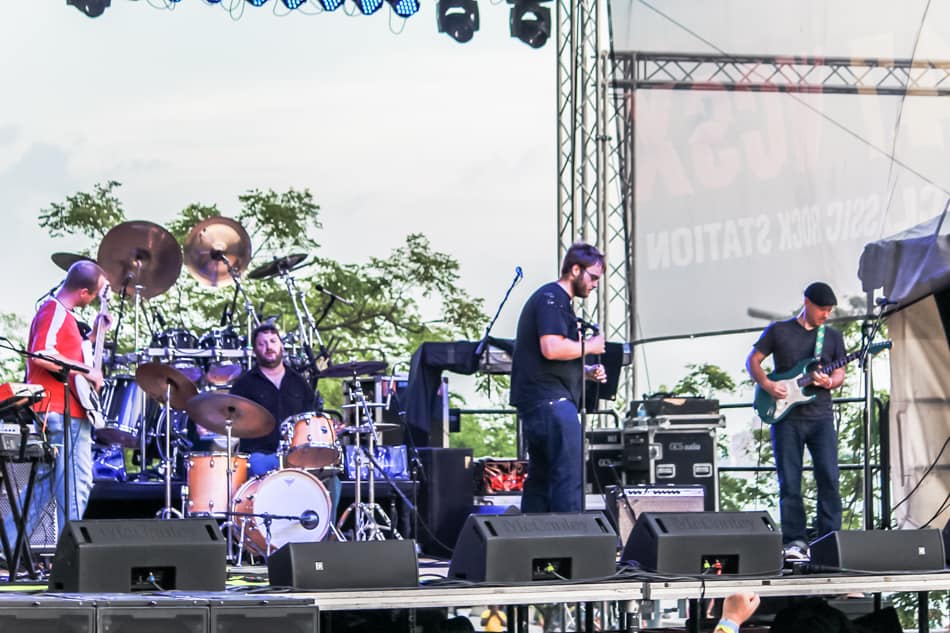 By Chyrisse Tabone, Tampa Correspondent and James Ferency, Photographer, Detroit
BAND OF THE MONTH: Dirty Basement Blues: Mike Conley, Bryan Miller, Frank Grimaldi, Pete Zajicek, Joe Stanley; Genre: Blues/Rock; Home Town: Waterford, Michigan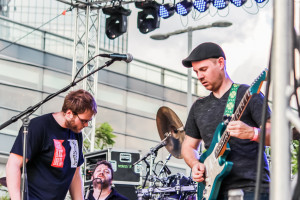 Anybody that follows Rock At Night knows that I really have a soft spot for blues-rock and even more so for blues-rock from Detroit.   A few months ago I discovered Dirty Basement Blues and was smitten on first listen. The blues-rock riffs coupled with the guitar-riff and keyboard accompaniment were welcoming to my ears. The real love affair was the lead singer's voice, which was powerful, raspy but smooth, and gospel-tinged in similar fashion to my all-time favorite singer Steve Marriott. I knew I had to contact this band.
I spoke with the lead singer Frank Grimaldi, who is actually in his mid-twenties yet shows great maturity with his vocal style and taste in music. I asked him about Dirty Basement Blues (DBB), his background in singing, and future plans for the band.
Grimaldi noted DBB started as a trio with "Mike the drummer, 'Bodie' (Bryan) the bass player and Joe the guitar player, the guy who was writing most of the songs at first. I got asked to join the band about six months later or so."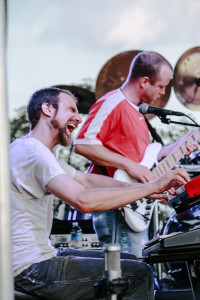 From what I gathered the band used to (and still does) jam and practice in Mike's basement, which is extremely cluttered and musty. The band's name naturally emerged from this grimy setting. Grimaldi explained, "The band was formed to jam-out and kind of record the new songs Joe had written. One of the first things the band did was join the Detroit Blues Society Challenge in 2012. That's when I got into the band. We got through the first year of the contest and made it to the finals but didn't end up getting to go to play in the final round because Joe was going on a honeymoon with his wife."
In 2013 DBB added Pete on keyboards and entered the Detroit Blues Society Challenge again, this time winning. They traveled to Memphis, Tennessee to compete with not only American blues bands but internationally-known bands coming from as far as the Philippines.
Rock At Night commented on the city of Memphis, "There's lot of ribs and barbecue down there."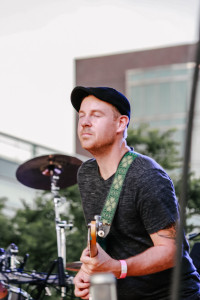 Grimaldi, replied, "We ate more ribs and barbecue than any man should eat! It was a good time! There were blues in every restaurant, bar, and street corner. Anywhere you go in Memphis—there are blues bands playing.  We met people from all over the country—all over the world, really."
During the Memphis trip, DBB performed at the Rum Boogie Café and even at the Hard Rock Café located on the historical and famous Beale Street. He said, "By the end of the week people were yelling to us, 'Hey, Detroit! Hey, Detroit!'"
Rock At Night asked, "Did you have any originals at the time?"
Grimaldi explained the band at that time played mostly originals but would throw in a cover like Willie Dixon's "I Can't Quit You, Babe" or Paul Rogers "Walk In My Shadow." He later commented, "That might be the reason we didn't advance after the first round. We got the score cards back and they were like 'This is a blues competition and you didn't dress like blues players. You didn't act like blues players and you didn't play blues music.' And we were like 'Damn, we won the Detroit Blues Society Blues Challenge. We thought we were a blues band!'"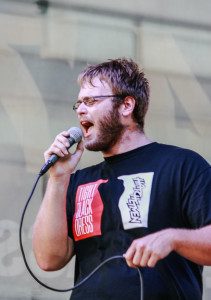 Rock At Night asked, "How were you supposed to dress?"
"I don't know…You've got to wear a costume, I guess, to play the blues. A suit. A bowtie or something. We wore nice shirts and dress pants."
"Are you supposed to look like Jake and Elwood?"
"There's blues purists out there that are not that fond of us but we just play what we play. We have a good time doing it. That's all that counts."
After DBB returned to Detroit they lodged a Kickstarter campaign to raise money to record their first album Coming Clean at Sound Shop Studios and mastered by Peter Jay. Grimaldi added, "It's on iTunes, Amazon, and CD Baby. You can pick it up. You can stream the whole album on Spotify. You can make a DBB Pandora station. "
After release of the album, DBB began to receive a lot of accolades around the globe. Grimaldi said, "The album has done a lot of good for us. It has put me in contact with a lot of people. We are getting radio airplay all over the country and the world…the UK, Australia, New Zealand, Germany, Russia."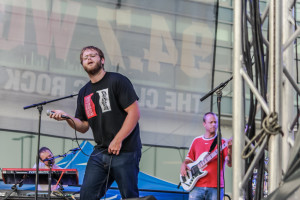 Rock At Night wondered about the band's songwriting process and Grimaldi explained, "Since I was about 13, I write down words everyday (whatever comes into my head).   Like the new song 'You Don't Act the Same to Me'… Joe started playing a riff at rehearsal one night and we started groovin' to it. I had the words written down from a long time ago which were about where I work. I just started singing them. I took out a pen and paper and started writing the rest of the song. That's how a lot of the songs have been coming together. And it feels really natural. I think it was Alice Cooper who said, 'If it doesn't happen in five minutes then you are forcing it.'"
Rock At Night then asked about Grimaldi's personal history as a musician and singer, asking "When did you discover you had a voice?"
He answered, "I was 13 and in the 8th grade talent show. We started singing 'The Ocean' by Led Zeppelin. I was just playing guitar and our lead singer kind of petered out. He kind of got stage fright. I thought, 'Man, I can do better than that.'"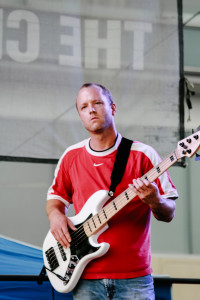 He continued, "My sisters both were in choir and had really powerful voices. Man, I didn't even know I could sing. My first band called the Counter Culture was practicing in our drummer Rob's addition. I think I was about 15 years old. We needed a singer so I said, 'I'll just sing.' We would practice everyday after school. I would ride my bike over to his house after school and we would play for hours and hours. One day we were playing and his neighbor came over and said, 'You guys are sounding pretty good…except for the singer. That guy sucks!'"
Rock At Night exclaimed, "Ouch!" and Grimaldi continued, "I said 'Damn, dude. I'm the singer and that hurts!'"
Grimaldi did not fold but continued to practice his breathing and singing so he could have more voice control. He still practices today saying, "I still wish I could sing better."
Rock At Night asked about Grimaldi's early interest in music asking, "What kind of music did you start singing? "
"We did Bad Company, Free….60s and 70s stuff. The first song we could play was 'Hey Joe', I think.. We'd play Grand Funk Railroad 'I'm Your Captain'.
"You're awfully young to like that kind of music? Is that the kind of music your parents used to listen to?"
"My parents got us into good music when we were really young." He remembers receiving from his dad 'Sergeant Pepper's Lonely Heart Club Band' on cassette and fighting with his sisters over who could listen to it on his/her Walkman. His dad influenced his taste and love of rock music and his mom influenced his singing. Grimaldi explained he played musical instruments at an early age saying, "I played the sax when he was growing up between 5th and 9th grade, played the piano, and sang in the choir."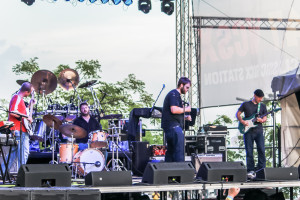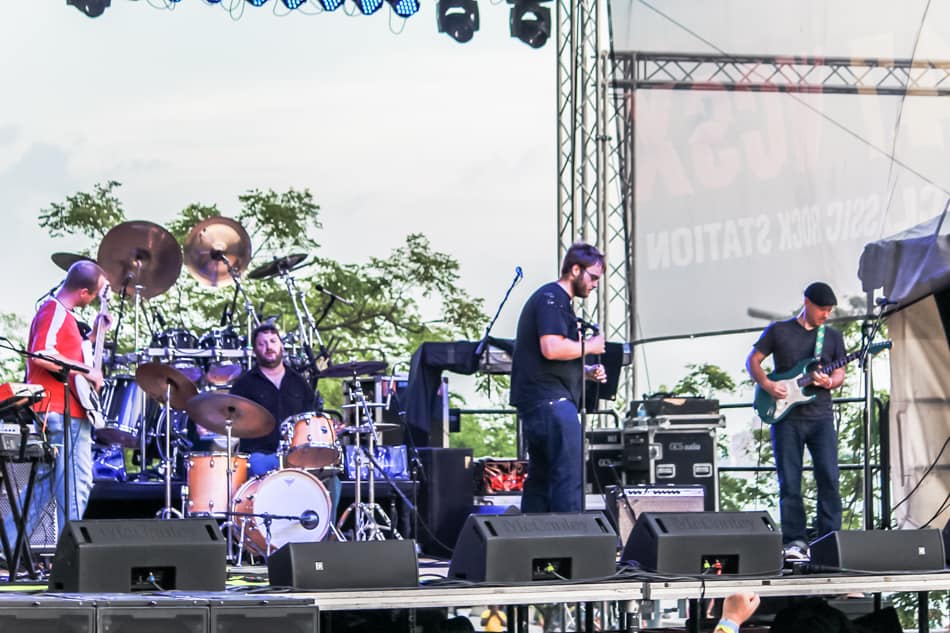 Rock At Night asked, "In the band you do mostly singing but you could play the guitar or sax, right?"
"Oh, absolutely. When I was asked to join DBB I played the guitar in two other bands and sang. One band was called 'The Counter Culture'and the other was called 'Milk and the Cookies.' Joe and Mike approached me to sing in DBB.   I also play guitar in a band now called "Slowfoot."
"Is the band a different style?"
"Right now we have two original songs. We play some cover songs like Allman Brothers. We play "Whipping Post" and "Trouble No More."   We play some Phish."
When asked about upcoming gigs and touring, Grimaldi noted DBBB has been very busy playing festivals all summer. They won a radio contest for WCSX's Rockin' Wars and opened for classic 80s rock band 38 Special at the Detroit River Music Series on July 18th. Grimaldi said a tour is a possibility but there are no solidified plans yet.
DBB is also currently finishing a live album called Dirty Basement Blues Live at Callahan's.   Grimaldi said, "We just got the master disc back from the producer Peter Jay . We're going to get that pressed and out within the next month or so. Right now we are about half done writing our second studio album. Hopefully we'll be back in the studio again by the end of this year."
Keep an eye on Dirty Basement Blues because they are going places. Stay tuned for the release of Dirty Basement Blues Live at Callahan's on August 21st.
Appearance on The GMo Show
"Opinionated Blues"
"You Don't Act the Same to Me"
Awards and Nominations
2012—Detroit Blues Challenge–Nominated
2013—Winner—Detroit Blues Challenge
2015—Detroit Music Awards—Best Blues Group—Nominated
 Discography
Coming Clean (2014)
Dirty Basement Blues Live at Callahan's (August 2015)

Latest posts by Chyrisse Tabone, Ph.D.
(see all)