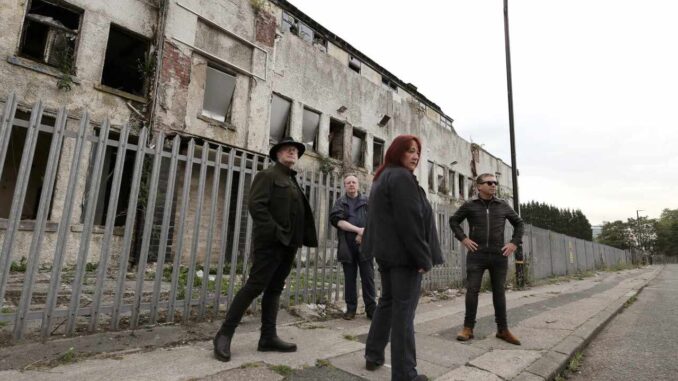 Manchester, UK band Speed of Sound are in their fourth decade of creating socially conscious music with a 60s Britpop / New Wave flare.  They are releasing two (2) singles and accompanying videos on July 17th–but Rock At Night is here to give you a premiere view! You can pre-order the digital singles HERE through Big Stir Records.
Rock At Night: Here, the Speed of Sound take on the serious topics of climate change and domestic violence metaphorically in "Keep It Quiet".  As always, Speed of Sound keeps it real! The truth is out in the open and plain as day but "you might as well be shouting, might as well be shouting." The lyrics cry, "keep it secret…keep it nice..keep it quiet" which can relate to the denial of climate change in the media or even domestic violence within relationships. The video shows images of the earth as well as blood, screaming, and guns. One would think this is graphic, however, the song is quite bouncy and upbeat with its 60s "ba ba ba ba" harmonies.
Keep It Quiet
Rock At Night: Visions of space rockets dominate the lyrics and video, as this energetic song makes one tap his/her feet.  Nice harmonies during the catchy chorus and cool lead guitar solo top off this breezy, musical journey!
Glide on By
Members: John Armstrong(songwritng/guitars/vocals), Ann-Marie Crowley (vocals/guitars), Kevin Roache (bass) and John Broadhurst (drums), Henry Armstrong (keys)
Recorded mixed and mastered at Vibratone Sound Studio Manchester

Latest posts by Chyrisse Tabone, Ph.D.
(see all)