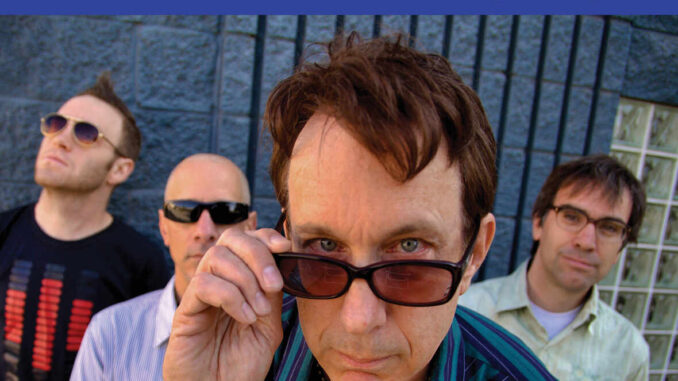 By Chyrisse Tabone, Rock At Night Tampa
Review: The Killer Smiles – Raising the Stakes-Release date for all platforms on June 12, 2020 via Die Laughing/Golden Robot Records
A couple of days ago Rock At Night reviewed The Killer Smiles' single "Raising the Stakes", giving it thumbs up.  Now, on June 12th, the full album Raising the Stakes, is being released via Die Laughing/Golden Robot Records. If Rock At Night had a star rating system, the album would be five stars hands down!  Really!
I might be a bit biased since the last few months, all I have been listening to is garage rock or garage punk from bands like The Nude Party, The Growlers, Black Lips, and even the grandfathers of garage rock, The Sonics.  Yes, I have a penchant for this type of music.
A little background on The Killer Smiles.  They might be considered a punk rock "all-star" group or perhaps a side-project for legendary punk rockers. The band is comprised of renowned Dead Kennedys guitarist East Bay Ray, vocalist Skip McSkipster (Ron Greer) of The Wynona Riders/Dead Kennedys, drummer Steve Wilson of t.A.T.u., and bassist Greg Reeves (Dead Kennedys). The album was produced by Paul Leary (Butthole Surfers), who has produced albums and songs for bands such as Sublime with Rome, Meat Puppets, U2, Slightly Stoopid, Pepper, to name a few.
Now, for all diehard DK fans who are expecting more of the same, you might be a wee bit disappointed because this is not the case here. There's not only 80s New Wave and 60s/80s garage punk sound, but also rockabilly, traditional rock 'n' roll, and reggae thrown in the mix.  Songs like the reggae-tinged "Safe and Sound" and rock songs like "I'm a User" give a listener a short pause from the rapid-fire beats of aggressive punk (not to sound like an old fogie).  "Lipstick Cherry Red" has a groovin' rockabilly sound, but in a dark and sleazy way.  "The Heart Is Something" features twangy, country guitars, and a pop-rock lilt, similar to a personal fav' from the 90s, Fastball.  The Killer Smiles' rework the traditional song "Sixteen Tons" into pure rockabilly heaven in the vein of Brian Setzer.
Now, the rest of the album, features 80s New Wave and garage punk at its finest.  "Raising the Stakes" almost sounds British punk or 80s garage rock, and totally satisfies.  There's plenty of cool guitar riffs in "You're Such a Fake", which assumedly is tilting its hat to former DK member Jello Biafra. "Area 51" features a fast drum beat, infectious guitar riffs, and a jangly 60s guitar sound. It dramatically slows in the middle of the song, creating a psychedelic tone, and revs up again into full-blown madness.
"The Runner" begins with distortion and a slow drum beat.  A jangly "spaghetti western" guitar enters the mix (makes me think of The Growlers), as the song takes on a slow, groovin' feel, whilst the vocals appear reminiscent of Jim Kerr of Simple Minds.
"It's Broken" features very aggressive guitars and punk sound with hints of T.S.O.L. or even The Melvins. Pure punk fury.
The Killer Smiles are definitely on Rock At Night's radar now—and I'd love to see them perform live. Please, pandemic, be over!  The album is a great collection of 80s New Wave and punk rock, written by those that lived it in the day, and still have the ability to tap into that energy today. Well done, mates!
The Band:
East Bay Ray – guitar
Skip McSkipster – vocals
Steve Wilson – drums
Greg Reeves – bass, background
vocals
ON-LINE:
Labels

Latest posts by Chyrisse Tabone, Ph.D.
(see all)